Boehm: U.S. Soccer lacks moral authority to punish Rapinoe's stance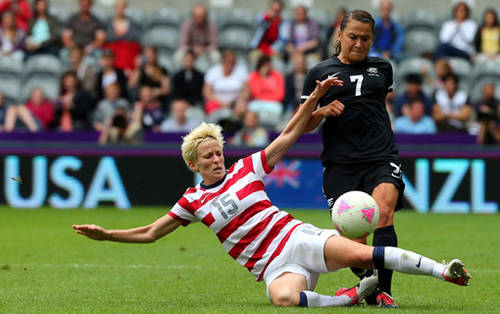 What a difference a year makes for the women's side of U.S. Soccer.
The sweetly-savored Women's World Cup triumph of 2015 seems like an awfully long time ago as we witness the recent travails of three of the program's most beloved, longest-serving heroes.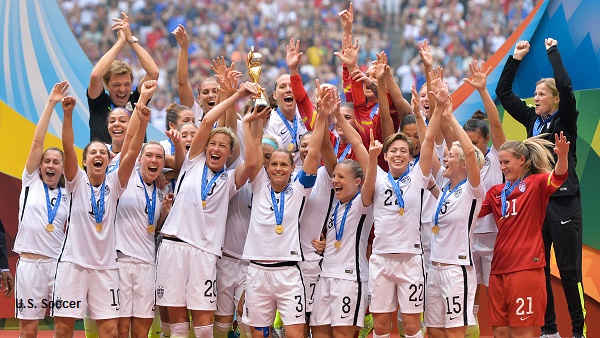 All-time great goalkeeper Hope Solo ran out of rain checks this summer and was unceremoniously kicked out the back door after her unsightly remarks at the Olympics. Retired striker and scoring icon Abby Wambach has finally made public the painful realities of her long-running drug and alcohol abuse – and the resulting split with her wife Sarah Huffman – in a revelatory new autobiography.
Now Megan Rapinoe, the spunky attacking dynamo who once seemed so irresistibly loved and respected across the USWNT's widely divergent fan demographic, has been hoisted onto the proverbial clothesline by the fed, for having the temerity to wade into the raging national debate about racism and police violence in the stretch run of an especially contentious presidential election cycle.
Solo and Wambach pushed their luck more than once over the years. Yet it's Rapinoe's transgression of kneeling at an inopportune pregame moment that seems to have raised the federation's hackles the highest – at least, based on the significant efforts and pronouncements made to intimidate her out of her stance both before and after Thursday night's 9-0 evisceration of poor Thailand in Columbus, Ohio.
+READ: USSF hints at punishment as Rapinoe extends kneeling gesture to USWNT
"In front of national and often global audiences, the playing of our national anthem is an opportunity for our Men's and Women's National Team players and coaches to reflect upon the liberties and freedom we all appreciate in this country," intoned a statement released during the match, in response to Rapinoe taking a knee as Francis Scott Key's composition was performed at Mapfre Stadium.
"As part of the privilege to represent your country, we have an expectation that our players and coaches will stand and honor our flag while the national anthem is played."
The federation picks the players for the national team as their staff pleases. Rapinoe has no inherent right to a spot on the roster and can be dropped at any time, for most any reason aside from those her union has protected via collective bargaining. She may yet be punished thusly, though I get the impression that the USSF would much prefer that this whole thing just blows over as the news cycle refreshes.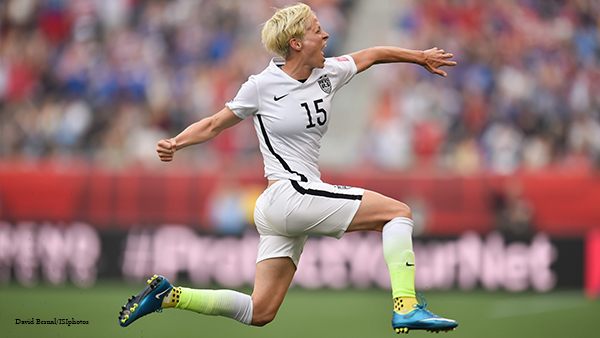 But please pardon me if I chuckle at the federation's belated attempt to assert some sort of moral authority here.
I have no doubt that a quiet but substantial segment of the millions of fans, players and coaches who make up U.S. Soccer's main audience completely agrees with both the sentiment and the specifics of that announcement. American sports traditions hard-wire us not only to stand for the anthem unquestioningly, but also to sublimate our individual selves to "the team," often with little space given for second thoughts or reservations.
Though the history of the world's game teaches us it's ludicrously impossible to separate soccer from politics, the sport's backers in this country have generally strived to remain apolitical, desperately hunting for universal appeal in an uphill battle against more entrenched "mainstream" pastimes. (Perhaps the only notable exception to that came in a surprising, and fleeting, show of support and celebration when the Supreme Court ruled in favor of same-sex marriage's legality last year.)
More than ever, today we are #OneNationOneTeam. #LoveWins pic.twitter.com/4A7IsF8MsV

— U.S. Soccer WNT (@ussoccer_wnt) June 26, 2015

Fed president Sunil Gulati has been a major factor in that history of pragmatism. A shrewd academic with an impressive mastery of realpolitik, Gulati has somehow managed to improve U.S. Soccer's on-field competitiveness, its once-laughable standing in global soccer politics AND its financial heft – all the while getting just enough mud on USSF's shoes to do decent business with debased FIFA mandarins like Sepp Blatter, but not enough to catch a corruption case (yet) from Loretta Lynch and her vigilant colleagues at the U.S. Justice Department.
On balance, I believe Gulati has been the right man for a testing era in American soccer. He'll almost certainly leave the organization better than he found it. But he's done so with a philosophy that is, above all else, transactional. Gulati is not so much a captain as a maneuverer. He's rarely been much inclined to pick fights or take stands, and given the size and diversity of his membership, that makes a lot of sense.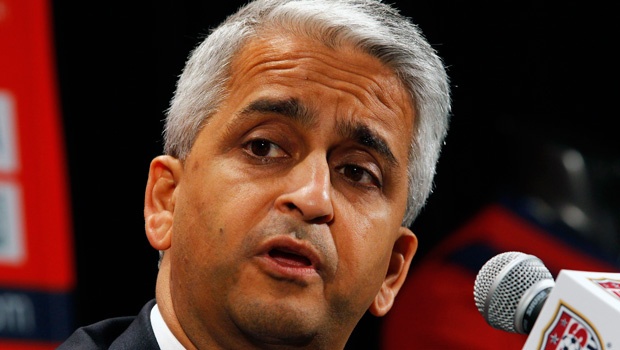 It leaves him and his organization with precious in the way of a bully pulpit when it comes to Rapinoe, however.
With Solo, for example, Gulati and his subordinates always appreciated her exquisite talents between the posts enough to give her one more chance, even after she crossed lines that appeared to have a distinctly reddish hue to them. Now that they have two years to groom her replacement, she's been cast out. Seeking leverage (and eventual victory, of course) in the protracted CBA negotiations with USWNT players, they've quietly waged a legal campaign against the beloved team even as they celebrate it.
On multiple fronts throughout the American game, this fed has sought and acquired power, control and revenue streams at every opportunity. At pro and international level, there's Soccer United Marketing, the lucrative but murky media and promotions partnership with Major League Soccer that reaps at least a partial cut of the proceeds of nearly every major soccer-related event on these shores.
USWNT friendlies like Thursday's bloodletting have become a favorite cash cow, heavily scheduled even when badly overmatched opposition renders them glorified scrimmages to the point of absurdity.
On the youth scene, there's the creation and ruthless management of the U.S. Soccer Development Academy, which has slowly but surely brought the top tier of elite boys soccer entirely under direct federation control. That's more recently been mirrored in the controversial, and initially puzzling, decision to stand up a Girls DA in direct competition with the already-established Elite Clubs National League.
+READ: U.S. Soccer-ECNL summit fruitless, with federation set to go it alone on girls Development Academy
To some extent, this is what federations do. Like its peers around the world, the USSF is the highest soccer authority in this country, the only organization that can't be challenged or taken over or bypassed in our wild-west landscape. Their employees are dedicated and diligent, and they surely make all their moves in what they believe to be the best interests of the game at large.
But it's a bit too late for principled moralizing on the sacred nature of the anthem, or the stars and stripes on the crest – which itself was expensively rebranded for commercial gain earlier this year.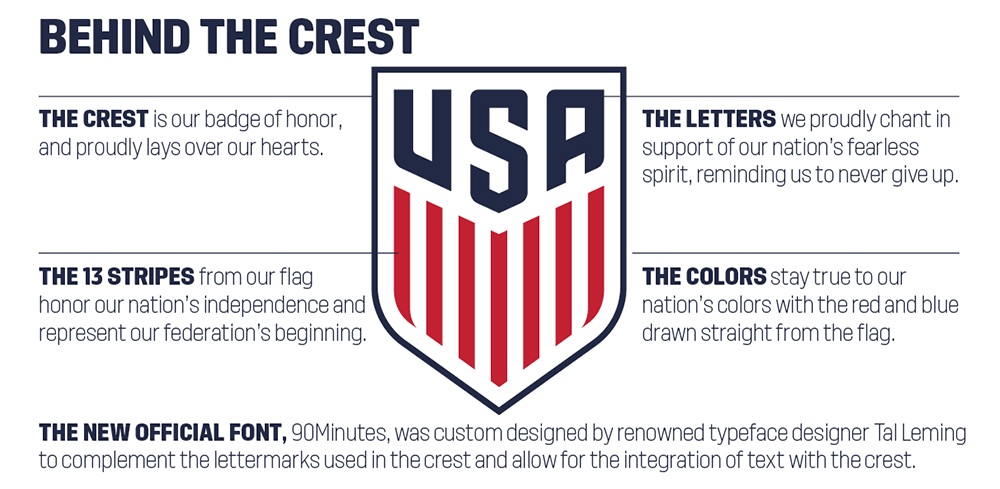 The fed has happily jumped into bed with Nike, Chevrolet and just about any other corporate entity willing to help fund its programming in exchange for access to fan eyeballs. After nearly every national-team game, for instance, the player of the match has Budweiser's name slapped next to theirs as part of the "partnership" with the beer giant, and USSF has an official tire, official snacks and even an official real estate company, among many others. All pay the fed for the chance to wrap their brands in the country's colors.
All that serves to keep the bills paid and then some. We've accepted the necessity and value of this in our hyper-commercialized culture. But even those with major doubts about her actions should think twice about the idea that U.S. Soccer has out-climbed Rapinoe to the moral high ground here.
USSF's Thursday statement calls upon its players to "reflect upon the liberties and freedom we all appreciate in this country." For many of us, that appears to be exactly what Rapinoe has done. If doing so has led her to conclusions that ruffle the feathers of those who write checks to and for U.S. Soccer, then it's their sensitivities that may need greater examination, not hers.
College Recruiting Commitment Tracker