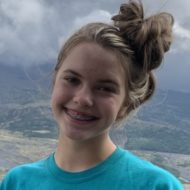 Kate Luther
Position:
Defender, Forward
Birth Date: Dec, 2006
Graduation Year: 2025
Location: Spokane, WA, United States
Dominant Foot: Right
Kate has played soccer beginning with SoccerTots at age two! She lives being part of team with all her soccer sisters and year round Academy training. She is an honor roll student with a GPA 3.8, and has taken advanced classes since 6th grade. She's involved with a family mission that supports an orphanage in Mexico and has included soccer team mates in her work. When visiting the orphanage she always delivers new soccer balls and equipment to help keep the game alive; each year the balls from the previous year are worn out! Kate is also involved in her local church doing outreach projects. She also enjoys cross country but her first love is soccer. She believes in encouraging and lifting up teammates and others who cross her path in order to help all grow and work as a team/neighbors together. Her goal is play in college and who know maybe even professional!
Kate currently plays for Spokane Sounders Premier and in US Youth Soccer EWU Elite Player Development