Youth Soccer Top 25 Twitter Rankings entering May 2016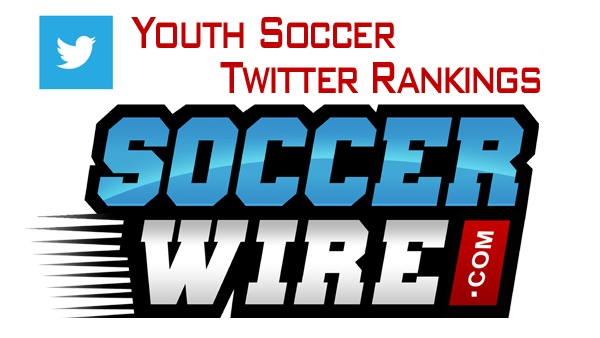 2016 Rankings: January | February | March | April
SoccerWire.com has announced the Youth Soccer Top 25 Twitter Rankings entering May 2016, spotlighting the organizations that have accumulated the largest audiences on the social network.
In the fifth edition of the rankings, U.S. Soccer's Youth National Teams (@ussoccer_ynt) Twitter account once again takes the top overall spot, with their 69,741 followers ahead of runner-up US Youth Soccer (@USYouthSoccer) at 35,853 followers. Each of the top 16 accounts remain in their previous positions, while a total of four accounts between the No. 17 and No. 23 positions experienced shifts during the month of April.
Overall Rankings
[table "" not found /]
For the third time in four months, the Virginia Youth Soccer Association (@vayouthsoccer) saw the largest percentage increase of any account within the top 25, climbing 7.1 percent by gaining 253 followers.
+Read: U.S. Soccer Development Academy East Conference Recap: Week 22
Another state association, Cal South Soccer (@CalSouthSoccer), grew by 3.3 percent with 175 new followers. Rounding out the top three for percentage growth in April was NJ Youth Soccer (@NJYouthSoccer), which added 89 followers to grow by 2.9 percent.
Texas' Lonestar SC (@LonestarSC) grew more than any other club on the list with a 2.5 percent increase and 77 new followers, and US Club Soccer's main account (@USClubSoccer) closed out the top five with 286 additional followers to increase by 2.2 percent.
The U.S. Soccer Youth National Teams and US Youth Soccer's primary account added the most total followers with 467 and 429 respectively, while US Club Soccer, Virginia Youth Soccer Association and the U.S. Soccer Development Academy (@ussoccer_acad) added more than 250 apiece.
+Read: FC DELCO Players Cup Championship Division Preview: U-14 Girls
April Statistics
[table "" not found /]