Yale women's soccer announces hiring of assistant coach Holly Hein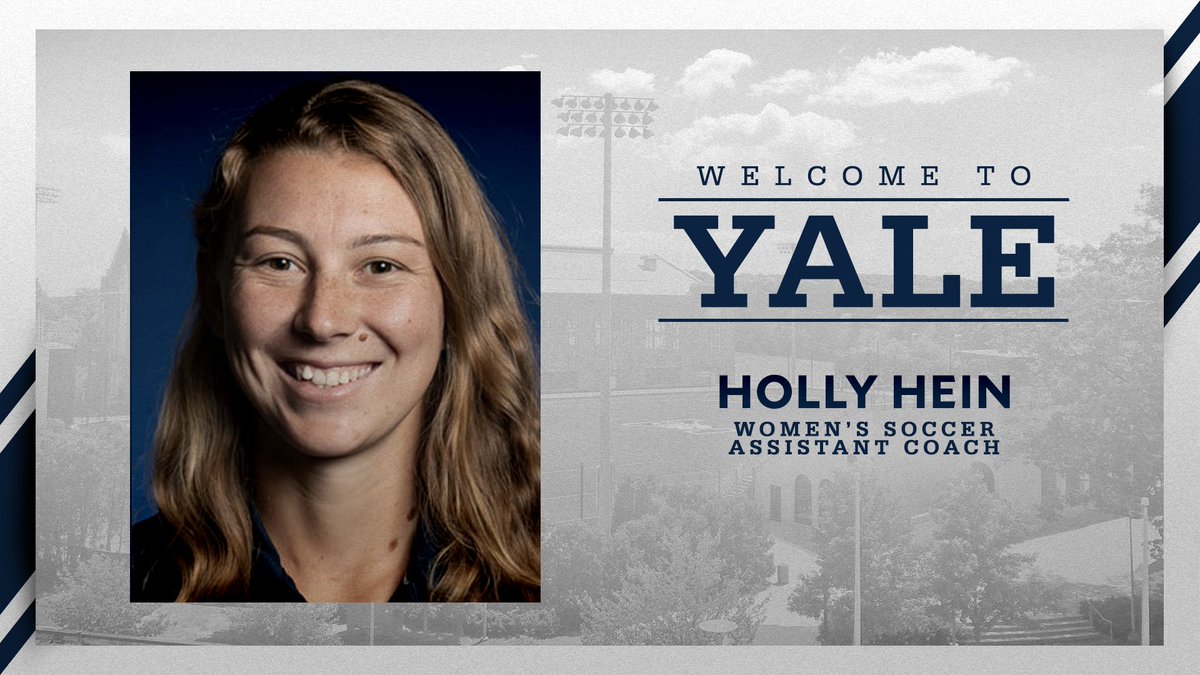 NEW HAVEN, Conn. – Holly Hein, who helped Michigan advance to the third round of the NCAA Tournament this fall as a volunteer assistant, has been named an assistant women's soccer coach at Yale.
"I could not be more excited to welcome Holly Hein to our coaching staff," said Sarah Martinez, The Loring Family Head Coach of the Bulldogs. "Holly not only had a very successful collegiate and professional playing career but is truly a professional in the way she carries herself as a person and a coach. She comes from a Sweet-16 Michigan program and has learned from one of the best in the game in Jen Klein. I know Holly's leadership, passion for the game, and soccer brain will help provide our student-athletes a first-class experience."
Hein spent two seasons on Jennifer Klein's staff at Michigan. The Wolverines advanced to the Big Ten Tournament in each of Hein's two season, including reaching the championship game this fall. In 2019, Michigan posted a 17-6-1 overall record, finished ranked No. 15 in the nation and won two games in the NCAA Tournament before falling to No. 2 North Carolina.
Hein worked with all areas of the program, particularly focusing on in-game analysis, opponent and team video breakdown, as well as scouting report preparation.
"I want to thank Sarah Martinez and Deputy Director of Athletics Mary Berdo for the opportunity to be a part of the Yale University Women's Soccer program," Hein said. "I am excited to join this world-class institution where I have been warmly welcomed by the athletic department community. I am really looking forward to working with Sarah, Sade, and all of the staff to carry out the vision that Sarah has for this program as well as to assist in the development of the incredible student-athletes at Yale.
"I would also like to thank my Michigan family to whom I am extremely grateful for their help, support, and guidance which allowed me to take this next step in my career. The list is too long to mention everyone, but to Jen Klein, Katie Hultin, Tiffany Hansen, all of the support staff, and the remarkable student-athletes with whom I had the pleasure of working with day in and day out – I am incredibly indebted to you all. As an alumna, I will always be cheering for the Wolverines and wish you great success in the seasons to come.
In addition to working with the Wolverines, Hein also coached the Michigan Wolves-Hawks Soccer Club.
Hein was a four-year letter winner for Michigan, playing from 2009-13. On the field, she was a two-time NSCAA All-Great Lakes Region honoree, a two-time All-Big Ten First Team honoree and was named team captain for her final two seasons.
In the classroom, Hein was named a 2013 Senior CLASS Award Finalist, a Big Ten Distinguished Scholar, a CoSIDA Capital One Academic All-District Five Second Team selection, a three-time Academic All-Big Ten honoree and a four-time U-M Athletic Academic Achievement selection.
Following her collegiate career, Hein went on to play professionally for the Houston Dash and Seattle Reign of the NWSL before finishing her professional career playing for Aland United of the Finnish Naisten Liiga.
Hein currently holds her USSF "C" License.
Martinez's staff is now complete as Hein joins Sade Ayinde and Jacob Dunnett as assistant coaches, while Tiffany Weimerwill remain as the Director of Operations.