WNY Flash Academy hires Eric Dade as Executive Director of Coaching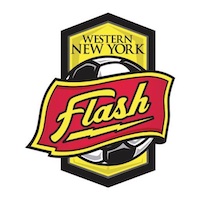 Buffalo, NY — The WNY Flash Academy has announced that Eric Dade has been hired in the role of Executive Director of Coaching for the club.
Dade will be leaving his Technical Director post at Liverpool FC IA in Dallas. Dade will arrive in market on Wednesday, June 5th and soon be accompanied by his wife Angie, along with children Cameron and Chase.
"Eric is the complete package and we are thrilled that he is joining our staff," says Vice President Aaran Lines. "Eric has professional playing experience in the MLS, Division 1 coaching experience, and has run top youth organizations all over the United States. We have no doubt that he will make a huge impact in the Western New York community, leading our membership and coaching staff to another level."
Dade, 49, played collegiately at Virginia Commonwealth earning a Bachelor's degree in health and Physical Education. The Buffalo native played in the MLS for the Dallas Burn/FC Dallas for 5 seasons. Dade also played MISL in Baltimore and Dallas before moving into the coaching game full time.
Dade has held the role of Executive Director of Coaching for several top organizations such as the Dallas Sting, Birmingham United Soccer Association, and Armada Youth Academy, one of the most nationally recognized clubs. At Armada, Dade increased its visibility and membership size by 3,000 players, Won 12 Florida Youth Soccer State Cup Championships, 6 Regional Championship and 3 National Championships. He helped place over 350 scholarship athletes into college soccer programs, and 10 more players into the US National Team program. His ECNL girls program finished top 5 in country, and he developed club alliances in 3 different market places.
"I would like to thank Aaran Lines, The Sahlen Family and the WNY Flash Academy leadership team for this unique opportunity. The Flash Academy is a nationally recognized brand that I'm honored to be part of. I'm thankful and grateful for my families support as we enter this next chapter of our lives. The opportunity to come home and give back to the city that paved the way for me is one I couldn't pass up."
Dade also has collegiate coaching experience, spending 5 years at Jacksonville University in Florida as the women's assistant coach.
Dade holds a USSF "A" License and is active within the US Soccer Federation where he serves as a US Soccer Talent ID Scout. Dade has served on staff for US Soccer U14 & U18 National team camps.
Dade was inducted into the Virginia Commonwealth Hall of Fame in 2000.