Maryland State Cup 2019 champions crowned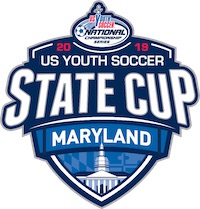 Maryland State Cup Brackets | College Coaches
The Maryland State Youth Soccer Association (MSYSA) crowned 13 out of 16 State Cup champions over the weekend at the Maryland SoccerPlex.
Boys and Girls teams across the 12U-19U age groups not only claimed the title of State Cup champions, but also locked up their spots in the 2019 US Youth Soccer Eastern Regional Championships.
While 13 Maryland State Cup titles were decided on Sunday, three more still remain. The 12U Girls and 19U Boys Finals will be played on Wednesday, June 5. The 18U Boys Final has been re-scheduled for Saturday, June 8 following a weather delay over the weekend.
See below for a listing of Maryland state champions and finalists for 2019:
Boys
12U
Champion: Achilles FC
Finalist: Potomac Soccer Blue
13U
Champion: Pipeline SC Pre-Academy
Finalist: Next Level Ajax
14U
Champion: Brausa United FC Blue
Finalist: Bethesda SC Blue
15U
Champion: Maryland United ECNL
Finalist: Brausa United FC Blue
16U
Champion: Bethesda SC Blue
Finalist: Baltimore Celtic Central
17U
Champion: Brausa United FC Blue
Finalist: Maryland United ECNL
18U
Olney Rangers Blue vs. Bethesda SC Blue (Saturday, June 8)
19U
Next Level Soccer Juventus 00 vs. Baltimore Celtic 00 Mizell (Wednesday, June 5)
Girls
12U
Maryland United FC 07 Red vs. SAC Premier Blue 07 (Wednesday, June 5)
13U
Champion: Baltimore Union SC Elite 06
Finalist: Ellicott City SC 06 Black
14U
Champion: Pipeline SC 05 Pre-Acaademy
Finalist: Baltimore Celtic 05 Elite
15U
Champion: Baltimore Union SC Elite 04
Finalist: Pipeline SC 04 Pre-Acaademy
16U
Champion: OPSA Magic 03
Finalist: FC Frederick 03
17U
Champion: Pipeline SC 02 Pre-Acaademy
Finalist: HFC United Blue Thunder
18U
Champion: Premier SC 01 Navy
Finalist: FC Frederick 01
19U
Champion: Pipeline SC 00/01 Pre-Academy
Finalist: SAC Showcase Premier 00