West Virginia University women's soccer signs Maryland native Lilly McCarthy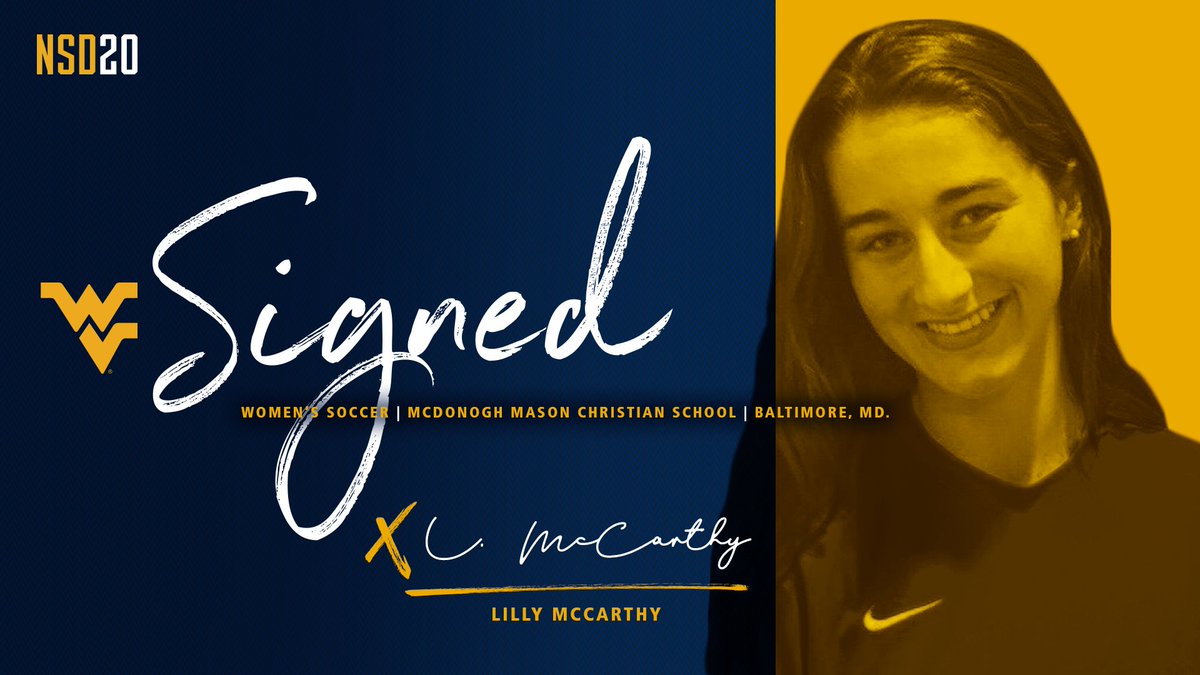 MORGANTOWN, W.Va. – West Virginia University women's soccer head coach Nikki Izzo-Brown has announced the addition of Lilly McCarthy for the 2020 season.
"We are so excited to welcome Lilly to the Mountaineer family," Izzo-Brown said. "Lilly is a great addition to our 2020 class. Her technical ability and tactical awareness in the final third will be a threat for opposing defenses."
McCarthy, a native of Baltimore, Maryland, was a captain under coach Harry Canellakis at McDonogh Mason Christian School and helped the Eagles to their third straight Interscholastic Athletic Association of Maryland (IAAM) championship in 2019. The Eagles finished her senior campaign ranked No. 17 nationally by MaxPreps.
McCarthy was named a 2019 All-American by five different outlets (Allstate, Bimbo, TopDrawerSoccer, United Soccer Coaches and USA Today). She was named to the Baltimore Sun Maryland All-State Team three times, earning first-team honors in 2018 and 2019, while placing on the second team in 2017. She was also named to the United Soccer Coaches All-East Region team in 2018 and 2019 for her play with Maryland United FC (club).
Lilly McCarthy's Full Bio
High School
• Rated as a four-star prospect by TopDrawerSoccer.com
• Played for coach Harry Canellakis at McDonogh Mason Christian School and Maryland United FC
• Led McDonogh to three straight Interscholastic Athletic Association of Maryland (IAAM) conference championships (2017-19) and helped the Eagles to a No. 3 national ranking in 2018 and 2019
• 2019 Bimbo High School All-American
• 2019 TopDrawerSoccer High School All-American
• 2019 United Soccer Coaches High School All-American
• 2019 USA Today Preseason High School All-American
• Two-time Allstate All-American Team selection (2018 and 2019)
• United Soccer Coaches All-East Region Team (2018 and 2019)
• 2019 ECNL Northeast All-Conference
• Three-time Maryland All-State First Team honors in 2018 and 2019, and landed on the second team in 2017
• Two-time Baltimore Sun All Metro First Team (2018 and 2019)
• Three-time member of the IAAM All-Conference team (2017-19)
• TopDrawerSoccer Maryland All-State First Team (2017-19)
• TopDrawerSoccer All-America Second Team (2018)
• Fox News Prep Player of the Week (Oct. 21, 2018)
• Baltimore Sun All-Metro Second Team selection in 2017
Personal
• Daughter of Mark and Erin McCarthy
• Father was a member of the U.S. Bobsledding Elite Athlete Program and participated in the 1988 Olympic Trials
• Has two brothers and one sister
• Birthday is March 25