Baylor Soccer adds forward Olivia Mack to 2020 recruiting class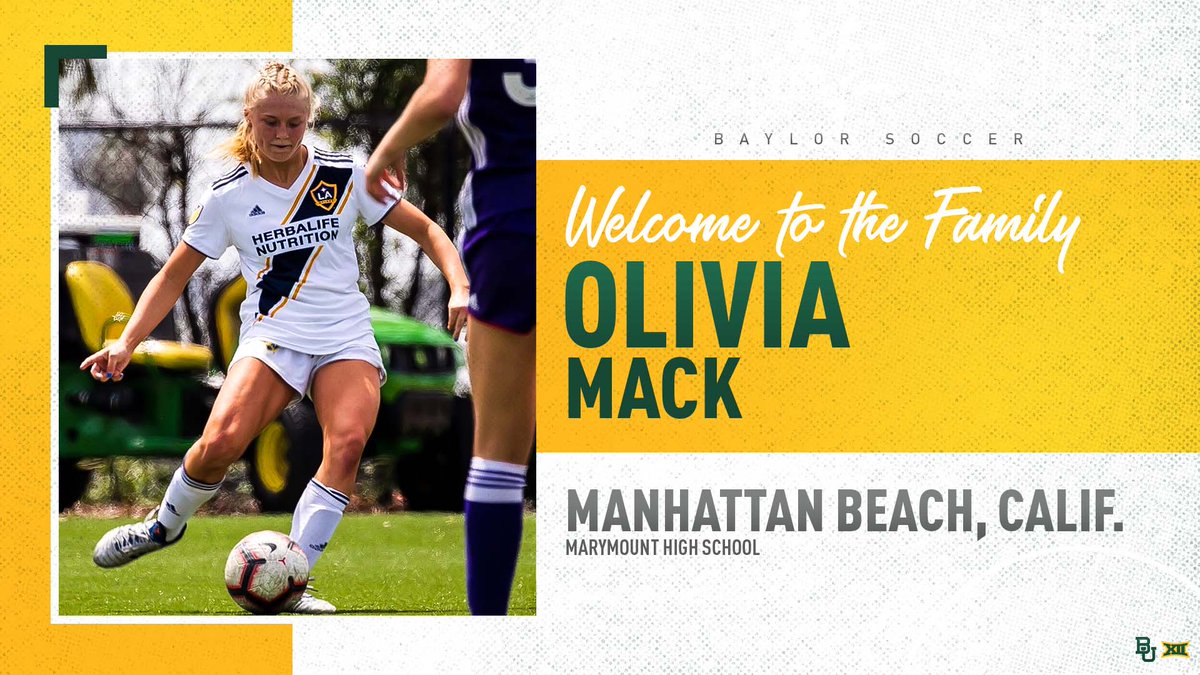 WACO, Texas – Baylor Soccer has made another addition to its large 2020 recruiting class with a commitment from Olivia Mack.
Mack, a Manhattan Beach, California, is currently a senior at Marymount High School and plays club ball for the LA Galaxy DA under coach Kevin Hartman.
"Pumped to add Olivia to the family," head coach Paul Jobson said. "She is a fantastic soccer player, and we knew she would be a great addition to the Baylor culture as soon as we spent some time with her. She is a great cap on an incredible group of freshmen."
The forward has been team captain for the Galaxy the last two seasons and was the No. 7 leading goal scorer in the DA Western Conference with 18 goals in the 2018-19 season.
Mack played soccer for her high school team as a freshman and sophomore where she led the way to the South Torrance Tournament finals.
Off the pitch, Mack volunteers at the YMCA and the Jeffrey Foundation. She also founded Beach Bows MB, a company that hand-makes bows to generate a profit that she used to buy ribbon and decorations for other bow that she donated to the Claris Heath Center.
Mack joins the 2020 class that now consists of 14 student-athletes. Five of them are already on campus an enrolled for the spring semester – Taylor Delloso, Delaney Hemperly, Brooklyn Kouns, Gabby Mueller and Lauren Traywick.
2020 Baylor Soccer
Mackenzie Anthony
Forward, Wheaton, Ill., Wheaton North High School, Sockers (Palatine, Ill.)
Chloe Brown
Forward, Kingwood, Texas, Kingwood High School, Challenge SC (Spring)
Mackenzie Davis
Midfielder, Highlands Ranch, Colo., ThunderRidge High School, Real Colorado
Taylor Dellosso
Midfielder/Defender, Grapevine, Texas, Grapevine High School, Solar u18/19 SC (Dallas)
Arianna Ghafari
Forward, Katy, Texas, Seven Lakes High School, Albion Hurricanes (Houston)
Delaney Hemperly
Defender, Highland Village, Texas, Marcus High School, Solar ECNL (Dallas)
Sarah Hornyak
Midfield, Southlake, Texas, Carrol Senior High, Solar ECNL (Dallas)
Chloe Japic
Midfield, Palo Alto, Calif., Palo Alto Senior High School, CA Thorns Soccer Club DA (Santa Clara)
Brooklyn Kouns
Midfielder, Klein, Texas, Klein High School, Challenge ECNL (Houston)
Olivia Mack
Forward, Manhattan Beach, Calif., Marymount High School, LA Galaxy DA
Gabby Mueller
Midfielder, Macomb, Mich., Dakota High School, Michigan Hawks SC (Livonia)
Julia Phelan
Forward, Beaumont, Texas, Monsignor Kelly Catholic High School, Albion Hurricanes 01 ECNL (Houston)
Abby Schmidt
Midfield/Forward, West Linn, Ore., West Linn High School, Crossfire United ECNL U19 (Portland)
Lauren Traywick
Goalkeeper, Austin, Texas, Round Rock High School, Lonestar DA (Austin)