West-Mont United Montco U-15 Boys continue to excel at Explorer Cup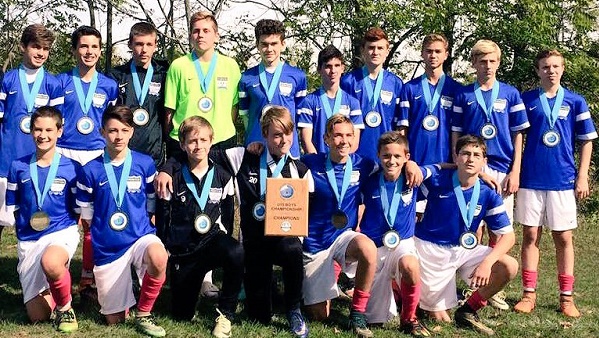 Tournament soccer is never easy. Faced with multiple matches in a short period of time, teams often have very little time to prepare and even less time to cope with a difficult early result. That is the situation that the West-Mont United Montco Alliance Under-15 Boys faced this past weekend at the 5th Annual Columbus Day Explorer Cup, competing in one of the event's most challenging groups.
After finishing second in group play in the U-15 Championship Division, the side pulled together late in the finals to defeat Continental FC Premier 2-0, claiming the division title and once again proving themselves as a team on the rise.
With the victory the Limerick, Pennsylvania-based side and EDP League powerhouse claimed their fourth trophy of 2016, having previously won the Jefferson Cup, the DELCO Players Cup, and the Battle at the HillTop. They were also a semifinalist in the 2016 Eastern Pennsylvania State Cup and are currently one of nation's top-ranked U-15 squads.
+Read: Division champions crowned at 5th Annual Columbus Day Explorer Cup
Early on at the Explorer Cup, it did not appear as if West-Mont would even make it to the final. In their first match against the Reading Rage '02 Iniesta, the side would earn a 1-1 draw with forward Brandon Duke scoring the lone goal.
In their second match, West-Mont would draw Continental FC Premier 2-2. Midfielders Zachary Kratz and Nicholas Wilson would provide the goals against Continental FC after going down 2-0 in the first game.
West-Mont would finish up group play with another draw, 0-0 this time against Philadelphia SC Coppa Flash. Although the result did not elicit any goals for the home side it was enough to push West-Mont (0-3-0, 13 points) past the Flash (1-1-1, 13 points) based on goal differential (0 to -2).
In the final, West-Mont had another crack at Continental FC and took full advantage. Both of their goals would come in the first half courtesy of Wilson and forward Matt Holmes, helping West-Mont capture the Cup.
For West-Mont coach Ian Dawson, having that experience in the first match against Continental FC, a side that they had never played before, proved critical.
"In the first half of the first game there was a little bit of anxiousness," Dawson said. "But in the second half you could see their confidence grow and that they knew that they could compete against them and overcome them."
+Players That Impressed: October 2016
A defensive shift also proved critical in creating a more positive result in the second match.
"There was some anxiety in our defensive third in the first game where they tried to play the long ball, playing it safe as opposed to playing smart," said Dawson. "I just encouraged our boys to be patient with the ball and keep possession rather than just playing direct. They started to do that and started getting more entries into the attacking third, [Continental FC] started to lose a bit more of their keen defensive shape, and it became more of a possession-patience versus penetration type of environment for our boys."
Despite adding to their trophy collection, there is very little time to rest for West-Mont. The Eastern Pennsylvania side is currently in the middle of its 2016 campaign in the EDP League's U-15 Second Division East. Through four matches, West-Mont has maintained a perfect 4-0-0 record while outscoring their opponents 24-3.
They will look to continue their unblemished run in league play when they travel to New Jersey on Sunday to take on the Cherry Hill FC Scorpions.