Washington Spirit adds Girls' Development Academy chapter in Maryland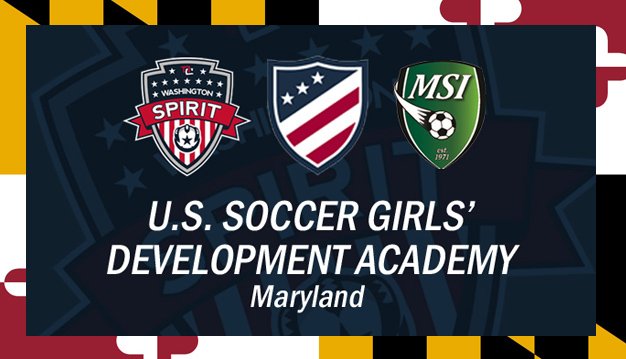 BOYDS, Md (Via Washington Spirit) – Washington Spirit has been awarded a Maryland chapter of its U.S. Soccer Girls' Development Academy by the U.S. Soccer Federation. This follows last week's award announcement covering the Northern Virginia region, establishing a direct pathway to the professional game for talented female players throughtout the greater Washington, D.C. region without requiring massive commutes.
The Spirit also announced a major partnership with the massive Montgomery Soccer Incorporated youth club, one of the largest youth soccer clubs in the United States, with over 8,000 registered female players.
"For decades, MSI has led the way in Montgomery County in terms of creating the best youth soccer opportunities for both girls and boys, and we're proud now to be leading the way for creating opportunities for girls at the highest levels of play," said MSI Executive Director Doug Schuessler. "MSI's Academy program already provides the most balanced, common sense, and 'player first' approach to developing committed players at the younger age groups, and our partnership with the Spirit ensures that we will continue to serve our families with the absolute best in training and developmental opportunities throughout each player's career."
+Read: U.S. Soccer announces 28 more Girls' Development Academy clubs
The Spirit anticipates adding other youth club partners in Maryland over the coming months to expand the opportunties for young players in the other Maryland counties surrounding Montgomery, where the Spirit professional team trains and plays home games at the Maryland SoccerPlex in Boyds.
Since 2007, U.S. Soccer's Boys' Development Academy has served as the elite male youth player development model for the country and has significantly improved the everyday environment for players, coaches, referees, and clubs. The Girls' Development Academy will be structured with many of the same principles and will begin play in the fall of 2017.
The program objectives include individual player development within the team concept, improving the quality of coaching for players, shifting away from results-driven philosophies, and promoting a holistic approach to development.
"The addition of a Development Academy on the Maryland side of the Potomac completes our vision of offering a direct pathway to the professional game for all players in the DC region," said Washington Spirit President Chris Hummer. "The inclusion of MSI in our application was certainly key as it provides an ambitious partner with an enormous player pool for us to get involved with early on in their development lifecycle. We'll add more partner clubs in other Maryland counties as well but certainly can't wait to get started with MSI immediately."
U.S. Soccer will officially launch the Girls' Development Academy Program in the fall of 2017.