WAGS Fall Season concludes with division titles decided at the wire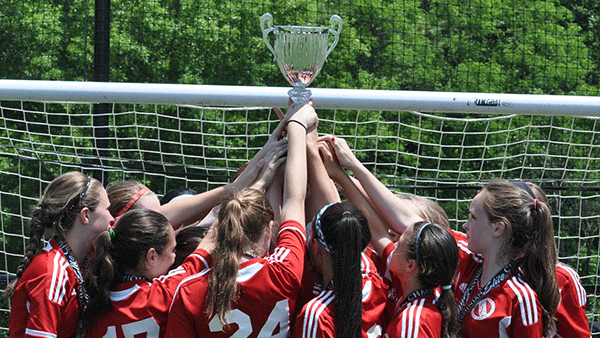 The Washington Area Girls Soccer League completed its Fall Season on Nov. 9, with many of the 43 U12-High School Division championships coming down to the final matches of the season.
Chantilly SC, OBGC Soccer and Lee Mt. Vernon SC led all clubs with three division titles each.
"It was an exciting final weekend for our league," said WAGS Executive Director Kathie Diapoulis. "When you have three or four teams still playing for first place on the last weekend of the season, it speaks well to the quality of competition within those divisions."
One division which came down to the wire was U15 Division 1, in which Chantilly Storm and Herndon United 99 squared off in a de facto championship match on the last day of the season to determine which side would finish at the top of the table. Chantilly edged State Cup finalist Herndon 1-0 on a goal by Chloe Brown. The match was heavily attended, and had a lively atmosphere in the crowd throughout the defensive battle.
Interestingly, Total Futbol LLC Assistant Director Todd Hamlin is the coach of both teams, which added another storyline to the already intriguing matchup.
"Both teams knew situation going in and, it was a really fantastic atmosphere," Hamlin said. "I was proud of the determination and effort of both teams."
Hamlin's Chantilly Storm team went unbeaten in their last five games of the season after losing two of their first three. The Storm went 4-2-2 on the season, with each of their four wins coming by one-goal margins. They scored game-tying or game-winning goals in the final five minutes of a contest three times throughout the fall.
"It was a really exciting WAGS season for our team, they were able to put together some new pieces from the beginning of the season when the results were slower, and get better as a greoup as the season went on," Hamlin said. "The chemistry took a while to get going, but by the end of the season they worked together and finished strong."
Chantilly Internationals also won the U14 Division 5 with a 6-0-3 record, and Chantilly Lightning Red captured the U12 Division O title at 6-1-1.
"It was a good showing for the club, I think it's a testament to the training our kids receive and the effort they're giving to compete at a high level," Hamlin said.
Another division that saw a fight to the finish was the U14 Division 4 Green, in which OBGC Fortuna rode a dominant defensive to an unbeaten 8-0-2 record. Fauquier County SC United 00 Black was on Fortuna's heels throughout the season, finishing 8-1-1. If not for a dramatic comeback win by Fortuna in their final match on Nov. 2, FCSC would have jumped them in the standings on the final day.
After trailing Winchester United 1-0 for much of their final game, OBGC Fortuna equalized, then scored the game-winner in the closing minutes of the match to secure their division championship. Fortuna's defense allowed only three goals on the entire season, two of which came in a 2-2 draw against Arlington Comets White on Oct. 5, and the other of course against Winchester United.
"Things just kind of clicked for our players, we had very few goals given up, and we seemed to always be able to score at least one or two," said OBGC Director of Girls Soccer Emily Janss, who is also head coach of the Fortuna U14s. "Sometimes that's all you need from a strong defense, to be able to put one away. We had great chemistry as well, which was huge for our communication on defense and for playing well late in games."
OBGC's Athletica U12 side also won U12 Division J finishing 5-1-1, and the Olney Girls 99s finished atop U15 Division 3 scoring 30 goals in just nine games en route to a 7-1-1 record.
"It's really cool to see the success and the development that has happened with our girls teams the last four or five years," said Janss, a former Washington Freedom and University of Maryland player, who currently works as a Volunteer Assistant Coach with the Terrapins. "We've been talking to the girls a lot about how we can work our butts off during the week to be as successful as possible on the weekends, and try to take these divisions by storm."
Seven teams, Maryland United 02 Red (U12 Division G), Herndon Hurricanes Black (U12 Division I), Bethesda Academy 02 Blue (U12 Division L), LMVS Patriots 02 Red (U12 Division N), DAA Dynamite (U13 Division 4), LMVS Patriots 01 Red (U13 Division 5) and VSA Heat Blue (High School Premier 1) ran the table in their respective WAGS divisions, not dropping a point the entire season.
The 2014 WAGS Fall Season also marked the beginning of the Elite Player Development Limited (EPDL), a new program for the U9-U11 age groups with a U.S. Club Soccer sanctioned flexible scheduling format. Five clubs on the boys side and seven clubs on the girls side took part in the inaugural season. EPDL held an end-of-season festival over the weekend, with each team getting to close the season in a round robin tournament.
"It was very well received, everybody enjoyed themselves and the weather was perfect, which made for a great environment," Diapoulis said. "It was a good way to finish the EPDL season, which was overall a valuable experience and I'm glad to see our clubs committed to the product.