New York City's best high school senior players set to face off in Mayor's Cup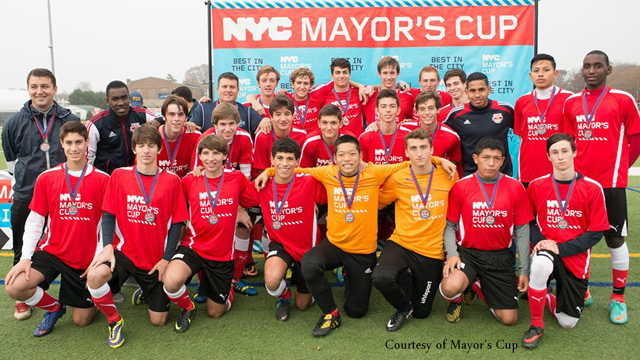 Who says citywide bragging rights aren't important?
New York City's best high school seniors will compete just for that in the Mayor's Cup. Teams compiled of the top talent in each league – Public Schools Athletic League (PSAL) and Catholic High School Athletic Association (CHSAA) – as well as teams from independent schools will square off.
They will descend upon Poly Prep Country Day School in Brooklyn for a two-day tournament this weekend.
+CHECK OUT the Mayor's Cup Facebook page for photos and more information
The Boys and Girls CHSAA sides will play the independent school teams on Saturday (Nov. 15), before the winners meet the PSAL sides in the final on Sunday the 16th.
The rosters for the Mayor's Cup are as follows:
PSAL Girls All-Star Team
Agape Alexander – Forward,  Susan Wagner
Mary Athanasopoulos – Defense, McKee/SI Tech
Eboni Birch – Midfield, Campus Magnet
Amberly Cabral – Midfield, Francis Lewis
Danielle Cenci – Forward, Tottenville
Zena Dema – Midfield, Tottenville
Amela Drekovic – Defense, Susan Wagner
Margaret Edwards – Forward,  Leon Goldstein
Samantha Flores – Defense, Beacon
Sophie Gershon – Goalie, Stuyvesant
Sarah Goldzweig – Goalie, Brooklyn Tech
Shareka Joseph – Forward, Thomas Jefferson
Elma Kolenovic – Forward,  Lab Museum
Emily Mendes – Midfield, Beacon
Amy Miranti – Defense, Riverdale/Kingsbridge
Samantha O'Brien – Forward, Madison
Hannah Paige – Defense, Bronx Science
Christina Psomopoulos – Midfield, Bayside
Shayna Ross – Defense,  Bronx Science
Katharine Safter – Midfield,  Bard
Alexa Trontz – Midfield, Bayside
Natalie Turner-Wyatt – Midfield, LaGuardia
Coaches: Kevin Jacobs, Beacon and Annie Eckstein, Bronx Science
PSAL Boys All-Star Team
Adesanya Adegbola – Midfield, Grand Street Campus
Mikel Agaraj – Midfield, Newcomers
Josh Almaraz – Goalie, Brandeis Campus
Anthony Baltazar – Forward, Newtown
Nick Bienen-Esayian – Midfield, Bronx Science
Erick Conde – Defense, Susan Wagner
Ahmad Elfaham – Midfield, Fort Hamilton
Stanley Goldberg – Midfield, Midwood
Michael Jimenez – Defense, Bayside
Augustine Josiah – Defense, McKee/SI Tech
Ibrahim Lakanobo – Forward, Martin Luther King, Jr. HS
Steven Limeta – Midfield,  HS for Math, Science & Engineering
Walter Medina –  Forward, FDR
Shin Mitsuno – Defense,  Bronx Science
Stephen O'Connor – Goalie, McKee/SI Tech
Daniel O'Grady – Midfield, Beacon
Ronald Orejuela – Defense, Bayside
Rockeem Russell – Forward, Mott Haven
Amando Sanchez – Defense,  Martin Luther King, Jr. HS
Bassirou Sarr – Midfield, Julia Richman
Cristian Solano – Defense, Long Island City
Sudeepta Tarafder – Forward, Cardozo
Coaches: Martin Jacobson, Martin Luther King, Jr. HS and Johnny Chavez, Grand Street Campus
CHSAA Girls All-Star Team
Delaina Allegretti –  Midfield,  Fontbonne Hall
Danielle Barone – Midfield, St. Joseph by-the-Sea
Maura Bellone – Midfield, St. Edmund
Angela Carredu – Midfield/Forward, St. Francis Prep
Celeste Chirco – Midfield, St. John Villa
Jaileen Cortes – Defense, St. Catharine
Colette Craig – Forward, Mary Louis Academy
Cara Dolce – Defense, Moore Catholic
Danae Dookhie – Midfield/Forward, Cardinal Spellman
Victoria Gianatiempo – Goalie, Archbishop Molloy
Sabrina Herrera – Midfield St. Vincent Ferrer
Michelle Leon – Defense, Cardinal Spellman
Taylor Lopa – Goalie, St. Joseph by-the-Sea
Antoinette Marciano – Midfield, St. Joseph by-the-Sea
Varinia Munoz – Midfield, Cardinal Spellman
Katie O'Donnell – Midfield, St. Saviour
Sarah Pender – Midfield, St. Saviour
Shavanna Persaud – Midfield, Cathedral HS
Karla Saltos – Midfield, Mary Louis Academy
Brittney Scheriff – Defense, Fontbonne Hall
Aimee Teitelbaum – Defense, Christ the King
Stephanie Zdazenski – Defense/Midfield,  Christ the King
Coaches: TBD
CHSAA Boys All-Star Team
Roko Basic –  Defense, Monsignor McClancy
Junior Batista – Forward, Archbishop Stepinac
James Brady – Goalie, Mount St. Michael
Daniel Corridan – Midfield, Archbishop Molloy
Leo Dalesandro – Midfield, St. Francis Prep
Martin Dedvukaj – Forward, Archbishop Stepinac
Lucas DoNascimento – Defense, Archbishop Molloy
Dan Fox – Forward, Fordham Prep
Ryan Hoffman – Defense, Archbishop Molloy
Ryan Kerley – Midfield, Fordham Prep
Chris Kilcarr –  Goalie, St. Francis Prep
Alessandro Leva – Forward, Regis
Max Moessner –  Midfield, Fordham Prep
John Nunez – Forward, Christ the King
Juan Carlos Obregon – Midfield, Christ the King
Danny Osso – Defense, Salesian
Pedro Paula – Defense, Archbishop Molloy
Jafet Rivera – Midfield, Iona Prep
Tonin Tonaj – Forward, Cardinal Spellman
Julius Tumukunde – Midfield, Cardinal Hayes
Gabriel Yacono – Midfield, Monsignor McClancy
Chris Zielinski – Defense, St. Joseph by-the-Sea
Coaches: Michael Cognato, Christ the King and Adam Brunengo, Monsignor McClancy
Independent School Girls All-Star Team
Sofie Alabaster –  Defense, Hackley
Alexandra Davis – Midfield, Horace Mann
Linda Jean Delfini –  Forward, Staten Island Academy
Sade Dinkins – Defense, Staten Island Academy
Rosie Ehrlich – Midfield, Dalton
Chloe Goldstein – Defense, Dalton
Shai Goodman – Goalie, Fieldston
Amaris Hemmings – Forward, Riverdale
Leah Janover – Midfield, Columbia Prep
Gabriella Kahan – Forward, Columbia Prep
Jane Kleiner –  Defense, Poly Prep
Jennifer Kronish – Goalie, Riverdale
Sami Lyons –  Forward, Trevor Day
Jackie Messina – Forward, Convent of the Sacred Heart
Joanna Miller – Forward, Hackley
Sabrina Quintanilla – Midfield, Berkeley Carroll
Amanda Rosenstein – Midfield,  Hackley
Amanda Schnell – Defense, Riverdale
Alexandra Stier – Forward, Horace Mann
Courtney Taylor – Midfield, Riverdale
Sarah Tiffany – Midfield, Riverdale
Rachel Trebach – Defense, Horace Mann
Coaches: Orlando Osorio, Riverdale and Tim Sullivan, Horace Mann
Independent Schools Boys All-Star Team 
Michael Aldoroty – Midfield,  Trevor Day
Chris Auteri – Defense, Staten Island Academy
Jeremy Barovick – Midfield, Riverdale
Michael Byfield – Forward, Horace Mann
Christian Do Rosario – Forward, UNIS
Luke Fairbairn – Midfield, Friends Seminary
Paolo Frazzini-Melendez – Midfield, Fieldston
Ben Gottschalk – Forward, Fieldston
Jacob Haft – Midfield, Horace Mann
Eamon Levin – Forward, Hackley
Mike McAloon –  Goalie, Poly Prep
Taro Nakagawa – Midfield, Poly Prep
Moctar Niang –  Defense, Dwight
Wes Purpura – Defense, UNIS
Adin Rinzler – Forward, Hackley
Tomaso Rock – Midfield, Loyola School
Aaron Schein –  Goalie, Horace Mann
Noah Stern – Goalie, Riverdale
Michael Stier – Midfield, Horace Mann
Dominick Tomasuolo – Defense, Staten Island Academy
Yuheng Wang – Forward, Riverdale
Miles Warren – Forward, UNIS
Coaches: Neil Berniker, Horace Mann and Juan De Rosa,  UNIS