Nine teams earn early Jefferson Cup bids at Capital Fall Classic Boys Weekend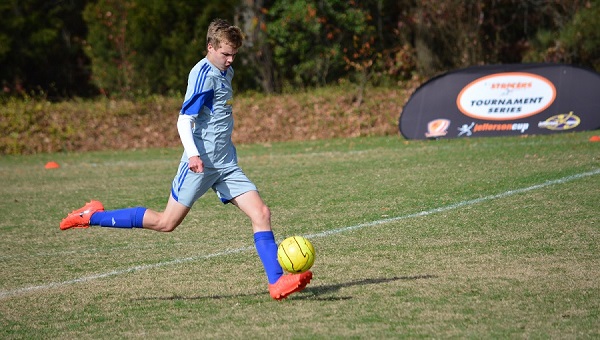 Richmond, Va. (Via Richmond Strikers) – The 2014 Capital Fall Classic Boys Weekend marked the end of the fall youth soccer season for many of the 250 participating teams, which proved to be a good motivator on Championship Sunday.
Across 38 total divisions in under-9 to under-18 age groups, every team worked hard to finish the weekend, and in a lot cases their season, on a high note. For the U10-U18 Premier Divisions, even more was on the line, with the champions of each receiving automatic bids into the 2015 Jefferson Cup. FC Richmond teams won four of the nine early bids.
FPYC Barca Juniors Blue (U10), SYA Cardinals 03 Red (U11), FC Richmond Magic 02 (U12), FC Richmond Magic 01 (U13), FC Richmond Magic 00 (U14), FC York 99 Elite (U15), Loudoun SC 98 Black (U16), FC Richmond Magic 97 (U17) and Lehigh Valley United 97 (U18) captured the Jefferson Cup qualifying Premier Divisions, several of which were decided in the final minutes of play. The U10-U15 Premier matches were played at Striker Park, and the U16-U18 college showcase age groups were played at River City SportsPlex.
While Jefferson Cup qualifying was a welcomed bonus for the winners, for most the competition on the fields was on improving and competing in a tournament setting against teams from all over Virginia, and throughout the Mid-Atlantic region.
"The competition was good for us, we're a (Division 1/Division 2) NCSL team, and got to play a tough in a very tough group," said Loudoun SC 98 Black coach Chris Pruden, whose squad defeated 2013 Capital Fall Classic Champions Virginia Rush U16 Elite 2-1 on a goal in the waning minutes of the match. Rush's goal in the title match was the only one allowed by Loudon in the tournament.
"Virginia Rush held the ball well, but we did a good job defensively and our keepers played well, which they did all weekend," Pruden said.
The Southwestern Youth Association Cardinals (Red) U11s were among the first teams to qualify for Jefferson Cup early on Sunday afternoon, defeating hosts Richmond Strikers Elite (Black) 2-0 in a tightly contested game at Striker Park. For SYA, the Capital Fall Classic was a chance to play against some relatively unknown competition, and begin clicking again as a team.
"Coming out of the CCL we got to face some teams that we don't usually see on a regular basis, and I thought we had outstanding effort all weekend," said SYA coach Chris McCartney. "We've had a bit of a slump in the league for the last month, but this was a really nice weekend for us to bounce back against some very good competition."
The Boys Weekend at the Capital Fall Classic had consistently pleasant weather, which allowed for good field conditions at the sites spread throughout the Richmond area. FPYC coach Michael Sprano, who led the Barca Juniors (Blue) to the U10 championship with an undefeated weekend, had kind words for his team and the event as a whole.
"We're learning the right way, and we're learning the right things, and when you work hard, sometimes it shows," Sprano said during the trophy presentation. Speaking on the event, he added, "There are three things that make a good tournament: Good playing surfaces, good referees and good competition. This weekend we had all three."
The Capital Fall Classic will continue next weekend, Nov. 15-16 with the Girls Weekend, which will feature more than 220 teams.