VMI men's soccer adds two assistant coaches to staff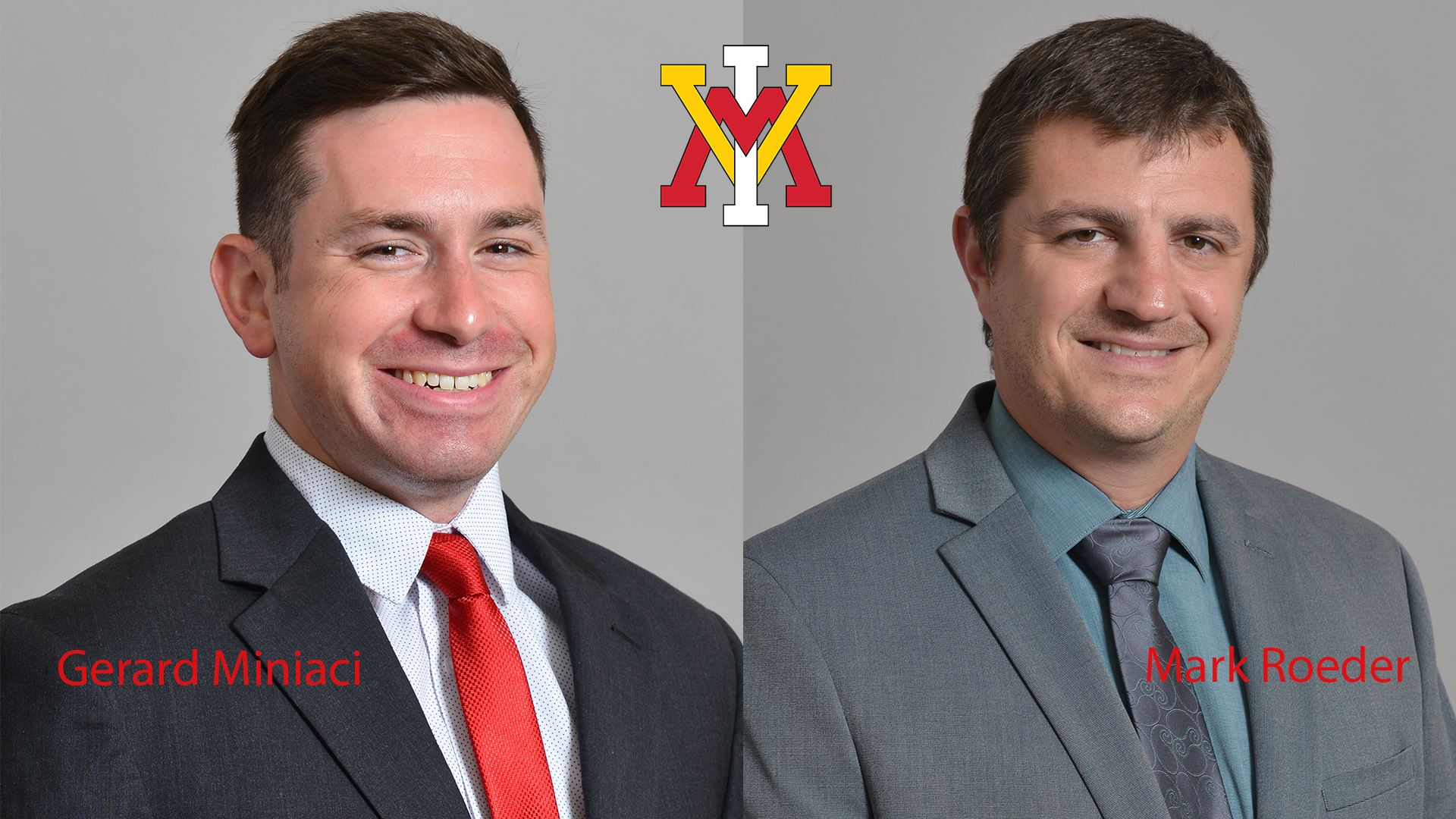 LEXINGTON, Va. – The VMI men's soccer program has two new assistant coaches for the 2020-2021 season, announced recently by first-year head coach Max Watson.
Gerard Miniaci returns to VMI as an assistant coach while Mark Roeder begins his first season as a volunteer assistant.
Miniaci is returning to VMI for the upcoming season after completing two seasons as a member of the NCAA Division III New England College men's soccer coaching staff in Henniker, N.H. His second season at NEC, Miniaci was hired as the Interim Head Coach of the men's soccer program, leading the Pilgrims to a second-place finish in the NECC. During his time at NEC, Miniaci also earned a master's degree in Sports and Recreational Management. Prior to NEC, he was the assistant coach with the men's program at VMI. Before coaching at VMI, Miniaci was the head varsity coach at Broadway High School for three seasons.
As an undergraduate, Miniaci attended Bridgewater College in Bridgewater, Va. where he played three seasons with the men's soccer team. He graduated with a bachelor's degree in Health and Exercise Science.
Miniaci holds his USSF E Coaching License.
"We are extremely excited to welcome Gerard Miniaci back to VMI men's soccer," said Watson. "A coach of his experience level, across multiple levels, will bode well for the program in both the short and long term. Place this experience alongside his previous knowledge of VMI, relationships with current seniors, and his time as an interim head coach; we are very excited for him to push this program forward."
Roeder joins the VMI men's soccer staff for the 2020-2021 season, his first coaching at the NCAA level. Originally from Laurel, Maryland, he graduated from Laurel High School. Roeder has a BS and MBA in Cybersecurity and is a 10-year United States Navy Veteran. In the Navy, Mark worked as an Electronic Technician, IT Project Manager and Integrated Technology Solutions Program Manager for Digital Traffic Systems. Roeder comes to VMI with the goal of wanting to give back and share his military experiences with cadets looking for future military aspirations.
Roeder has had the benefit of learning from some great coaches and wants to pass along his knowledge to the VMI soccer family. He holds his USSF "E" License and has attended numerous Development Workshops with National Team Coaches through Soccer Source 360.
"I'm very excited about adding Mark to our coaching staff for fall 2020 and beyond," Watson said. "Mark brings with him a wealth of knowledge about the game, a fervent desire to work with college-aged players, as well as strong personal and professional connections to all the experiences our current players are undertaking at VMI. I look forward to seeing all of the value Mark will add to the program."