Georgetown men's soccer announces award winners from NCAA Championship season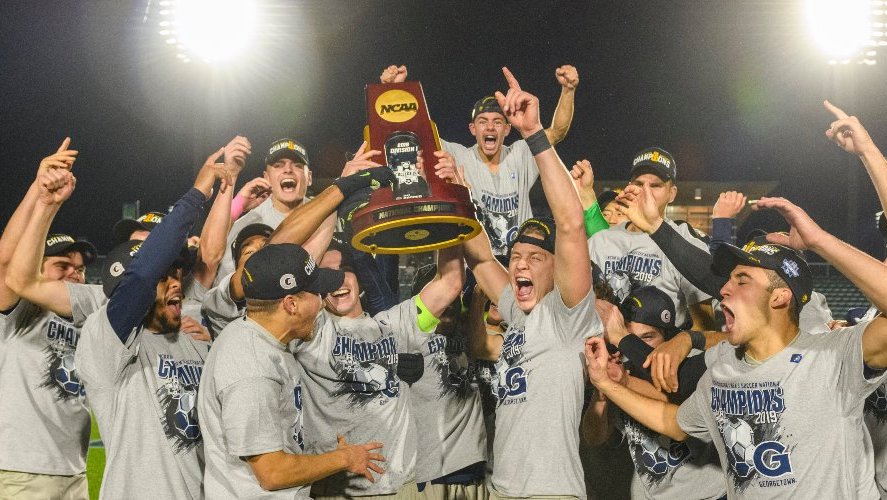 WASHINGTON – The Georgetown University men's soccer team celebrated the 2019 NCAA Championship one more time Monday evening as the squad held its annual banquet. In addition to celebrating the championship, the team announced its three major award winners as well as unveiling the championship rings.
Most Valuable Player
Sean Zawadzki
• Named Second Team All-BIG EAST.
• The midfielder started all 22 games he appeared in with three goals and one assist on the season for a total of seven points including the first goal in the national semifinal.
• Managed two game winners on the season.
• Zawadzki earned a spot on the BIG EAST Weekly Honor Roll on 11/4/19.
• He was named to the all-freshman team as a rookie.
• Voted a 2020 team captain.
Most Improved Player
Jacob Montes
• Earned Third Team All-America honors.
• Named First Team All-East Region.
• BIG EAST Midfielder of the Year and unanimous First Team All-BIG EAST.
• Montes was second on the team in scoring with a team-high 11 goals and five assists for 27 points.
• He boasted a team-best four game winners.
• The junior started all 24 games for the Blue & Gray.
• Montes was named to the BIG EAST Weekly Honor Roll on 9/23/19.
• This was his first all-region honor and the first nod to the All-America squad.
Ricardo Mendoza Award
Rio Hope-Gund
• Started all 20 games he appeared in.
• Tallied a pair of assists on the season.
• Voted a 2020 team captain.
• One of the founding members of the Black Student-Athlete Coalition and a member of the Diversity, Equity & Inclusion Working Group.
The Hoyas had a historic run winning the national championship with a 3-3 victory over Virginia that was decided in penalty kicks, 7-6.  GU finished the year with a mark of 20-1-3 which set the program record for wins in a season.
Georgetown also boasted the program's first three-peat, winning the BIG EAST Championship for the third-consecutive year in a 3-1 victory over Providence College at Shaw Field.  It was just the second time in program history that the squad has won both the regular season and the championship in the same year.
Individually, the Hoyas had three All-Americans for the first time in program history as well as five players named All-East Region.  Additionally, senior Dylan Nealis is the second MAC Hermann Trophy finalist in program history. In league play, the Blue & Gray won three of the major awards and had six All-BIG EAST selections. The coaching staff was also named the Division I National Coaching Staff of the Year by the United Soccer Coaches.
Within the NCAA, Georgetown was impressive ranking among the top 10 in shutouts (13, 2nd), goals-against average (0.559, 3rd), assists (50, 3rd), save percentage (0.831, 4th), goals (58, 4th) and points (166, 4th).