Virginia State Cup: Loudoun Red, Arlington Attack Red produce epic U-16 boys semifinal
FREDERICKSBURG, Va. — It was a game that brought together two of the best Under-16 teams in Virginia, as No. 1 Loudoun Soccer 98B Red faced off with No. 5 Arlington Attack Red in the semifinals of the Virginia State Cup at the VYSA Virginia Soccer Training Center.
It could arguably have been a very entertaining final matchup, given the wealth of talent at both teams' disposal, but due to the seeding of the competition was a semifinal instead. And it very nearly went the distance.
+ READ: Virginia State Cup boys semifinals wrap: Drama, razor-thin margins all around
After 90 minutes, the teams were still deadlocked at 0-0, having both had, and missed, chances to win the game in regulation. In the end, Jason Sookia's poked finish from close range made the difference for Arlington in the first period of extra time, and they were able to hold off late Loudoun pressure to take a 1-0 win.
"Oh my gosh, that's football right?" Arlington head coach Chris Smith told SoccerWire.com after the game. "It was crazy. Two of the best teams in Virginia, maybe two of the best teams in the country, squaring off and it [takes] a poke-in, that's how close those two teams are.
"Loudoun, we have so much respect for them, they're so good and so well-coached and so well-organized, and they demand our best every time we play them. All we can do is try to give them our best, and today we had just a little bit more."
The result left the No. 1 seeds Arlington joyous at the final whistle, but for Loudoun it was a tough end to a tight game that could so easily have gone their way had they been more ruthless in front of goal.
"We're really disappointed. I think we probably had enough chances to win two games, but we didn't, we didn't take any of them," Loudoun head coach Mark Ryan told SoccerWire.com. "If you don't score the goals — it's a cliché — but you're going to lose the games. They got one off a set piece, which everyone knows they're good at, but we're disappointed because we feel we had enough chances to win the game."
In chilly, sometimes-windy conditions, both teams were very evenly matched throughout, and overtime seemed inevitable as they each had good chances to go ahead but could not take them. The extra time at the end of the game gave both sides a renewed sense of urgency as they tried desperately to avoid the lottery of a penalty shootout, and Loudoun were left to regret conceding from a set play with too little time left to mount a real comeback.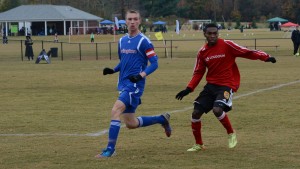 "I think the longer the game went on, in the back of our minds we knew we had to get the goal," Ryan said. "The longer it stretched out, you're always wary if you concede one you're not going to have enough time to get back into the game. Really, we didn't leave ourselves enough time to get back into the game."
The result meant that Arlington goes on to face No. 3 seed BRYC, who overcame No. 2-seeded SYC by a 2-1 scoreline. The seeding of these two semifinal opponents had been the subject of some criticism, given the talent at their disposal, but Ryan refused to accept that either had received a raw deal in their positioning in the competition.
+READ: Virginia State Cup boys finals preview and predictions: Sizing up championship Sunday
"No, that's disrespectful to BRYC and SYC, who we've played before in finals," he said. "I think we all know Arlington are a very good team, but BRYC and SYC are also very good teams and I think any team would be worthy of being in the final of those four."
Before the game, Loudoun wore warmup shirts emblazoned with the words "Team Mathias #12 – Kicking Cancer" as a tribute to Under-14s player Mathias Giordano, who is currently undergoing treatment for osteosarcoma, a form of bone cancer. The team — and the other Loudoun sides who also wore the shirts — used Mathias as a source of inspiration and were desperate to win in his honor.
"We've talked about it all season, that if we need anything else, just think about that little boy that would give anything to be out here playing," Ryan said. "We've thought about him, he's part of our group, we'd have loved to have won for him and for ourselves and for the club but it wasn't to be today."