Virginia earns second straight top 10 road win, beating 10th ranked Pitt 3-1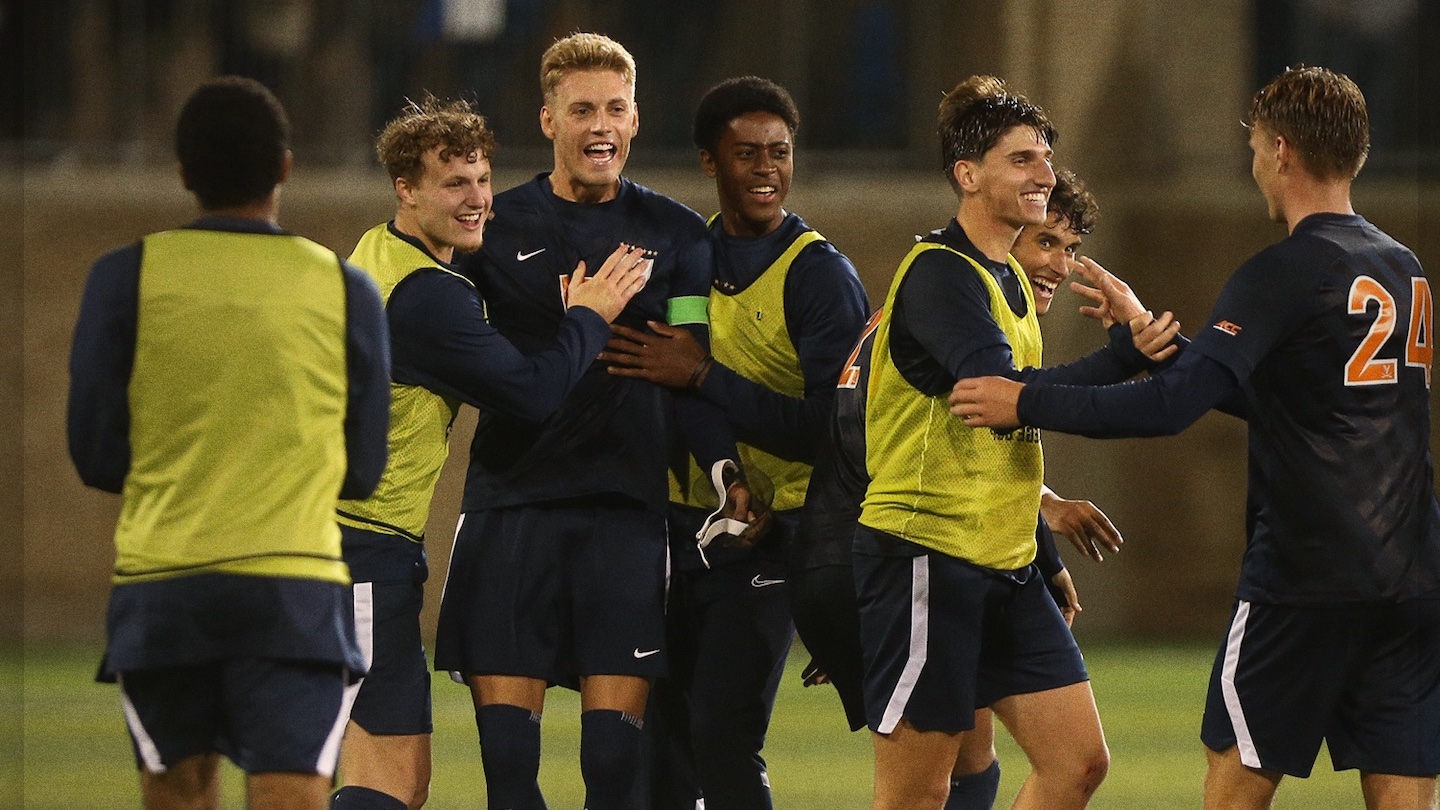 PITTSBURGH, Pa. – Lifted by a heroic five-point performance from veteran forward Phil Horton, Virginia (7-3-0, 3-1 ACC) downed No. 10 Pitt (5-3-1, 2-2 ACC) by a score of 3-1 at Ambrose Urbanic Field to record its second consecutive victory over top-10 opposition on Friday night (Sept. 30).
Virginia came out swinging when in the first minute of play. Asparuh Slavov blasted a shot towards goal that bounced around the penalty area taking multiple deflections before falling to Horton who blasted it into the back of the net with just 59 seconds off the clock.
1' Phil Horton wasted NO time here. Inside one minute the forward has fired us ahead 😤

Virginia 1, Pitt 0#GoHoos⚔️ pic.twitter.com/tttB1nj0GF

— Virginia Men's Soccer (@UVAMenSoccer) September 30, 2022
As Pitt began to grow into the game, a battle for the midfield began to take place as both teams struggled to dictate the play. With just under half an hour gone in the game, Pitt found the equalizing goal as Noel Valentin curled one into the low corner. Though the Cavaliers would be awarded a penalty in the late stages of the first half, the teams went into the break with the score knotted at 1-1.
After dealing with early pressure from Pitt in the early stages of the second half, Virginia launched a counter-attack in the 61st minute. With a beautiful piece of build-up play, Daniel Mangarov played Horton into the final third who played an incisive pass into Leo Afonso at the penalty spot. An intelligent flick set up Reese Miller to score his first career goal and he did not miss his chance as he put the Cavaliers on top 2-1.
61' | 𝙂𝙊𝘼𝙇𝙇𝙇𝙇𝙇𝙇𝙇𝙇𝙇𝙇𝙇𝙇

Reese Miller's first career goal gives us the lead!

🔶⚔️🔷#GoHoos pic.twitter.com/60ecSlJHxz

— Virginia Men's Soccer (@UVAMenSoccer) October 1, 2022
In the 73rd minute of play, smothering pressure from Afonso forced a poor back pass from Pitt. With impressive speed, it was Horton who tracked down the ball and fired into the back of the net to seal a 3-1 victory for Virginia.
73' | 𝙂𝙊𝘼𝙇𝙇𝙇𝙇𝙇𝙇𝙇𝙇𝙇𝙇𝙇𝙇

🤫 The silence is deafening!

Philip Horton silences the Pitt crowd as he gets the Hoos' third goal of the night!

🔶⚔️🔷#GoHoos pic.twitter.com/tqwb4dCPfN

— Virginia Men's Soccer (@UVAMenSoccer) October 1, 2022
"The past two results for this team have come against some of the best competition out there right now," said Virginia head coach George Gelnovatch. "I am really proud of our guys and the way they continue to battle. This has been a work in progress all season and we are just looking to continue to get better every game."
Virginia will return home to Klöckner Stadium to take on No. 13 Dever on Tuesday (Oct. 4). Kick is set for 6 p.m.
Goals (Assists)
1' – Virginia: Phil Horton (Unassisted)
28' – Pitt: Valentin Noel (Henrique Gallina)
61' – Virginia: Reese Miller (Phil Horton, Leo Afonso)
73' – Virginia: Phil Horton (Unassisted)
ADDITIONAL NOTES:
Virginia records back-to-back victories over a top-10 opponent after taking down No. 3 Syracuse last week (9/24/22)
The last time the Cavaliers defeated top-10 competition in consecutive games was in the 2019 ACC Tournament
Virginia has won its third straight game for the first time since the 2019 season
The win moves Virginia into first place in the ACC Coastal Division
Phil Horton tallied two goals in the match, his four goals on the season rank second on the team
Reese Miller tallied his first career goal that stood as the game-winner
Miller becomes the 12th different Cavalier to record a goal this season, a total that is second among ACC teams this season
Afonso and Horton each recorded an assist
Horton's five points is a career-high and marks the first time a Cavalier has tallied five points or more in a single match since Kome Ubogu accomplished the feat against VCU (9/28/21)
Horton's brace marks the first time all season that a Cavalier has scored twice in one game
The Cavaliers hand Pittsburgh just its fourth home-loss in the last four seasons
Virginia defeats Pitt for the first time in its last six attempts
The Cavaliers improve to 8-4-2 all-time against Pitt
Holden Brown made a season-high six saves in net
Virginia has scored three or more goals in a match for the fifth time this season
The Cavaliers achieved double-digit shot totals for the ninth time in their 10 games this season