UVA to face Maryland at Audi Field in the Battle for the District in September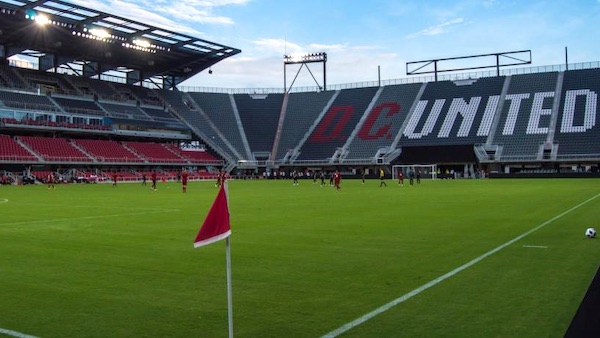 D.C. United have announced that they will host an NCAA Division I Men's Soccer match between the University of Maryland and the University of Virginia in what will be known as the Battle for the District at Audi Field on Sept. 2.
It will be the second-ever collegiate match at the venue with kickoff scheduled for 6 PM ET. The two teams played the first collegiate game in Audi Field history on Sept. 2, 2018 in a 0-0 draw.
"We're excited to welcome back two elite collegiate soccer programs at Audi Field in September," Dave Kasper, General Manager and VP of Soccer Operations, said. "Both programs have a long history in the DMV and with D.C. United, and we're excited to continue the tradition of having them play at our new home in the District."
The Black-and-Red currently have three former Maryland Terrapins on their roster with Chris Seitz (2005-2006), Chris Odoi-Atsem (2013-2016) and Donovan Pines (2016-2018). Both Seitz and Pines won the National Championship for Maryland in 2005 and 2018, respectively. Head coach Ben Olsen played for the University of Virginia from 1995 to 1997 before he was allocated to United as a Project-40 (now known as Generation adidas) player on Dec. 27, 1997.
"We are very excited to renew our rivalry with Virginia at Audi Field for the second straight year," Sasho Cirovski, Maryland Head Coach, said. "This is the most storied rivalry in college soccer and a matchup that is perfect for a venue like Audi Field. I'd like to thank Dave Kasper and D.C. United for welcoming us back and can't wait for our community to watch this matchup between two historic programs"
"The experience we had last year at Audi Field is something our players will always treasure and we're thrilled to keep the tradition going," George Gelnovatch, University of Virginia Head Coach, said. "We're excited for soccer fans in this region to have the opportunity to take in a matchup between two of college soccer's top programs at such an elite facility. This match is something our players and fans can circle on the schedule."