USWNT roster announced for 2023 SheBelieves Cup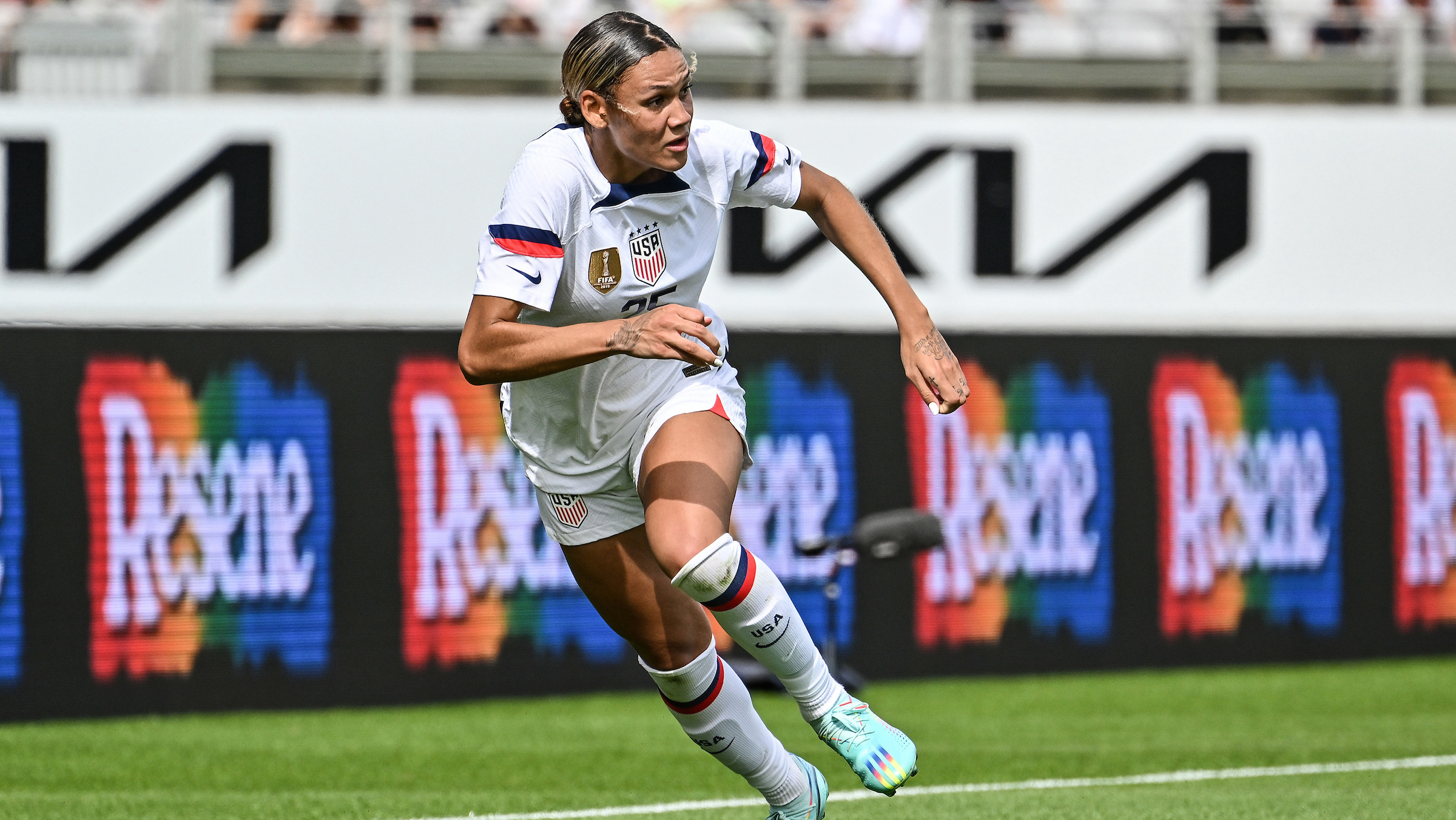 CHICAGO – U.S. Women's National Team head coach Vlatko Andonovski has named the 23-player roster for the 2023 SheBelieves Cup.
Twenty-two of the players were with the USA for the successful trip to New Zealand in January that featured two wins over the 2023 FIFA Women's World Cup cohost Football Ferns. Veteran forward Megan Rapinoe returns to the roster with a chance to hit 200 caps during the tournament. She is currently on 197.
The 2023 SheBelieves Cup kicks off on Thursday, Feb. 16 at Exploria Stadium in Orlando, Fla., as Japan takes on Brazil (4 p.m. ET) and the USA faces Canada (7 p.m. ET). The tournament resumes on Sunday, Feb. 19, as the competition moves to Nashville's GEODIS Park with the USA playing the first match of the day against Japan (2:30 p.m. CT / 3:30 p.m. ET) and Brazil facing Canada (5:30 p.m. CT / 6:30 p.m. ET) in the nightcap. The tournament concludes on Wednesday, Feb. 22 at Toyota Stadium in Frisco, Texas, with Canada taking on Japan (3 p.m. CT / 4 p.m. ET) and the USA facing Brazil in the tournament finale (6 p.m. CT / 7 p.m. ET).
All four nations will be participating in the 2023 FIFA Women's World Cup this summer and all four are ranked in the top 11 in the world with the USA at No. 1, Canada at No. 6, Brazil at No. 9 and Japan at No. 11.
Defender Tierna Davidson, a 2019 Women's World Cup champion and 2020 Olympic bronze medalist, is in the final stages of her recovery from an ACL injury and will participate in the first part of the Training Camp in Orlando but will not be on the tournament roster.
"All three of these matches are great opportunities for the players and coaches as we enter the final stretch to choose the World Cup roster," said Andonovski. "To get to play three top teams, all who are in the World Cup, over seven days, will test our team mentally and physically, and that's exactly what we need at this point in our preparations. We still have a few players in the pool recovering from injuries, but we are confident that they will be ready for selection for our April matches."
Forward Alex Morgan, who comes into the SheBelieves Cup with 201 matches played for the USWNT, will be honored before the opening match in Orlando for earning her historic 200th cap, that coming against Germany in the final match of 2022 in Harrison, N.J. Morgan played at Exploria Stadium for the Orlando Pride in the NWSL from 2017-2021.
The SheBelieves Cup, part of U.S. Soccer's SheBelieves initiative to inspire and empower women and girls to achieve their goals in sport and beyond, was first played in 2016. The USA won the inaugural edition and France took top honors in 2017. The USA won again in 2018, and England finished first in 2019, but the USA returned to the top of the podium in 2020, the first title for Andonovski, and took top honors in both 2021 and 2022.
U.S. WOMEN'S NATIONAL TEAM ROSTER BY POSITION (CLUB; CAPS/GOALS) – 2023 SHEBELIEVES CUP:
GOALKEEPERS (3): Adrianna Franch (Kansas City Current; 10), Casey Murphy (North Carolina Courage; 12), Alyssa Naeher (Chicago Red Stars; 87)
DEFENDERS (7): Alana Cook (OL Reign; 21/0), Emily Fox (North Carolina Courage; 24/0), Crystal Dunn (Portland Thorns FC; 128/24), Naomi Girma (San Diego Wave FC; 12/0), Sofia Huerta (OL Reign; 27/0), Becky Sauerbrunn (Portland Thorns FC; 212/0), Emily Sonnett (OL Reign; 70/1)
MIDFIELDERS (6): Lindsey Horan (Olympique Lyon, FRA; 123/26), Taylor Kornieck (San Diego Wave FC; 9/2), Rose Lavelle (OL Reign; 86/24), Kristie Mewis (NJ/NY Gotham FC; 47/7), Ashley Sanchez (Washington Spirit; 19/3), Andi Sullivan (Washington Spirit; 39/3)
FORWARDS (7): Ashley Hatch (Washington Spirit; 15/5), Alex Morgan (San Diego Wave FC; 201/120), Midge Purce (NJ/NY Gotham FC; 22/4), Megan Rapinoe (OL Reign; 197/63), Trinity Rodman (Washington Spirit; 12/2), Mallory Swanson (Chicago Red Stars; 84/28), Lynn Williams (NJ/NY Gotham FC; 49/15)
ADDITIONAL NOTES:
The roster features five players with 100 caps or more in defender Becky Sauerbrunn (212), Alex Morgan (201), Megan Rapinoe (197), Crystal Dunn (128) and Lindsey Horan (123).
Should Rapinoe appear in all three matches for the USA at the SheBelieves Cup, she will become the 14th player in USWNT history to reach the 200-cap milestone. The two other active members of the USA's 200-cap club – Sauerbrunn and Morgan – are also on this roster.
The roster features 11 players with 27 or fewer caps, but only one with single digit caps in Taylor Kornieck (9).
Morgan is by far the leading scorer on the roster with 120 career goals, good for fifth in U.S. history. Megan Rapinoe has 63 career international goals, Swanson has 28 and Horan has 26 while both Dunn and Rose Lavelle have 24.
Sixteen players on this roster were on the roster for the 2022 SheBelieves Cup.
Eight of the 12 NWSL clubs are represented on this roster, led by five players from OL Reign, four players from the Washington Spirit and three players each NY/NJ Gotham FC and San Diego Wave FC.
This will be Tierna Davidson's first action with the USWNT since the 2022 SheBelieves Cup in which she played in all three matches. She suffered her knee injury in late March of 2022 while training with the Chicago Red Stars. She has 48 caps.
At the World Cup, which is taking place from July 20-Aug. 20 in 10 stadiums across nine host cities — five in Australia and four in New Zealand — the USA will open Group E play against Vietnam on July 22 at Eden Park in Auckland/Tāmaki Makaurau, which will also serve as the host venue for the Opening Ceremony of the 2023 World Cup on July 20 when New Zealand plays Norway. The USA then faces Netherlands on July 27 at Wellington Regional Stadium in Wellington/Te Whanganui-a-Tara, followed by the Group A Playoff Winner on Aug. 1 at Eden Park in Auckland/Tāmaki Makaurau.