USWNT facing Mexico tonight with chance to clinch berth in 2020 Olympics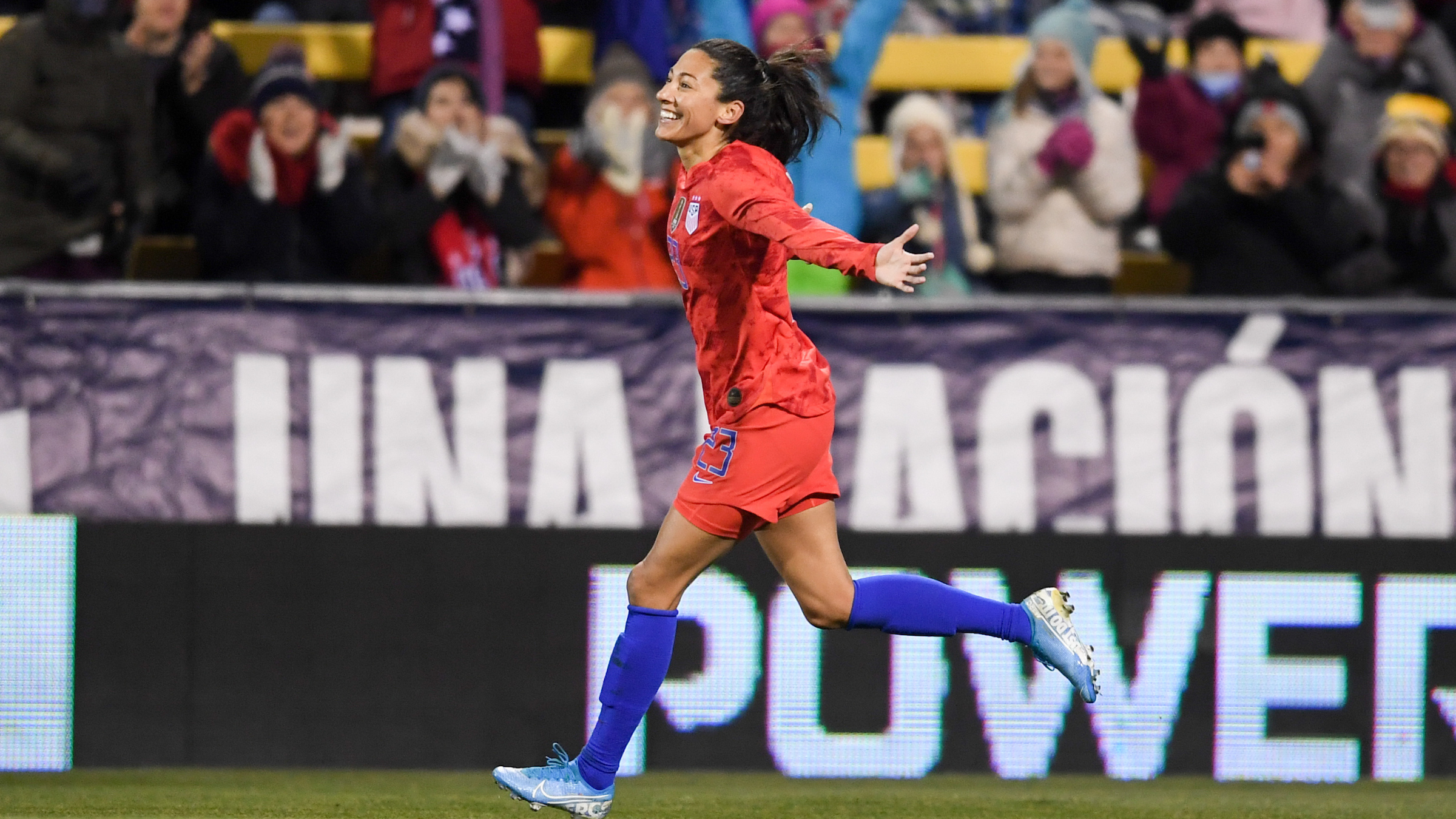 Feb. 7, 2020 | Dignity Health Sports Park
After rolling through Group A at the 2020 Concacaf Olympic Qualifying tournament, the U.S. Women's National Team earned first place in the group and a semifinal berth against the Group B runner-up Mexico on Friday, Feb. 7 (10 p.m. ET/7 p.m. PT on FS1 and Galavision) at the Dignity Health Sports Park in Carson, Calif.
The winner will earn a berth to the 2020 Olympics in Japan. The USA is riding a 26-game unbeaten streak and have scored two or more goals in 23 of those games.
USWNT 2020 OLYMPIC QUALIFYING ROSTER BY POSITION (CLUB; CAPS/GOALS):
GOALKEEPERS (3): 12-Adrianna Franch (Portland Thorns FC; 3/0), 18-Ashlyn Harris (Orlando Pride; 25/0), 1-Alyssa Naeher (Chicago Red Stars; 59/0)
DEFENDERS (6): 7-Abby Dahlkemper (North Carolina Courage; 56/0), 19-Crystal Dunn (North Carolina Courage; 99/24), 11-Ali Krieger (Orlando Pride; 106/1), 5-Kelley O'Hara (Utah Royals FC; 127/2), 4-Becky Sauerbrunn (Utah Royals FC; 173/0), 2-Emily Sonnett (Orlando Pride; 43/0)
MIDFIELDERS (5): 8-Julie Ertz (Chicago Red Stars; 97/19), 9-Lindsey Horan (Portland Thorns FC; 81/17), 16-Rose Lavelle (Washington Spirit; 40/11), 3-Samantha Mewis (North Carolina Courage; 62/16), 6-Andi Sullivan (Washington Spirit; 16/0)
FORWARDS (6): 17-Tobin Heath (Portland Thorns FC; 164/33), 10-Carli Lloyd (Sky Blue FC; 290/122), 14-Jessica McDonald (North Carolina Courage; 16/4), 20-Christen Press (Utah Royals FC; 133/55), 15-Megan Rapinoe (Reign FC; 163/50), 13-Lynn Williams (North Carolina Courage; 23/8)

2020 USWNT OLYMPIC QUALIFYING SCHEDULE:
| | | | | |
| --- | --- | --- | --- | --- |
| Date | Match-Up | Time | TV | Venue |
| Feb. 7 | CAN vs. CRC | 4 p.m. PT | Fox Soccer Plus | Dignity Health Sports Park; Carson, Calif. |
| Feb. 7 | USA vs. MEX | 7 p.m. PT | FS1, Galavision | Dignity Health Sports Park; Carson, Calif. |
| Feb. 9 | Championship | 3 p.m. PT | FS2, Galavision | Dignity Health Sports Park; Carson, Calif. |
HOW THEY GOT HERE:
Both the USA and Mexico produced quality group play results on their way to the semifinal of the 2020 Olympic Women's Qualifying Tournament. This will be the fifth meeting between the USA and Mexico in Olympic Qualifying. In fact, the teams have met in every Olympic Qualifying tournament the USA has participated in, but all have been during group play, so this will be the first knockout round game between the teams at Olympic Qualifying. The teams have also met seven times in World Cup Qualifying, which also marks every World Cup qualifying tournament the USA has participated in. Four of those meetings came in group play and three came in semifinal matches, one of which was Mexico's only win over the USA, that coming during qualifying for the 2011 FIFA Women's World Cup that forced the USA into a two-game playoff with Italy to earn its World Cup berth.

ROAD TO 2020 CONCACAF WOMEN'S OLYMPIC QUALIFYING SEMIFINAL:
USA
Date       Opponent             Score     U.S. Goal Scorers
Jan. 28    Haiti                          4-0 W     Press, Williams, Horan, Lloyd
Jan. 31    Panama                   8-0 W     Horan (3), Williams, Lavelle, Press, McDonald, Heath
Feb. 3     Costa Rica              6-0 W     Press (2), Horan, Mewis (2), McDonald 

SIX IN, SIX TO GO:
Half of the Women's Olympic Soccer Tournament field is set, with host Japan, Brazil (coached by former U.S. WNT head coach Pia Sundhage) from South America, Great Britain, Netherlands and Sweden from Europe and New Zealand (coached by former U.S. WNT head coach Tom Sermanni) from Oceania having booked tickets to Japan. Still to be determined are the two representatives from Concacaf, one from Africa, two from Asia and the winner of a playoff between the second-placed team from Africa and Chile, which finished second in the most recent South American qualifying tournament.

U.S. ROSTER NOTES TEAM
All 20 players selected to the roster were part of the USA's January training camp in Tampa, Florida that concluded on Jan. 15. The Olympic Qualifying roster features three goalkeepers (a requirement by tournament regulations) and 17 field players. Eighteen of the 20 players chosen by U.S. head coach Vlatko Andonovski were on the USA's 2019 FIFA Women's World Cup championship team and 13 players were on the USA's roster for 2016 Olympic Qualifying.
The 13 players on this roster who were a part of the 2016 Olympic Qualifying team are goalkeepers Alyssa Naeher and Ashlyn Harris, defenders Becky Sauerbrunn, Kelley O'Hara, Crystal Dunn, Emily Sonnett and Ali Krieger, midfielders Samantha Mewis, Julie Ertz and Lindsey Horan, and forwards Carli Lloyd, Christen Press and Tobin Heath. Sauerbrunn, O'Hara and Krieger and Lloyd, Megan Rapinoe and Heath were a part of the team that qualified for the 2012 Olympics. Heath and Lloyd are the only players on the roster who also participated in qualifying for the 2008 Olympics.
The two players on the roster who were not a part of the 2019 Women's World Cup Team are forward Lynn Williams, who scored 12 goals in the NWSL last season (second in the league) for the North Carolina Courage and has been playing on loan in Australia for the Western Sydney Wanderers this off-season, and midfielder Andi Sullivan, who was the first pick in the 2018 NWSL Draft and had an excellent second pro season for the Washington Spirit in 2019.
Besides Lloyd, ten other players on the roster have scored in Olympic Qualifying. Dunn has six goals with five of those coming against Puerto Rico in 2016 to tie a U.S. record for most in a game. Heath has six, Horan and Press have five, Mewis has three and Williams and Jessica McDonald have two. O'Hara, Rapinoe and Rose Lavelle have one each.
The U.S. roster averages 86.7 caps per player and the average age is 29 years old.
The USA is 21-0-1 all-time in Olympic Qualifying and has scored 116 goals while allowing three. It tied Canada 1-1 in the title game of the 2008 tournament before prevailing in penalty kicks.
In just his fourth event, Andonovski has already looked at 50 different players.
Eight players have scored so far for the USA in 2020: Horan (5), Press (4), Williams (2), Mewis (2), McDonald (2), Lloyd, Lavelle, and Heath. Fourteen different players scored for the USA in 2019. Lloyd led the team with 16 and Alex Morgan and Rapinoe had nine each.
Since its inception in 1985, the USWNT has compiled a record of 524 wins, 66 losses and 77 ties. Over the history of the program, the USA has gone 297-20-31 (90% winning percentage) at home, 53-18-13 away (71%) and 174-28-33 (81%) on neutral ground. Of the USA's 66 losses, 12 (18%) came at the Algarve Cup in Portugal.
The USA has scored in 54 consecutive matches and has averaged more than three goals per game in that time. Since the end of the 2015 World Cup, the USA has played 97 matches and has an 82-5-10 record.
Lloyd has 58 WNT goals since the start of 2015. Morgan, who has 57, is the only other player with more than 30 goals over the four years.
The USA's 1-1 draw with Korea Republic on Oct. 6, 2019, ended a streak of scoring multiple goals in 16 consecutive matches. The USA had not scored multiple goals in 14 straight games since March 19-June 13, 1995. That draw also ended the USA's winning streak at 17 consecutive matches, the third-longest winning streak in team history and one short of a team record. The U.S. Women had not won 15 games in a row since Feb. 10-July 23, 1996. That 17-game streak was the longest since July 25, 1990 – May 25, 1991, which included 18 wins.
The U.S. Women are unbeaten on home soil over its last 43 matches, 38 wins and five draws. The last loss at home was July 27, 2017 vs. Australia, a 1-0 setback in Seattle.
Eleven of the USA's 40 goals in its last 10 games have been headers, including two vs. Haiti, one vs. Panama and one vs. Costa Rica. The U.S. scored 21 goals from set pieces in 2019 (27% of the goals scored), including nine at the Women's World Cup.