USWNT faces former coach Pia Sundhage, Sweden in World Cup group match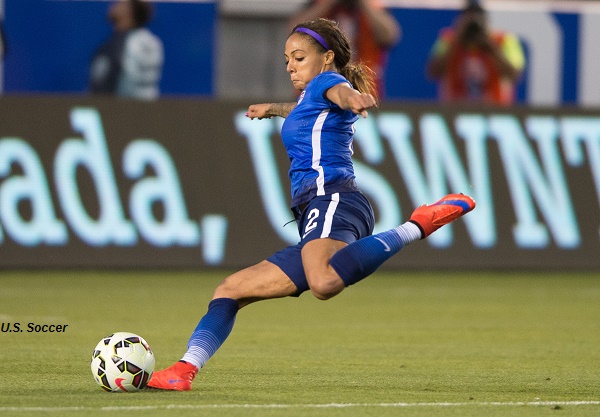 U.S. Women's National Team vs. Sweden
2015 FIFA Women's World Cup – Group D
Winnipeg Stadium; Winnipeg, Canada
June 12, 2015
The U.S. Women's National Team will continue Group D play at the 2015 FIFA Women's World Cup when it faces Sweden on Friday, June 12, at Winnipeg Stadium in Winnipeg, Canada. The match will be broadcast live on FOX and NBC Universo at 8 p.m. ET (7 p.m. CT). It will be one of an unprecedented 16 matches airing live on FOX broadcast network.
GROUP D STANDINGS: The USA (1-0-0; 3 points) began group play on June 8 when it defeated Australia 3-1 in its opening match of the tournament. Megan Rapinoe scored twice and Christen Press added a goal to lift the USA past Australia (0-1-0; 0 points) in front of over 31,000 fans at Winnipeg Stadium. In the other Group D matchup, Nigeria (0-0-1) and Sweden (0-0-1) played to a thrilling 3-3 draw that saw Nigeria erase a 2-0 deficit in the second half and then equalize late in the game after the Swedes had made it 3-2. Following the conclusion of the first round of Group D matches, the USA sits in first place as it was the only team to record a win on the day. The U.S. will finish group play against Nigeria on June 16 at BC Place in Vancouver. The USA, Nigeria and Sweden have competed in every edition of the FIFA Women's World Cup.
2015 FIFA WOMEN'S WORLD CUP
Group D Standings
| | | | | | | | | |
| --- | --- | --- | --- | --- | --- | --- | --- | --- |
| Team | GP | W | L | T | GF | GA | GD | Pts. |
| USA | 1 | 1 | 0 | 0 | 3 | 1 | +2 | 3 |
| SWE | 1 | 0 | 0 | 1 | 3 | 3 | 0 | 1 |
| NGA | 1 | 0 | 0 | 1 | 3 | 3 | 0 | 1 |
| AUS | 1 | 0 | 1 | 0 | 1 | 3 | -2 | 0 |
#SHEBELIEVES: The U.S. Women's National Team players want to make an impact on the soccer field during the 2015 FIFA Women's World Cup, but they also are determined to make an impact on their fans, especially the young girls and women who will be watching them. Conceived and developed by the USWNT players, the #SheBelieves campaign is a message to young girls that they can accomplish all their goals and dreams. During the week of May 19-24, all 23 players went into their communities to give back and share the message that anyone's dreams and goals can become a reality if one just believes.
ONE NATION. ONE TEAM. 23 STORIES: While you watch the WNT give its all at the 2015 FIFA Women's World Cup in Canada, get to know each player through U.S. Soccer's "One Nation. One Team. 23 Stories." series, presented by Clorox. Sprinkled with humor, fun and heartfelt stories, the videos give fans insight into the players' personalities, families, motivations, and some of the challenges they've experienced on the different roads they've traveled to earn the right to represent the United States in the ultimate competition for a soccer player.
FAN SUPPORT FOLLOWS THE U.S. WNT: The U.S. WNT played in front of three sold-out crowds during its Women's World Cup Send-Off Series and the vast majority of the more than 31,000 at Winnipeg Stadium on June 8 were also solidly decked out in red, white and blue. Another pro-U.S. crowd is expected against Sweden.
U.S. ROSTER NOTES:
Morgan Brian, Meghan Klingenberg, Julie Johnston, Sydney Leroux and Christen Press all made their World Cup debuts against Australia on June 8. Press and Leroux also recorded their first World Cup points during the game, with Press scoring a goal and Leroux an assist.
Alex Morgan, Tobin Heath and Morgan Brian were the substitutes against Australia and all played a role in helping the USA secure the victory.
In its last 10 games, the U.S. has surrendered just three goals and has scored 23. Its only defeat of the year came on the first match, a 2-0 loss to France on Feb. 8, 2015, in Lorient, France.
Forward Abby Wambach leads the U.S. roster with five goals in 2015.
Lori Chalupny scored against New Zealand in her hometown of St. Louis on April 4, marking it her first goal for the USA since she scored against the Republic of Ireland on Sept. 20, 2008. She scored her second goal of the year against Mexico on May 17, just 45 seconds after coming into the match as a second half sub.
Meghan Klingenberg scored her second National Team goal on a long-range blast against New Zealand. Her first goal was a similar long-range effort that came against Haiti on Oct. 8, during Women's World Cup qualifying tournament last year.
Julie Johnston has three goals in 2015, all coming in consecutive games. Her three goals were all from set pieces and all assisted by Lauren Holiday.
Eleven different players have scored for the USA in 2015: Alex Morgan, Abby Wambach, Amy Rodriguez, Christen Press, Johnston, Klingenberg, Megan Rapinoe, Morgan Brian, Chalupny, Sydney Leroux and Carli Lloyd.
Morgan saw her first minutes of action on the field since she last played against New Zealand on April 4 in St. Louis when she entered the match against Australia late in the second half.
U.S. captain Christie Rampone is currently the second most-capped player in U.S. and world history with 306 appearances.
Rampone earned her 300th cap against with Mexico on Oct. 24, 2014, and currently has 306 games, the most of any active player in the world and behind only former teammate Kristine Lilly.
Defender Becky Sauerbrunn is the only player on the roster to start every game for the USA. She has played the most minutes (969) of anyone on the team.
Carli Lloyd currently sits at 196 caps and could hit the 200 mark during the 2015 FIFA Women's World Cup. She would become the 10th player in U.S. history to reach that mark and the fourth in the current roster. Rampone, Wambach and Heather O'Reilly are the other three.
Lauren Holiday leads all U.S. players on the rosters in assists with five in 2015. Holiday was the 2014 U.S. Soccer Female Athlete of the Year.
Brian, the USA's youngest player at age 22, was the 2014 U.S. Soccer Young Female Athlete of the Year. She was also named the 2013 and 2014 Hermann Trophy winner while playing for the University of Virginia.
While Wambach is the USA's top scorer on the roster with 182 goals, Lloyd is next with 63 career international goals and Morgan has 51. Heather O'Reilly has scored 41.
Christen Press' four-goal performance against Argentina in Brazil last December was the ninth such game in U.S. history and second of 2014 after Wambach scored four times against Costa Rica in the final of the CONCACAF Women's Championship. It was the first-career hat trick for Press.
All nine NWSL clubs are represented on the Women's World Cup roster.
The WNT won the 2014 CONCACAF Women's Championship held last October in the USA. The U.S. officially clinched a spot in this year's World Cup with a 3-0 semifinal victory against Mexico on Oct. 24, capping off qualifying with a 6-0 win against Costa Rica in the title game on Oct. 26, led by four goals from Abby Wambach.
Midfielder Carli Lloyd played every minute of the qualifying tournament and was named Most Valuable Player of the competition. Abby Wambach led the USA in scoring in the tournament with seven goals while Lloyd had five.
IN THE RECORD BOOKS:
With her first goal of the game against Australia on June 8, U.S. midfielder Megan Rapinoe became the 13th U.S. female player to score 30 goals and tally 30 assists. She currently has 31 goals and 32 assists. Her brace against Australia were her first tallies of 2015.
Rapinoe became the 31st American female player to reach the century mark in caps, achieving that feat against New Zealand on April 4. She currently has 103 caps. Lori Chalupny became the 32nd player against Ireland on May 10.
With three goals against Argentina on Dec. 18, Carli Lloyd upped her career total to 61 and moved into sole possession of seventh place on the U.S. WNT's all-time goal scoring list, passing Shannon MacMillan who scored 60 goals in her career. Lloyd, now with 63 goals, is the highest-scoring player in U.S. history who has played exclusively as a midfielder.
Heather O'Reilly is the ninth player to hit 200 caps in U.S. history after reaching the milestone against Korea DPR on March 12, 2014. Now with 219, she is seventh on the USA's all-time list. Abby Wambach (243) and Christie Rampone (306) are the only active players ahead of her.
O'Reilly is the second-youngest player to hit 200 caps for the USA. Lilly was 28 years, 9 months and 15 days old when she earned cap No. 200 on May 7, 2000. O'Reilly was 29 years, 2 months and 10 days old when she earned her 200th cap.
O'Reilly is currently sixth all-time in assists with 52 and is 13th all-time in goals with 41.
In addition to breaking Mia Hamm's world scoring record, Wambach's June 20, 2013,performance against the Korea Republic also made her the USA's all-time leader in multiple-goal games with 39 for her career. She has since added six more and now sits at 45. She has 37 two-goal games, five hat tricks, two four-goal games and one five-goal game.
Sydney Leroux is tied with April Heinrichs in 14th place on the all-time U.S. WNT goal-scoring list with 35 goals.
With her game-winning goal against England on Feb. 13, Alex Morgan became the 10th player in U.S. history to score 50 or more goals. She now has 51.
Hope Solo has a U.S. record 84 career shutouts and has 171 caps with the USWNT, the second-most for a goalkeeper in U.S. history behind Brianna Scurry (173; 1994-2008.)
Solo has the most starts by a WNT goalkeeper with 165, surpassing Scurry's 159 (from 1994-2008).Solo is also in ninth place on the WNT's all-time starts list surpassing Carla Overbeck (161 games from 1988-2000).
Solo is currently second all-time in goalkeeper wins with 131, behind only Scurry who had 133. Solo could surpass Scurry and become the all-time leader in wins for a goalkeeper in U.S. history during the 2015 Women's World Cup.
2015 FIFA WOMEN'S WORLD CUP NOTES:
After scoring three times against Australia in its opening match of the 2015 FIFA WWC, the USA became the first country to reach and then surpass the century mark of World Cup goals scored. The USA currently has scored 101 WWC goals.
The USA is making its seventh appearance in a FIFA Women's World Cup and is one of seven countries to appear in all seven editions of the tournament, the others being Brazil, Germany, Japan, Nigeria, Norway and Sweden.
The U.S. WNT is one of four CONCACAF representatives at the 2015 FIFA Women's World Cup after winning the 2014 CONCACAF Women's Championship. The runner-up of the qualifying tournament, Costa Rica, is participating in its first Women's World Cup. Third-place finisher Mexico and World Cup host Canada are also in the tournament.
The U.S. is the only country to have reached semifinals of every FIFA Women's World Cup. The USA won in 1991 and 1999.
The WNT has now earned at least a point in each of its seven opening matches at a Women's World Cup.
The 2015 FIFA Women's World Cup features six venues: Commonwealth Stadium in Edmonton, Moncton Stadium in Moncton, Olympic Stadium in Montreal, Frank Clair Stadium in Ottawa, BC Place Stadium in Vancouver and Winnipeg Stadium in Winnipeg. Nine matches, including the semifinal, will be played at Olympic Stadium.
The 90,185 spectators on hand at the Rose Bowl for the USA's victory against China PR in the 1991 FIFA Women's World Cup represent the largest attendance in the tournament's history. The largest venue at the 2015 FIFA Women's World Cup is Olympic Stadium, which seats 66,308.
Abby Wambach's 13 goals in FIFA Women's World Cup competition rank third all-time. She trails only Brazil's Marta (15, with one goal so far in this tournament) and Germany's Birgit Prinz who have (14).
Nine players on the current USA roster have scored in a Women's World Cup tournament: Wambach, Megan Rapinoe, Alex Morgan, Carli Lloyd, Lauren Holiday, Heather O'Reilly, Lori Chalupny, Shannon Boxx, and Christen Press.
The U.S. WNT is 28-5-4 all-time in the Women's World Cup, outscoring its opponents 101-33 in 37 games. The 28 wins, 37 games played and 101 goals scored are all FIFA Women's World Cup records.
The USA's most lopsided victory in the tournament was a 7-0 win against Chinese Taipei in 1991.
Michelle Akers' five goals against Chinese Taipei are the most in a single match in tournament history.
The U.S. holds two other individual records with Kristine Lilly playing a record 30 games in five World Cups and goalkeeper Briana Scurry earning a record 10 shutouts.
The USA is 5-0-2 all-time in its Women's World Cup openers, drawing China 3-3 in 1995 and North Korea 2-2 in 2011.
The USA and Sweden have met on four previous occasions during a Women's World Cup (1991, 2003, 2007 and 2011). The first three matches were all USA victories, a 3-2 win in China in 1991; a 3-1 win in Washington D.C. in 2003; and a 2-0 victory in China in 2007. The fourth and most recent game was the only loss in a WWC match for the USA against Sweden: a 2-1 defeat in the group stage, the only game the USA lost in its group in 2011. The U.S. have faced the Swedes in each of the last three World Cups, making the upcoming June 12 game the fourth time in a row the road to the World Cup has to go through Sweden.
AN OLD FRIEND, A CURRENT RIVALRY: The game against Sweden will not only be the 36th meeting between both teams, but it will be a reunion between an old coach and her former team on the grandest stage in women's soccer. The last time the USA and Sweden played each other in a World Cup was in 2011, when the U.S. was under the direction of Pia Sundhage. This time around, Sundhage will still be on the sidelines; however, she will on the other bench as she is the current head coach of her native Sweden. Sundhage served as the head coach of the USWNT from 2008-12, finishing with a 91-6-10 overall record in 107 matches contested. She won the Olympic gold medals with the USA in both 2008 and 2012, and the Algarve Cup in both 2008 and 2010. Additionally, she guided the USA to a second place finish at the 2011 FIFA Women's World Cup. The U.S. has faced a Sundhage-led Sweden team twice since she took the reins of her home country. The teams met on March 11, 2013, at the Algarve Cup in Lagos, Portugal, where the USA drew Sweden 1-1. More recently, the two sides met on March 7, 2014, also at the Algarve in Portugal, a 1-0 U.S loss. With the exception of Julie Johnston and Morgan Brian, Sundhage coached every other player on the U.S. roster at one point or another during her time as U.S. head coach.
HELLO AGAIN: For the fourth straight time in Women's World Cup play, and fifth overall, the USA is set to clash with Sweden in a Women's World Cup. Since the 2003 edition that was held in the United States, the U.S. Women and Sweden have been paired in the same group every time the event has been held. The outliers are 1995 and 1999, when the USA did not face Sweden during the tournament at any point. In the four previous meetings between the two teams, the USA has compiled a 3-1-0 record, with the only loss coming in the most recent matchup on July 6, 2011, when the U.S. dropped its third and final group game 2-1 to Sweden in Germany.