Women's World Cup: USWNT getting results – and falling short in important areas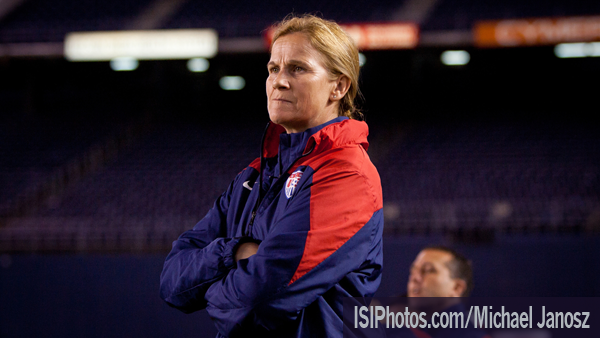 The U.S. Women's National Team have taken four points from their first two games at the Women's World Cup. They are on course to win Group D, which would set them up with a third-place-finishing opponent (presently the likes of Mexico, Spain or Thailand) in the tournament's Round of 16.
They've surrendered just one goal in 180 minutes as a calm, cohesive back line has taken root. Their most feared weapons are relatively healthy and fit.
Their prospects for winning a third world title, however, look murky.
Even with a talent-laden roster and more than a year to prepare for this event, head coach Jill Ellis seems unsure of many players' optimal roles, and unclear on how to best structure the team, both tactically and stylistically.
+READ: Dure: USWNT beat Australia with fitness, and why not?
Questions swirl about the best arrangement for central midfield and the ideal strike partnership, and the team has shown only sporadic signs of collectively-understood patterns of play.
Friday's lineup in the 0-0 draw with Sweden in Winnipeg was full of quality. Climbing into the national-team picture over the last several years, then scoring in her World Cup debut, Christen Press has more than earned her shot, and her forward colleague Sydney Leroux can say the same.
Yet it was easy to wonder whether the duo had spent that much time together up top. They rarely combined dangerously, and spent long stretches chasing after hopeful long hoofs into the space behind a Swedish back four rarely exposed for pace like the scouting reports said it could be.
Carli Lloyd, Lauren Holiday, Megan Rapinoe and newcomer Morgan Brian present a fearsome midfield unit in what U.S. Soccer listed as a 4-4-2 formation. Yet it could be argued that none of them were tasked with assignments that fit their skillsets best:
*Lloyd and Holiday still struggle, for whatever reason, to bring out the best in one another in center mid. Analogous to the England men's national team's long-running odd couple Steven Gerrard and Frank Lampard, neither is an out-and-out defensive midfielder and they have such different attacking sensibilities.
*Holiday is a smart player who has learned the No. 6 role studiously and was extremely effective at it for long stretches. Yet it shackles her to key responsibilities, and those who have seen her skill and creativity on the ball know what it is being lost in return for that discipline.
*Brian is not a wide midfielder by trade. She's a traditional orchestrator who does her best work "in the hole" behind the strikers. Friday's right flank duties looked like an uncomfortable fit, one that might work if she were able to drift inside, get on the ball and pick out runners ahead and to the sides of her – ahh, but such incisive movement was rare for this and most of the recent USWNT lineups.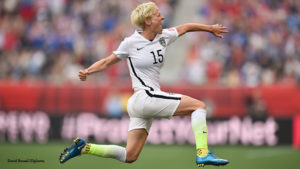 *Rapinoe generally thrives in a free role, but her brand of energy and endeavor is physically draining. Piling the defensive requirements of an end-to-end wide midfielder on top of it poses the threat of injury or fatigue over this long, hot month in Canada.
Heather O'Reilly looks like a compelling option on the right flank, but wasn't called upon. Tobin Heath turned heads in a similar role off the bench vs. Australia, and yet did not get another chance vs. Sweden. Flying winger Crystal Dunn, of course, was the last player cut from the roster. Up front, Amy Rodriguez was a welcome new face on Friday, yet spent part of her cameo on the right wing, and part at forward.
Julie Johnston and the rest of the defense were excellent, steering the Swedes into less threatening positions and reacting alertly to most of their counterattacks. That bunker-and-counter approach in and of itself was a surprise for Ellis, who had predicted a high-pressure approach from Pia Sundhage's team pregame, and it took her some time to craft the USWNT's response.
Ellis seems to have attempted to take the old coaching idea of "find a way to get your best 11 players on the field together" to its limits. As her men's counterpart Jurgen Klinsmann has learned, not everyone can adapt to new and unfamiliar roles on the fly in limited time (and some positions are more about freeing up others to shine than shining themselves).
All in all, it presented a puzzling semblance of a plan, and did not appear to be well-drilled, either.
The question of Ellis' ability to guide this squad to a WWC trophy has been placed under a microscope for some time now, and that speculation will only increase while the USWNT continue to fall so short of their best.