USSDA East Conference Recap: 2017 Development Academy Playoffs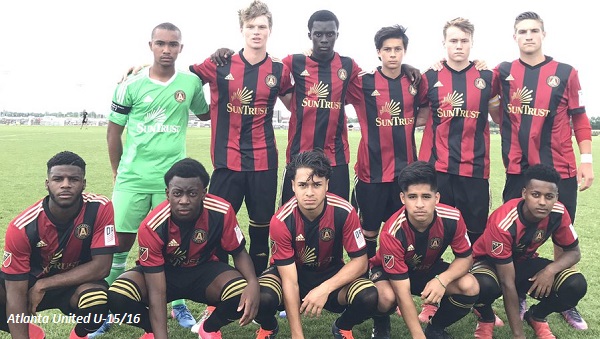 U.S. Soccer Development Academy East Conference clubs across the U-15/16 and U-17/18 age groups were heavily active in the second season this weekend with three sides advancing to the knockout rounds at Grand Park in Westfield, Indiana.
Continue reading for a recap of some of the most notable performances in the U-15/16 and U-17/18 age groups.
Under-15/16
In the Under 15-16 Division Bethesda Academy (2-0-1, 7 points) clinched their first-ever appearance in the Knockout Round after going undefeated in Group D. In their first match on Thursday Bethesda earned a 1-0 win over Real So Cal thanks to a goal from Baraka Kiingi in the 32nd minute and goalkeeper Tyler Perrie pulling together the clean sheet.
Things would not come as easy for Bethesda in their second match against Oakwood Soccer Club. The Maryland-based side would go down 1-0 early due to a goal from midfielder Ronan Fitzpatrick in the 32nd minute. But the Bethesda attack would come to life in the second half. Defender Joseph King Jr., a cornerstone of the stout Bethesda defense all season, would get involved in the attacking end in the 57th minute knocking home the equalizer.
With still plenty to play for on Monday, Bethesda would leave nothing to chance against the Capital Area Railhawks, downing their Eastern Conference foes 3-0 on Monday. Midfielder Uriel Zeitz would score twice (45' and 51') while defender Jherson Machado would add a third in the 71st minute. While the goalscorers will certainly earn plenty of plaudits credit should also go to the Bethesda defense and goalkeeper Erich Kindermann who shutout a very dangerous Railhawks side (52 goals in the USSDA Southeast Division).
+READ: Sixteen teams advance to Development Academy Playoffs knockout round
Bethesda will be joined by Atlanta United FC as representatives of the Eastern Conference in the knockout stage. Atlanta (2-0-1, 7 points) started Group A out with a bang getting a goal from forward Zyen Jones in just the fourth minute of their first match against Montreal Impact FC. However, Montreal would come back to tie the match in the 27th minute with midfielder Callin Calaidjgolou forcing Atlanta to drop two points.
Although they had been held back a bit in their first match, Atlanta's potent attack would come alive in their second match, putting a 4-1 result on the Chicago Fire. Atlanta, who had 75 goals during the regular season, would strike early with Jones scoring in the 15th minute. But as opposed to the previous match where Atlanta let Montreal back into the game they would put the foot on the gas against Chicago. Just five minutes later, forward James Brighton (20') would put AUFC up by two. Midfielders Alessandro Castro (45')  and Blake White (56') would join in on the scoring fun for Atlanta putting the game all but out of reach.
If matchday two was to show what Atlanta could do on the attacking end of the pitch, then matchday three was certainly all about the defense. Goalkeeper Sai Brown and defenders George Bello, Will Crain, Kendall Edwards, and Natnael McDonald stifled the Players Development Academy attack through tough physical defending, and quality, concise clears. Jones would give his defense a bit of breathing room with his third goal of the tournament in the 28th minute
Full East Conference U-15/16 Results
Thursday June 22, 2017
BW Gottschee Academy 1- Seattle Sounders FC 2
Crew SC Academy Wolves 1-New York City FC 0
FC Dallas 5-Baltimore Armour 2
Sockers FC 1-New York Red Bulls 1
Sporting Kansas City 1-Everton FC 1
Atlanta United 1- Montreal Impact 1
Bethesda SC 1- Real So Cal 0
Weston FC 1-Pateadores 1
Capital Area Railhawks 2-Oakwood Soccer Club 3
FC Golden State 1-Cedar Stars Academy : Monmouth 0
Players Development Academy 0-Chicago Fire 0
Saturday June 24, 2017
BW Gottschee Academy 0-New York Red Bulls 5
Crew SC Academy Wolves 1-Baltimore Armour 1
FC Dallas 3-New York City FC 1
Weston FC 1-Everton FC Westchester 0
Atlanta United FC 4-Chicago Fire 1
Bethesda SC 1-Oakwood Soccer Club 1
Real So Cal 2-Capital Area Railhawks 0
Crossfire Premier 2-Cedar Stars Academy:Monmouth 0
Players Development Academy 2-Montreal Impact 4
Vancouver Whitecaps FC 3-Philadelphia Union 4
Monday June 26, 2017
New York City FC 0-Baltimore Armour 0
Pateadores FC 2-Everton FC Westchester 0
Seattle Sounders FC 1-New York Red Bulls 1
BW Gottschee Academy 0-Sockers FC 1
Atlanta United FC 1-Players Development Academy 0
Capital Area Railhawks 0-Bethesda SC 3
Chicago Fire 3-Montreal Impact 2
Colorado Rapids 4-Cedar Stars Academy:Monmouth 1
Philadelphia Union 1-Houston Dynamo 2
Real So Cal 0-Oakwood Soccer Club 2
Under-17/18
Despite some quality play across all sides just Under-17/18 side from the Eastern Conference, Orlando City SC will be the lone representative from the region in the knockout stage. The Purple Lions swept the competition in Group G, pulling off three consecutive wins to advance to their first-ever quarterfinal appearance.
On matchday one Orlando put two past Pateadores SC in the second half to earn a decisive 2-0 win. Goals were scored by David Lorea (60') and Alejandro Pereira (90').
Matchday two would not go as smoothly for Orlando against the Players Development Academy. OCSC would go up 1-0 early thanks to a strike by Juan Jose Hernandez in the ninth. But PDA would strike back in the 23rd minute with midfielder Gennaro Nigro providing the equalizer. Lorea would prove to be the hero though with a match-winner in the 32nd minute. This was a tough, physical match with nine cards being issued between both sides, including three red cards for PDA. But credit to the Orlando defense for keeping their composure late to pull off the result.
In their third and final match of Group G Orlando City would face their toughest assignment yet against the Indiana Fire. With both sides undefeated leading into the final match both sides were looking for an early advantage, something to build off of. As he had done so many times before in this tournament and in this season, Lorea would provide that little bit of spark in just the first minute putting OCSC ahead early. Midfielder Raul Aguilera would make it 2-0 for Orlando with a low shot past goalkeeper Jake Gruber.
Indiana would cut the lead in half in the 76th minute with a goal from defender Ben Weber. That would set up a frenetic final few minutes of the match with Indiana looking for the equalizer. But the Orlando defense would hold and earn a difficult 2-1 win.
Full East Conference U-17/18 Results
Thursday June 22, 2017
Atlanta United FC 1-Los Angeles Galaxy 1
Montreal Impact FC 2-Texans SC Houston 3
New England Revolution 2-Crossfire Premier 5
New York Red Bulls 0-Seattle Sounders FC 1
Sporting Kansas City 5-FC Boston Bolts 2
Weston FC 2-Bethesda SC 0
Baltimore Armour 2-Colorado Rapids 3
Capital Area Railhawks 2-Chicago Fire 4
Indiana Fire 3-Players Development Academy 0
Orlando City SC 2-Pateadores 0
Philadelphia Union 0- Real So Cal 2
Saturday June 24, 2017
Atlanta United FC 1-FC Boston Bolts 0
Montreal Impact FC 1-Sacramento Republic FC 0
New England Revolution 4-Bethesda SC 0
Weston FC 2-Crossfire Premier 2
Baltimore Armour 3-Chicago Fire 2
Capital Area Railhawks 1-Colorado Rapids 2
Orlando City SC 2- Players Development Academy 1
Philadelphia Union 1-Lonestar Academy SC 3
Monday June 26, 2017
Atlanta United FC 1-Sporting Kansas City 1
Bethesda SC 1-Crossfire Premier 2
FC Boston Bolts 1-Los Angeles Galaxy 3
FC Dallas 2-New York Red Bulls 3
New England Revolution 4-Weston FC 1
Sockers  FC 2- Montreal Impact FC 2
Baltimore Armour 0-Capital Area Railhawks 4
Philadelphia Union 1-Crew SC Academy Wolves 4
Players Development Academy 1-Pateadores 2