Sixteen teams advance to Development Academy Playoffs knockout round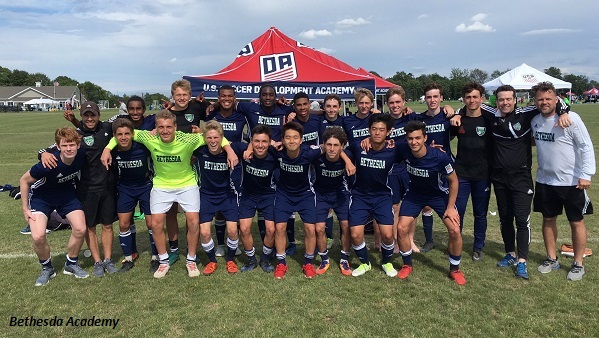 (Via U.S. Soccer) – The 16 advancing teams in the 2017 Development Academy Playoffs are set following Monday's final round of group stage games in the Development Academy Showcase and Playoffs at Grand Park in Westfield, Indiana. Eight teams remain alive in the U-15/16 Playoffs and the U-17/18 Playoffs with the Knockout Round quarterfinals scheduled for July 6-7.
The Development Academy selection committee is set to announce Knockout Round and hosting scenarios on Tuesday, June 27. Many factors go into the matchup selection process, including regular season record and overall seed, geography, reducing travel, and player rest and recovery.
In the U-15/16 Playoffs, the following eight teams will continue their Academy seasons into July.
Atlanta United FC
Bethesda SC
Colorado Rapids
FC Dallas
Real Salt Lake AZ
Seattle Sounders FC
Sporting Kansas City
Vancouver Whitecaps
U-15/16 CLUB NOTES
In their first year with a U-15/16 academy program, Atlanta United FC advances to the quarterfinals as the second highest remaining seed. U-17 CONCACAF World Cup Qualifying player Zyen Jones scored three goals in the three playoff games and will look to continue that streak on July 6.
Reaching the Academy quarterfinals for the first time ever, Bethesda SC will aim to break more records in the Knockout Round.
After upsetting Crossfire Premier 2-1 in their opening Academy playoff game and drawing against FC Golden State in their second game, Colorado Rapids defeated Cedar Stars Academy – Monmouth in their final Group B game to finish on top of the group and advance as the lowest seed remaining in the U-15/16 age group. After not qualifying for the Playoffs at either age group at the end of the 2016 season, both age groups qualified in 2017 under the direction of first year Academy Coach Chris Martinez.
As the only number one overall seed remaining from both age groups, FC Dallas will look to continue their championship ways and strive to capture their third straight title in 2017.
Real Salt Lake AZ will be trying to return to the Academy Championship game after falling short in 2016. RSL enters the quarterfinals after winning their first two Group G games and drawing their third to ensure the advancement.
The former home clubs of U.S. Men's National Team players Jordan Morris and DeAndre Yedlin, Seattle Sounders FC advanced to the Knockout Round in both age groups.
Needing a win or tie in their final Playoffs game vs. Weston FC, Sporting Kansas City got the job done with a 2-2 tie, ensuring their first appearance in the Academy quarterfinals.
With all four MLS Group C teams still alive on the final day of playoff competition, the Vancouver Whitecaps got the 3-2 win they needed vs. LA Galaxy and advanced past Houston Dynamo on goal differential.
The U-15/16 Knockout Round quarterfinals will take place on Thursday, July 6. If extra time is necessary, the format will be two 10-minute periods followed by penalty kicks.
Three MLS programs double-qualified and will be advancing to both the U-15/16 and U-17/18 quarterfinal Knockout Round: Colorado Rapids, Seattle Sounders FC and Real Salt Lake AZ.
The following eight teams make up the U-17/18 quarterfinalists.
Colorado Rapids
Crossfire Premier
LA Galaxy
Orlando City SC
Real Salt Lake AZ
Real So Cal
Seattle Sounders FC
Texans SC Houston
U-17/18 CLUB NOTES
Double qualifying with the program's U-15/16 team, Colorado Rapids took Group F by storm, winning all three of their Academy games. The Rapids advance to the quarterfinals after missing the playoffs altogether last year.
One of two Pacific Northwest Region U-17/18 clubs to advance, Crossfire Premier is also the former home of Yedlin, who played at the club for the early part of his youth career.
Perhaps the biggest bracket buster of 2017, not only was LA Galaxy the last team to qualify for the Playoffs, they were also the lowest overall seed at number 32.
Under first year Academy Director David Longwell, Orlando City SC advance to their first-ever quarterfinals after taking all nine points from Group G play, including a feature game thriller on the last day of the competition.
Qualifying to the U-17/18 quarterfinals has been a consistent theme for Real Salt Lake AZ, who join their U-15/16's quest to win the Academy Championship as the last Real Salt Lake Academy teams training in Casa Grande, Ariz. U-17 CONCACAF World Cup Qualifying player Taylor Booth will continue to lead the RSL midfield's charge.
Real So Cal advances to the Knockout Round for their second straight year.
Double qualifying with their U-15/16 counterparts, Seattle Sounders FC advance from a very difficult Group C that included 2015-2016 Academy Champions FC Dallas, New York Red Bulls and Beachside Soccer Club.
Perhaps the biggest surprise of the 2017 Playoffs, Texans SC Houston to advance to the quarterfinals after winning all three of their Group D contests.
The Knockout Round quarterfinals in the U-17/18 Playoffs will be played on Friday, July 7. In the U-17/18 age group, the extra time format is two 15-minute periods followed by penalty kicks.
The winners of the Knockout Round quarterfinals will advance to the Academy Championships, set to take place at the U.S. Soccer National Training Center in Carson, Calif., on Friday, July 14, with championship games scheduled for Sunday, July 16.