CCL and CCL II champions announced for 2016-2017 season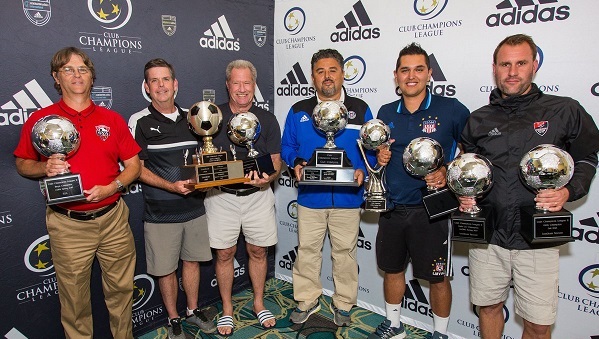 (Via Club Champions League) – The CCL has crowned champions for the 2016-2017 season. Arlington Soccer Association earned top honors, taking home the Dave Amsler Club Champion Trophy with a seasonal record of 165 wins, 44 losses, and 25 ties. Arlington edged out SOCA by just three points to win the Boys Division Overall Championship, and Loudoun Soccer netted the Girls Division Championship by a razor-thin one point margin over Beach FC.
"Such slim margins of victory for our Overall Club Champions demonstrate the caliber of competition that exists within the league," said CCL Executive Director Brian Kuk.  "The quality of clubs within the CCL create an exciting matchday environment in which each week is significant to a club's success."
The CCL age group winners represented a wide swath of the league, including top spots earned by Virginia Legacy, SYA, SOCA, Loudoun, LMVSC, BRYC, Beach FC, and Arlington.  In both the boys and girls tables, age group championships were ultimately determined by a slender margin of seven points or fewer in each age group.   Four age group champions were determined by just one point.
"It's an amazing feeling to be crowned the Overall Club Champion of CCL and CCL II," said German Peri, Arlington Soccer Association Director Coaching.  "Our club's success in the most competitive youth environment in the area is a testament to the hard work and dedication of all of our players, coaches, parents, and administrators.  As well, the level of competition within CCL seasonal year play has helped prepare our club for additional successes at the regional level, with six Arlington teams participating in regional competition."
In just its second year of existence, results from the CCL II division were equally competitive. Arlington Soccer Association and Loudoun Soccer jockeyed for the top position throughout the fall season, with Arlington ultimately prevailing by just five points as the CCL II Overall Fall Club Champion. Mirroring the CCL results, Arlington Soccer Association earned the CCL II Boys Overall Championship, and Loudoun the Girls Overall Championship.
Due to expansion within CCL II, the league restructured the spring season to accommodate two conferences: CCL II COPA and CCL II GLORO. Under the new conference structure, LMVSC edged out CCL II newcomer FCSC United (Fauquier County Soccer Club) by just five points to claim the CCL II Overall COPA Championship title. The GLORO division was an even tighter race, with Arlington taking the title by a mere two point margin of victory.
"No other league provides as high a quality environment for every team, regardless of age and level, than does CCL," shared LMVSC Technical Director Esteban Maldonado. "It was great for us to see our CCL II teams doing well this season, and it is refreshing to see CCL II players competing for CCL roster spots each year at tryouts and during the season."
The CCL II gender championships followed the same competitive breakdown. SYA and Arlington snuck away with one point margins of victory to claim the COPA and GLORO Boys Championships, respectively. LMVSC secured the COPA Girls Championship, while Loudoun and Arlington Soccer concluded the GLORO Girls Conference in a draw.
"It's a special feeling to see such tight competition amongst our clubs," said CCL President Danny Beamer. "We know that these results are the product of proper player and club development, as well as leadership from soccer professionals. We are thrilled to see the standards of excellence raised in CCL and the same excellence taking hold in CCL II."
2016-2017 CLUB CHAMPIONS LEAGUE WINNERS
CCL DAVE AMSLER CLUB CHAMPION
In honor of Dave Amsler, the league's founding father, this award goes to the club with the most cumulative points from all age group divisions:
Arlington Soccer Association

CCL PEGGY BORGARD GIRLS CHAMPION
In honor of Peggy Borgard, legendary administrator, volunteer and champion of the club-centric model, this award goes to the club with the most cumulative points from all girls age group divisions:
Loudoun Soccer
CCL BOYS CHAMPION
This award goes to the club with the most cumulative points from all boys age group divisions:
Arlington Soccer Association
2016-2017 CCL AGE GROUP DIVISION CHAMPIONS:
U12 Girls:  Loudoun Soccer
U12 Boys:  Arlington
U13 Girls:  Arlington
U13 Boys:  Arlington
U14 Girls:  SYA
U14 Boys:  LMVSC
U15 Girls:  Loudoun Soccer
U15 Boys:  BRYC Elite
U16 Girls:  Beach FC
U16 Boys:  Virginia Legacy
U17 Girls:  Beach FC
U17 Boys:  SOCA
U18 Girls:  Loudoun Soccer
U18 Boys:  Loudoun Soccer
U19 Girls:  Loudoun Soccer
U19 Boys:  Loudoun Soccer
CCL II – Spring 2017 CLUB CHAMPION
This award goes to the CCL II club with the most cumulative points from all age group divisions:
CCL II COPA – LMVSC
CCL II GLORO – Arlington Soccer Association
CCL II – Spring 2017 GIRLS CHAMPION
This award goes to the CCL II club with the most cumulative points from all girls age group divisions:
CCL II COPA – LMVSC
CCL II GLORO – Arlington Soccer Association / Loudoun Soccer (Co-Champions)
CCL II – Spring 2017 BOYS CHAMPION
This award goes to the CCL II club with the most cumulative points from all boys age group divisions:
CCL II COPA – SYA
CCL II GLORO – Arlington Soccer Association
Spring 2017 CCL II AGE GROUP DIVISION CHAMPIONS
U12 Girls COPA:  Ellicott City
U12 Girls GLORO:  McLean
U12 Boys COPA:  SYA
U12 Boys GLORO:  Loudoun Soccer
U13 Girls COPA:  FCSC United
U13 Girls GLORO:  BRYC
U13 Boys COPA:  SYA
U13 Boys GLORO:  Potomac
U14 Girls COPA:  SYA
U14 Girls GLORO:  DC Stoddert
U14 Boys COPA:  LMVSC
U14 Boys GLORO:  Arlington
U15 Girls COPA:  LMVSC
U15 Girls GLORO:  Arlington
U15 Boys COPA:  FCSC United
U15 Boys GLORO:  DC Stoddert
CCL II – Fall 2016 CLUB CHAMPION
This award goes to the CCL II club with the most cumulative points from all age group divisions:
Arlington Soccer Association
CCL II – Fall 2016 GIRLS CHAMPION
This award goes to the CCL II club with the most cumulative points from all girls age group divisions:
Loudoun Soccer
CCL II – Fall 2016 BOYS CHAMPION
This award goes to the CCL II club with the most cumulative points from all boys age group divisions:
Arlington Soccer Association
Fall 2016 CCL II AGE GROUP DIVISION CHAMPIONS
U12 Girls:  McLean
U12 Boys:  Arlington
U13 Girls:  Arlington / Loudoun Soccer (Co-Champions)
U13 Boys:  Ellicott City
U14 Girls:  SYA
U14 Boys:  Arlington
U15 Girls:  Loudoun Soccer
U16 Boys:  SYA