USA drawn into Group C for CONCACAF U-17 Men's Championship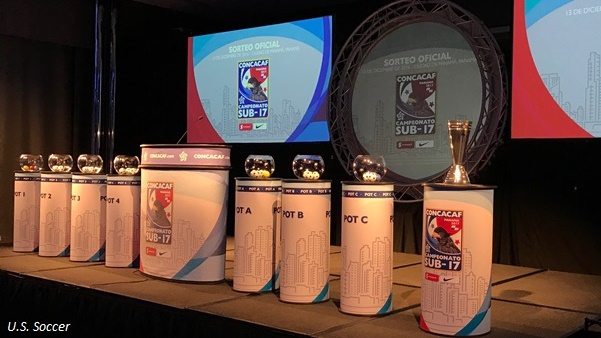 CHICAGO (Via U.S. Soccer) – The U.S. Under-17 Men's National Team has been drawn with Mexico, El Salvador and Jamaica into Group C of the 2017 CONCACAF U-17 Championship. The draw occurred Tuesday evening in Panama City, Panama, with the qualifying tournament for the 2017 FIFA U-17 World Cup set to take place from April 21–May 7, 2017, at the Maracana and Rommel Fernandez stadiums in Panama City.
The U.S. opens the group stage against Jamaica (April 23), followed by Mexico (April 26) before finishing up against El Salvador (April 29).
"It's a tough draw, but I think our team is determined to be able to represent our country in a World Cup," U.S. U-17 MNT head coach John Hackworth said. "We are going to plan accordingly for three very tough opponents to start the tournament. We will get ready to make sure that we are prepared for everything anyone can throw at us."
+Read: U.S. U-16 Boys National Team roster named for IMG Cup
The CONCACAF U-17 Championship format features three groups of four teams. As host, Panama was seeded at the top of one of the three groups, while Costa Rica and Mexico were also assigned as the remaining two seeds. Mexico earns its seed as the current CONCACAF champion, while Costa Rica's seed came as the result of being the best-placed CONCACAF team from the last edition of the FIFA U-17 World Cup, excluding the regional champion and host.
The top two teams in each of the three groups will advance to the Classification Stage, which features two groups (D and E) of three teams each. In the Classification Stage, the top two finishers from each group will qualify for the U-17 World Cup to be played from Oct 6-28 in India. Additionally, the first-place teams from Groups D and E will play for the 2017 CONCACAF championship.
USA's Group C Schedule:
Sunday, April 23 vs. Jamaica – 1:30 p.m. ET
Wednesday, April 26 vs. Mexico – 6:30 p.m. ET
Saturday, April 29 vs. El Salvador – 2 p.m. ET
2017 CONCACAF U-17 Championship Groups:
Group A: Panama, Honduras, Curacao, Haiti
Group B: Costa Rica, Canada, Cuba, Suriname
Group C: Mexico, El Salvador, Jamaica, United States
The U.S. finished tied for third with Costa Rica at the 2015 CONCACAF U-17 Championship in Honduras, while Mexico and Honduras finished first and second, respectively. In the 2015 playoff stage, the USA defeated Jamaica 5-4 on penalties to clinch CONCACAF's fourth and final automatic qualifying spot for the 2015 FIFA U-17 World Cup in Chile, where the U.S. lost to eventual champions Nigeria in the group stage before failing to advance to the knockout stage.
Since the FIFA U-17 World Cup (previously known as the FIFA U-17 World Youth Championship and the FIFA U-16 World Championship) was founded in 1985, the U.S. has qualified for 15 of 16 tournaments, with their best finish coming in a fourth-place performance at the 1999 FIFA U-17 World Championship in New Zealand.