US Youth Soccer Region I Presidents Cup Day 1 Recap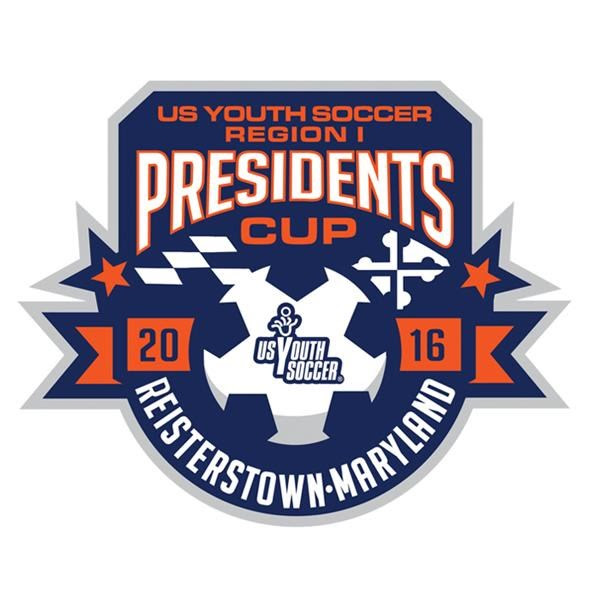 Day 1 of 3
Schedules, Scores and Standings
RESISTERSTOWN, Md. (May 28, 2016) – The 2016 US Youth Soccer Region I Presidents Cup is now underway in Reisterstown, Md. The three-day tournament, which takes place May 28-30, kicked off Saturday with the Under-12 through Under-17 Boys and Girls age groups.
The tournament features 102 US Youth Soccer teams from US Youth Soccer Region I (East) competing for a regional title, and a berth to the 2016 US Youth Soccer National Presidents Cup, July 14-17 in Tulsa, Okla.
Preliminary games will take place Saturday, May 28 through Sunday, May 29. Semifinal matches will take place on May 29 for all age groups. Regional champions will be crowned following final matches on Monday, May 30. Games will take place at Reisterstown Regional Park, Franklin High School, Franklin Middle School, Hannah More Park, New Town High School, Northwest Regional Park, Cedarmere Elementary School and Owings Mills High School.
As Maryland State Youth Soccer Association is hosting the event, the other 14 State Associations represented include Connecticut, Delaware, Eastern New York, New York West, Eastern Pennsylvania, PA West, Maine, Massachusetts, New Hampshire, New Jersey, Rhode Island, Vermont, Virginia and West Virginia.
The US Youth Soccer Presidents Cup is designed for teams seeking additional challenges to play for a national title against teams of similar abilities. The cup provides a progressive, competitive experience to teams that might not otherwise get the opportunity to participate in a series of unique experiences highlighting competition, camaraderie and community from the state to regional to national levels of US Youth Soccer.
Match Highlights
Under-12 Boys:
Four teams in the boys U12 age group, are undefeated after two matches including Rancocas Valley 03/04 Red Devils (NJ), Loyalhanna Stingers (PA-W), Stonington (CT) and Continental FC Barca (PA-E). Loyalhanna Stingers (PA-W) had a clean sheet for the day as the team scored big against MUSC (WV) and had one goal against Northwestern (PA-E). Stonington also prevented its opponents from scoring as the team defeated TCSC Tornadoes (WV), 6-0, and Arsenal Navy (PA-W), 4-0.
Under-12 Girls:
Montgomery United Fury (PA-E) posted nine goals for the day and only allowed two in its two victories against Berkeley Heights Galaxy (NJ) and FFC 03 Red (VA). Ukrainian Nationals Slava Black (PA-E) totaled eight goals for the day after a 5-2 win over Winchester United 03 Orange (VA) and a close 3-2 victory over East Haven Swarm (CT).
Under-14 Boys:
Cheetah Thunder (NJ) piled on 10 goals and did not allow any at all, as the team defeated PA Crew 01/02 (PA-W) as well as MUSC BC (WV). Also undefeated for the first day of preliminary games, and from the same group as Cheetah Thunder, is PWSI Courage Boys 01 White (VA). PWSI Courage finished five goals against MUSC BC and had a slight 2-1 edge over PA Crew.
Under-14 Girls:
After a 3-2 win over BAC Blitz (VA), NUU 01F Wave (PA-E) went on to rack up a significant shutout against KSC Elite 01/02 (DE). Granby Rovers SC (CT) also sits at the top of the age group with two victories against KSC Elite (4-0) and Bac Blitz (2-1). Kiski Fire (PA-W) had two shutouts in its 1-0 win over FC Frederick '01 Royal (MD) and 3-0 win over CSP United (RI).
Under-15 Boys:
Allegheny Force Red Heat (PA-W) is the only U15 boys team with two wins as it shut out Kirkwood Elite (DE), 5-0, and TAFC Team America 00 Spartans (VA), 3-0. FWSA ES Firpo (MD) and WVSC 00 (PA-E) have nearly the same record with one win, one tie and six goals each. FWSA ES Firpo defeated DE Rush 00 Black (DE), 4-1, and WVSC earned a 4-2 win over Kearny Reds (NJ), yet when the two teams faced off in their afternoon match, the result came out to be a 2-2 tie.
Under-16 Girls:
Lusitana (RI) and Marlton Lightning (NJ) are neck-and-neck at the top of their group with two wins each and no goals against either team. Lusitana was victorious against KSC Academy 99/00 (DE) and Epic Shock (WV) as the team scored three goals in each game. Marlton Lightning tallied five goals against Epic Shock and three against KSC Academy. Premier Thunder (MD) also sit at the top of the U16 girls age group after a 2-1 win against FC Europa Fury (PA-E) and a 6-0 win against PWSI 99 White (VA).
Under-17 Boys:
Among the two groups within the U17 boys, Cape Express 98/99 (NJ) and Westchester United FC 99 (NY-E) lead their own group as they each have two victories and clean sheets. Cape Express scored three goals against Lusitana (RI) and two goals against Delaware Rush 98 Black (DE), while Westchester United FC had a couple of close wins with a 1-0 edge over VBTS Beach FC 99 Black (VA) and a 2-0 victory over Timberwolves SC 98/99 (NH).