US Youth Soccer National League Las Vegas Preview: 17U Boys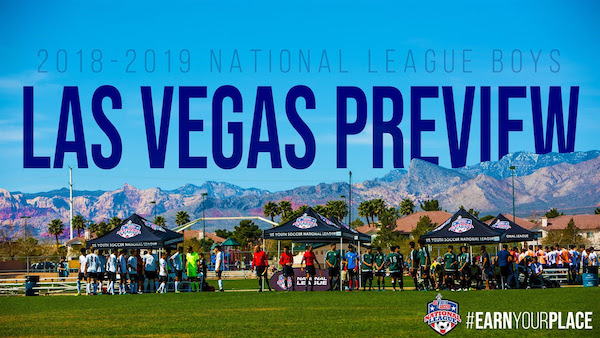 Follow the National League Season…
Scores and Schedule | National League Home
Twitter | Facebook | Instagram | #EarnYourPlace
Click for division previews, games to watch and player notes…
14U Boys | 15U Boys | 16U Boys | 18U Boys | 19U Boys
FRISCO, Texas (Via US Youth Soccer) — The US Youth Soccer National League Boys teams will compete in their second event of the 2018-19 season March 8-10 at Bettye Wilson Soccer Complex and James Regional Sports Park in Las Vegas, Nev., as 104 teams — representing 32 state associations and 68 clubs — play their final games to solidify the division standings.
Entering the weekend of play in Las Vegas…
22 berths to the US Youth Soccer National Championships are still to be decided.
22 National League division titles are up for grabs
86 of the 104 teams playing in Las Vegas are still in contention for a berth to Nationals
Continue reading for a look what's in store for the 17U Boys Division.
SCORES & STANDINGS | BLACK | BLUE | RED | WHITE
---
BLACK DIVISION
There are several scenarios that could play out in the 17U Boys Black Division title race, and each of the teams playing in Las Vegas are in a position to see their name at the top of the standings when everything is said and done. With nine points, FC Dallas 02B Premier (TX-N) is currently in first place thanks to a win over Lehigh Valley United 02 Black (PA-E). But both of those teams have played their second event, leaving the door open for several teams playing in Las Vegas to jump to the top of the table.
Galaxy 2002 Boys Blue (IL) and Washington Premier 2002 Black (WA) each have six points as they prepare to play three games in Las Vegas. The Illinois side owns a win over FC Dallas, while Washington defeated LVU. Both Galaxy and Washington have a chance to move past the current co-leaders during the Vegas weekend.
Meanwhile, J B Marine – Mann (MO) earned a draw and win over FC Dallas in North Carolina, as the Missouri side heads to Las Vegas with four points. J B Marine — along with SC Waukesha 02 Blue (WI), which has three points — will need to make up ground on Galaxy and Washington if it wants to make a run at first place in the Black Division.
Game to Watch
March 8, Galaxy 2002 Boys Blue (IL) vs. Washington Premier 2002 Black (WA)
There won't have to be a long wait to see which of the teams competing in Las Vegas puts itself in the best position in pursuit of the Black Division title. Tied at six points apiece, Galaxy or Washington can move into a tie with the leaders with a victory in this match. The sides have similar resumes, with each owning a win against one of the current co-leaders. A win in this game would go a long way toward securing first place. It won't be decisive, but the result will heavily influence the rest of the weekend.
BLUE DIVISION
With three wins and a pair of ties, OK Energy FC Central 02 (OK) currently owns the top spot in the 17U Boys Blue Division, but that could change once the teams take the fields in Las Vegas. For now, the mark to shoot for is OK Energy's 11 points, which it compiled thanks in part to two wins a draw during three tight games in Orlando.
Among the teams chasing OK Energy is SLSG 02 Elite (MO), which enters the Las Vegas weekend with six points in the standings. The Missouri side outscored its opponents, 7-to-2, in North Carolina, and it could win the division title if it strings together three wins to move to 5-0-0. To do so, SLSG will need to get past Folsom Lake Earthquakes Premier 02 (CA-N), which allowed just one goal while picking up a win and a draw to open its season.
Seattle United 02 Copa (WA) is also in the hunt for the title. However, a loss to OK Energy in North Carolina leaves the Washington side needing three wins and some help during play in Las Vegas in order to have a shot at winning the division.
Game to Watch
March 9, Folsom Lake Earthquakes National Premier 02 (CA-N) vs. SLSG 02 Elite (MO)
These two sides with title hopes meet on the second day of play in Las Vegas. If the results in North Carolina are any indication, this could be a clash of styles. SLSG totaled seven goals in a pair of fairly high-scoring wins, while Folsom Lake conceded just one goal in a pair of close games. Depending on the outcomes of their Friday matches, the Cal North side may need to go for the win in order to surpass SLSG in the standings. That could open things up and lead to more scoring chances in the matchup.
RED DIVISION
A couple of 17U Boys Red Division teams competing in Las Vegas will be chasing defending National Champion Arlington SA 2002 Red (VA), which posted 13 points on four wins and a tie between North Carolina and Orlando. The Virginia side netted 13 goal while conceding just two, as it did well to go undefeated in its pursuit of a trip back to Nationals do defend its title.
Westside Timbers 02 Copa Red (OR) and Boca OC 02 White (CA-S) are each in position to catch or surpass Arlington in the standings, as both enter their second weekends of action with six points. Westside and Boca have identical figures in each column of the standings, as they each scored five goals while allowing just one during their games in North Carolina. Time will tell which team gains the advantage following the results in Las Vegas.
Arlington did not play either Westside or Boca this season, leaving open the possibility of a sixth game that matches up the Virginia side and the highest finisher among the teams playing in Las Vegas.
Game to Watch
March 10, Boca OC 02 White (CA-S) vs. Westside Timbers 02 Copa Red (OR)
Both Boca and Westside are still squarely in the hunt for the Red Division title, and it's possible the side with the upper hand will emerge only after the teams meet on the final day of play in Las Vegas. The performances by both teams in North Carolina suggest this will be a tight game. However, should either side manage to come away with a win in this matchup, there is a high probability it will keep it in the mix for the division title.
WHITE DIVISION
The 17U Boys White Division teams playing Las Vegas have a couple of marks to aim for when they take the fields this March. Solar 02 Castro (TX-N) currently sits in first place with 12 points after compiling four wins from its five games. The current second-place team, Brausa 02 Blue (MD), has 10 points, which the teams playing in Vegas will need to match in order to set up a deciding sixth game against Solar, if necessary.
With four points earned from its two games, Michigan Jaguars 02 Green (MI) heads to Las Vegas knowing it has some work to do if it wants a shot at the division title. Not only do the Jaguars need to pick up points to move to the top of the standings, they need to hold off a couple of opponents in Vegas who are looking to do the same. Tuzos Academy 02 (AZ) and Chicago Magic Soccer (IL) are on Michigan's heels, holding three points apiece, and looking to pick up wins to climb up the table.
Chicago has a win against Solar under its belt, making it the lone team playing in Las Vegas that could clinch the outright title. It will need to win all three games to do so, and it will be playing opponents who will also be aiming to pick up three points in each contest.
Game to Watch
March 9, Tuzos Academy 02 (AZ) vs. Michigan Jaguars 02 Green (MI)
Every game in this division should be exciting, as the teams know they need to push for wins and can't settle for many draws. Neither of these teams played Solar, so they are trying to get in position to set up a potential sixth game against the North Texas side. This match will determine which side controls its own destiny as it fights for a division title and a berth to the National Championships. Tuzos and Michigan each have multiple years of experience playing on the national level, so they should be ready to go in this matchup.