US Youth Soccer National League Las Vegas Preview: 18U Boys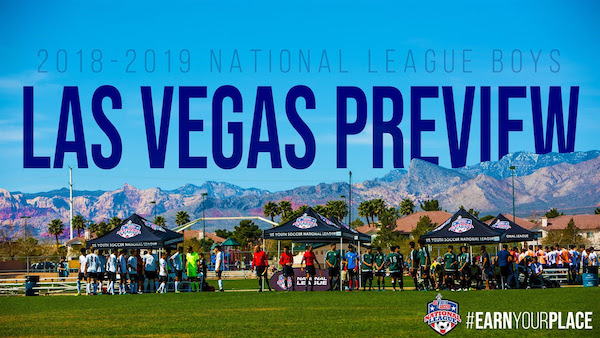 Follow the National League Season…
Scores and Schedule | National League Home
Twitter | Facebook | Instagram | #EarnYourPlace
Click for division previews, games to watch and player notes…
14U Boys | 15U Boys | 16U Boys | 17U Boys | 19U Boys
FRISCO, Texas (Via US Youth Soccer) — The US Youth Soccer National League Boys teams will compete in their second event of the 2018-19 season March 8-10 at Bettye Wilson Soccer Complex and James Regional Sports Park in Las Vegas, Nev., as 104 teams — representing 32 state associations and 68 clubs — play their final games to solidify the division standings.
Entering the weekend of play in Las Vegas…
22 berths to the US Youth Soccer National Championships are still to be decided.
22 National League division titles are up for grabs
86 of the 104 teams playing in Las Vegas are still in contention for a berth to Nationals
Continue reading for a look what's in store for the 18U Boys Division.
SCORES & STANDINGS | BLACK | BLUE | RED | WHITE
---
BLACK DIVISION
There are several scenarios in play in the 18U Boys Black Division as the teams prepare for the March play dates. Three teams are seven points or less behind current leader OBGC Rangers Blue 2001 (MD), and they will be looking to make up that ground during the course of the Las Vegas weekend. The Maryland side completed its second event in Orlando, as it compiled 10 points from its five games on the season.
YMS Premier Celtic 01 (PA-E) is the lone unbeaten team left in the division, as it earned a win and a draw — against OBGC — in North Carolina. That solid start to the season has left YMS knowing it needs at least six points in Las Vegas to have a chance at capturing the division title.
Just one point behind YMS lurks RSL AZ North 01 Boys Tomic (AZ) and AC Brea B01 Red (CA-S), who each picked up one win from their opening two games. Neither RSL nor AC Brea played OBGC this season, so they will be looking to finish as the highest ranked of the teams competing in Las Vegas and force a potential sixth game against the Maryland side. RSL has the advantage of owning a win over current second-place team FC Dallas 01 Premier (TX-N), which creates a scenario where the Arizona side could remain in title contention by picking up six points from its games in Las Vegas.
Game to Watch
March 8, YMS Premier Celtic 01 (PA-E) vs. RSL AZ North 01 Boys Tomic (AZ)
This Friday match will go a long way in impacting how the teams in the Black Division approach the weekend's remaining games. YMS has yet to concede a goal after playing in two low-scoring contests. It can afford to play that style in this one and a risk another draw, but a win would prevent having to chase points during the final two days. Meanwhile, RSL could put itself in strong position within the group if it is able to get three points from this game. If either side comes away with a win, it will be a big boost to its pursuit of the division title.
BLUE DIVISION
In the 18U Boys Blue Division, PPA KSA 01 Pro-Profile (GA) has posted a high mark for the remaining teams to chase. Through its five games in North Carolina and Orlando, the Georgia side earned 13 points from four wins and a tie. It did so with a powerful offense that averaged nearly four goals per game, led by Deedson Vixamar's 10 tallies.
The primary threat to KSA's title hopes is SLSG Elite 01 (MO), which heads to Las Vegas with a 2-0-0 record. The Missouri side picked up those wins in back-and-forth matches in North Carolina that each ended with 3-2 score lines. SLSG did not play KSA, so it will look to pick up enough points to hold off its Las Vegas opponents and force an additional game against the Georgia side to determine the Blue Division winner.
Meanwhile, KSA owns wins over both KHA 01 Red (OH-S) and Eastside FC 01 Red (WA) — putting both teams out of title contention. Pipeline Pre Academy (MD) still has a chance at making a run at the division title, but it will need to win all three games in Las Vegas and get some help.
Game to Watch
March 9, KHA 01 Red (OH-S) vs. SLSG Elite 01 (MO)
If it's able to get a result in its first game, SLSG will enter this Saturday contest with a chance to secure a top two finish and set up a match with KSA to decide the division winner. Before it looks ahead, the Missouri side must deal with KHA, which put forth a dominant performance in its win in North Carolina. Both SLSG and KHA have seen plenty of goals scored in their games this season, so this one should be filled with action if that trend continues.
RED DIVISION
A couple of teams will head to Las Vegas with 18U Boys Red Division title hopes still alive, but there is work left to do. Solar 01 Stricker (TX-N) is currently on top of the standings after posting three wins and two draws through its five games in North Carolina and Orlando. The North Texas side must now wait to see if its 11 points are enough to keep it in the title conversation once the games conclude in Las Vegas.
With two wins in North Carolina, Westside Timbers 01 Copa Red (OR) has the opportunity to take the Red Division title if it can win all three of its games in Las Vegas. Westside responded to early deficits with three unanswered goals in both of its victories, so it has shown it can overcome some adversity. Since Solar and Westside have not met, and additional game could be needed between the two if Westside drops any points in Las Vegas but still finishes around the top of the standings.
One team with a chance to jump both Solar and Westside is Fullerton Rangers SYL (CA-S). The Cal South side opened its season with a shutout victory before dropping a decision to Solar. However, Fullerton can pass Solar if it manages to win all three of its games in Las Vegas. Doing so would also mean a victory over Westside, which would leave Fullerton alone in first place. It's easier said than done, but Fullerton knows the opportunity is there.
Game to Watch
March 10, Westside Timbers 01 Copa Red (OR) vs. Fullerton Rangers SYL (CA-S)
If both of these teams are able to come away with wins on Friday and Saturday, the winner of this match would take the Red Division title and punch its ticket to the National Championships. Given the competition they will be facing, that scenario is a long ways away. Still, with Westside having room to drop some points, there is a likelihood that the Oregon side will head into this game with title hopes on the line.
WHITE DIVISION
A few teams are closely bunched in the middle of the 18U Boys White Division standings and looking to climb to the top during play in Las Vegas. They are each looking to surpass the mark of 10 points posted by Philadelphia Ukrainian Nationals 01 Black (PA-E) and Oklahoma Energy FC (Central) 01 (OK), who both played their second event in Orlando. Philadelphia's win over Oklahoma has it currently in first place, but that could change once the results are recorded in Las Vegas.
With a win and a tie in North Carolina, Club Ohio 01 Green 1 (OH-S) is the leader amongst the teams playing in Vegas. However, it is a narrow difference between Club Ohio's four points and the three points owned by both OC Surf Armour 2001 (CA-S) and Sparta 01 Premier JK (UT). The matches between those three sides will be crucial to determining who emerges from the middle of the pack and makes a move toward the top of the standings. Sparta earned a win against Philadelphia when the two sides met in North Carolina, so it has the potential to win the White Division title if it wins all three of its games in Las Vegas.
Game to Watch
March 8, Club Ohio 01 Green 1 (OH-S) vs. Sparta 01 Premier JK (UT)
As the weekend progresses, it will become more clear what each team needs to do to stay in the division title race. But when these teams meet on the first day in Las Vegas, the division outlook will be up in the air — giving this match significant influence on how it plays out. Club Ohio has the chance to maintain its slim lead over its Las Vegas opponents with a victory, while Sparta could begin to put some pressure on the division leaders if it can come away with a win. Both teams need the points, so it should be an intense game from start to finish.