US Youth Soccer National League Las Vegas Preview: 16U Boys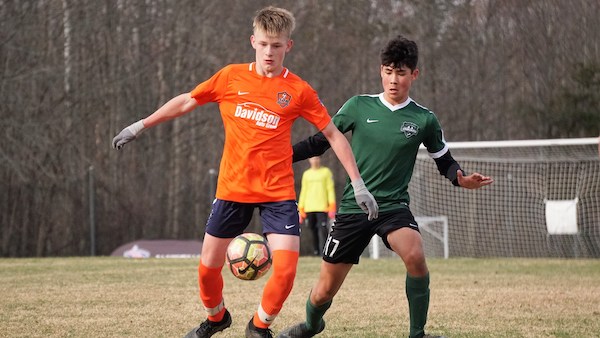 Follow the National League Season…
Scores and Schedule | National League Home
Twitter | Facebook | Instagram | #EarnYourPlace
Click for division previews, games to watch and player notes…
14U Boys | 15U Boys | 17U Boys | 18U Boys | 19U Boys
FRISCO, Texas (Via US Youth Soccer) — The US Youth Soccer National League Boys teams will compete in their second event of the 2018-19 season March 8-10 at Bettye Wilson Soccer Complex and James Regional Sports Park in Las Vegas, Nev., as 104 teams — representing 32 state associations and 68 clubs — play their final games to solidify the division standings.
Entering the weekend of play in Las Vegas…
22 berths to the US Youth Soccer National Championships are still to be decided.
22 National League division titles are up for grabs
86 of the 104 teams playing in Las Vegas are still in contention for a berth to Nationals
Continue reading for a look what's in store for the 16U Boys Division.
SCORES & STANDINGS | BLACK | BLUE | RED | WHITE
---
BLACK DIVISION
All four teams in the 16U Boys Black Division who are playing in Las Vegas are still in the hunt for first place. They are each pursuing FC United 2003 Pre Academy (IL), which currently sits atop the standings with 10 points after it picked up two wins and a draw in Orlando.
After picking up two wins apiece in North Carolina, Nationals Union 03 Black (MI) and SLSG 2003 Elite (MO) are in the best positions to compete for the title. Both teams are just four points behind FC United as they head to Las Vegas, which means each side could pass the idle Illinois side as the weekend progresses.
Nationals Union and SLSG cannot overlook RSL AZ Southern AZ 03 (AZ) and NM Rush 03 (NM), who are each still in the hunt for the Black Division title. After opening its season with a 1-0 win, RSL conceded a late goal to FC United to drop a 3-2 decision. Meanwhile, NM Rush managed to defeat FC United in its season opener to give it a key head-to-head win. RSL and NM Rush know they likely need to string together three wins in Las Vegas to have a shot at finishing the weekend in first place.
Game to Watch
March 10, Nationals Union 03 Black (MI) vs. SLSG 2003 Elite (MO)
Both teams enter the weekend with a three-point head start on the other two division foes playing in Las Vegas. That advantage means this matchup on the final day could determine which side earns the best finish in the standings of any of the four competing teams, in addition to potentially seeing one of the sides clinch the Black Division title. The first two days of play in Las Vegas will help determine how direct the path to the title may be in this one, but there is a chance a win in this match will provide a huge boost to the victor's title-winning possibilities.
BLUE DIVISION
Heading into the final weekend of play, the current top three teams in the 16U Boys Blue Division will all be playing in Las Vegas. All three enter with six points in the standings, so each matchup in Las Vegas will hold significant weight in shaping the order at the top of the table and will be key as the teams look to gain an edge in potential tiebreaker scenarios.
A potent offensive attack helped LVSA 03 Silver (NV) leave North Carolina with an edge in goal differential, as it outscored opponents 7-to-2 in its opening two games. That has the Nevada side sitting at the top of the standings, with Seattle United 03 Copa (WA) and Kalamazoo Kingdom SC 03 Red (MI) just behind LVSA with each holding a plus-two goal differential. Results in the remaining games should produce separation between the three teams, as each point earned will be crucial to each side.
Baton Rouge SC Black (LA) is also heading to Las Vegas and just two points behind the trio of division leaders. The Louisiana side picked up a win a draw from a pair of tight games in North Carolina, and it has the opportunity to make a move for first place during the final weekend.
Game to Watch
March 9, Seattle United B03 Copa (WA) vs. Kalamazoo Kingdom SC 03 Red (MI)
March 9, LVSA 03 Silver (NV) vs. Baton Rouge SC Black (LA)
Any of the weekend's six games in the Blue Division can impact who wins the title. Depending on the results, these games on the middle day of the event will either see a favorite emerge or see the standings tighten heading into the final day of the season. Seattle and Kalamazoo are tied in every column of the standings, while LVSA's high-scoring offense will meet Baton Rouge's stingy defense. The games should be entertaining on their own, but the implications add even more intrigue to the matchups.
RED DIVISION
An undefeated run through its five games has Baltimore Celtic Premier (MD) sitting in first place in the 16U Boys Red Division. The Maryland side tied both of its matches in North Carolina before picking up all nine points in Orlando thanks to three wins in close games. Celtic will now wait to see if its 11 points in the standings are enough to clinch a first-place finish or if a sixth game will be needed to decide the Red Division winner.
Two teams, Milwaukee Bavarians 2003 (WI) and Eastside FC (WA), are in position to challenge Baltimore for the division title after they each picked up a win and a draw in North Carolina. Milwaukee scored three goals in each of its games, and it will aim to keep up that pace during its remaining games in Las Vegas. Meanwhile, Eastside was seconds away from a 2-0-0 start before conceding a last-minute equalizer in its second game of the season.
Baltimore did not play Milwaukee or Eastside this season, so a sixth game may be necessary to decide first place should the top two teams in the standings be Baltimore and one of those two teams when play finishes in Las Vegas.
Game to Watch
March 9, Eastside FC (WA) vs. Milwaukee Bavarians 2003 (WI)
The two teams who are still in the title hunt and playing in Las Vegas face off on the second day of the event. Both teams played close high-scoring games in North Carolina, so this one should be entertaining if that trend carries over to this match. Should either side come away with a win in this matchup, that team would have the inside track to a potential division title.
WHITE DIVISION
Despite currently sitting in third place in the 16U Boys White Division, Beadling 2003 South Red (PA-W) has the look of a potential group winner. The PA West side is four points behind Lake Grove Newfield Dynamite 2003 (NY-E), which played its second event of the season in Orlando. The weekend in Las Vegas will decide if Beadling, or one of the other competing teams, will catch or pass LGN.
Beadling has the advantage of a win over LGN when the teams met in North Carolina, where the PA West side outscored its opponents, 10-to-0. If it can come close to matching that strong play on both ends of the field, Beadling will be a tough matchup for any of its remaining foes. Sparta Premier 03 MD (UT) also heads to Las Vegas with six points thanks to a couple of wins to open its season. The Utah side jumped out to early multi-goal leads in each of its wins, and it will look to do the same in Las Vegas to put the pressure on its opponents.
Meanwhile, CFJ City 2003 Premier (IL) and Midwest United FC 03 Royal (MI) will need three wins in Las Vegas, along with some help, to have a chance at winning the division.
Game to Watch
March 10, Beadling 2003 South Red (PA-W) vs. Sparta Premier 03 MD (UT)
There is a good chance that this game will decide who wins the White Division. Beadling, the 2018 National Championships finalist, finished second in its National League division a season ago, so it knows the value of each point earned in league play. Meanwhile, Sparta has shown it can manage games well once it gets a lead, so the early portion of this matchup will be especially crucial. A lot can change by the time this game kicks off, but chances are at least one team will be playing with a berth to Nationals on the line.