US Youth Soccer National League Las Vegas Preview: 15U Girls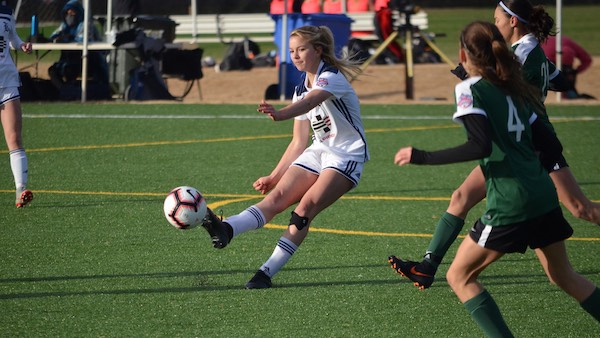 Follow the National League Season…
Twitter | Facebook | Instagram | #EarnYourPlace
Click for division previews, games to watch and player notes…
14U Girls | 16U Girls | 17U Girls | 18U Girls | 19U Girls
FRISCO, Texas (Via US Youth Soccer) — The US Youth Soccer National League Girls teams will compete in their second event of the 2018-19 season March 15-17 at Bettye Wilson Soccer Complex and Kellogg Zaher Soccer Complex in Las Vegas, Nev., as 100 teams — representing 26 state associations and 64 clubs — play their final games to solidify the division standings.
Continue reading for a full preview of the 15U Girls age group.
SCORES & STANDINGS | BLACK | BLUE | RED | WHITE
---
BLACK DIVISION
All teams with games remaining in the 15U Girls Black Division face the same challenge entering the next weekend of play. Each of the four teams heading to Las Vegas are doing so with four points in the standings, as they chase current leader Libertyville FC 1974 Elite (IL) while trying to fend off each other. The Illinois side compiled 10 points between North Carolina and Florida, and it will now wait to see if that is enough to remain in the conversation for first place.
Two of the teams in pursuit of the top spot in the division have already played Libertyville. FC Dallas 04 Blue (TX-N) earned a 2-1 victory against the Illinois side, while Utah Celtic FC (UT) tied Libertyville when the two teams met in North Carolina. With those results in hand, both FC Dallas and Utah Celtic have a chance to pass Libertyville and clinch the Black Division title if they pick up enough points in Las Vegas.
Meanwhile, Legends FC East Riverside (CA-S) is looking to pick up where it left off after a strong start to its season. The Cal South side netted seven goals while conceding twice in its opening two games, which gives it the top goal differential of any of the Black Division teams playing in Las Vegas. On the other hand, LA Fire Jrs Red (LA) played in a couple of close games to come away with four points from its opening games. Both Legends and LA Fire have not played Libertyville, which could lead to an additional game to decide the group winner.
Game to Watch
March 16, Utah Celtic FC (UT) vs. FC Dallas 04 Blue (TX-N)
In reality, every game in the Black Division will be one to watch, as all four teams head to Las Vegas even in the standings and in contention for the title. The matchup on the second day between Utah Celtic and FC Dallas presents each team with an opportunity to create separation over the other. With both sides having already played Libertyville, a head-to-head win in this matchup will be a big boost to the victor's chances of winning the division title when the dust settles in Las Vegas.
BLUE DIVISION
Three teams are heading to Las Vegas in pursuit of the 15U Girls Blue Division title and current leader GA Rush 2004 (GA). The Georgia side set a high bar for the remaining teams to reach, as it earned four wins and a draw from its games in North Carolina and Florida. In those matches, Rush outscored its opponents, 18-to-5, to post a strong goal differential that could benefit it in potential tiebreaker scenarios.
With two consecutive wins to start its season, Sunrise Sting 2004 X1 (FL) is in the best position of the competing teams to catch GA Rush. The Florida side will need to hold off a couple of other teams competing in Las Vegas, including local side LVSA 04 Red (NV). LVSA will need at least two wins from the games in its hometown to have a chance to earn the division title.
NJ Stallions 04 Sting (NJ) is another team in the hunt for the Blue Division title. The Stallions tied GA Rush when the two sides met in North Carolina, so the New Jersey side will need to win all three of its remaining games and make up the goal differential to overtake GA Rush for first place.
Game to Watch
March 15, NJ Stallions 04 Sting (NJ) vs. LVSA 04 Red (NV)
These two teams with division title aspirations meet on the first morning of play in Las Vegas. NJ Stallions know they need to pick up three points in each game, so they will need to be focused and on top of their game from the first whistle. If the New Jersey side can pick up a win, it could pick up some momentum heading into the remainder of the weekend. Meanwhile, an LVSA loss would give it no margin for error moving forward, so it will be just as motivated to begin the weekend with a positive result.
RED DIVISION
After advancing to the final at the 2018 National Championships, Philadelphia SC Coppa Swarm 04 (PA-E) is waiting to see if its 12 points will be enough to win the 15U Girls Red Division and earn a return trip to Nationals. After dropping its first game of the year, Philadelphia secured four straight shutouts to give itself a chance at a first-place finish in the group. Coppa will now wait to see what happens to its challengers competing in Las Vegas.
The team that is closest to overtaking Philadelphia for first place is the one that beat it in the season opener — Pipeline SC Pre-Academy (MD). The Maryland side followed that win with a tie in its second game, giving it four points in the standings as it heads to Las Vegas. Pipeline will need to win all three of its remaining games to pass Philadelphia and clinch the Red Division title.
Rebels IE 04 Brown (CA-S) and NCFC Elite (NC) each have three points with three games to play, but Rebels dropped an early match to Philadelphia that puts a division title out of its reach. The Cal South side can still compete for a high finish that qualifies it for next year's National League, while NCFC is still alive for the division title but will need to pick up some results in Las Vegas to climb the standings.
Game to Watch
March 16, Pipeline SC Pre-Academy (MD) vs. NCFC Elite (NC)
With both teams entering the weekend still alive for the division title, this matchup has the potential to have a lot on the line. Pipeline needs to pick up three points in each game, which will add extra intrigue to each of the games it plays while still in contention. NCFC is in a similar position, and it cannot afford to drop many points if it wants to keep pace with its Vegas foes and make a move toward the top of the standings. The result could be crucial to both teams, and that fact should bring plenty of energy to this game.
WHITE DIVISION
When it comes to the 15U Girls White Division title, two teams are in the running to claim it and book a ticket to the 2019 National Championships. One of those sides, SC Waukesha 04 Blue (WI), has completed its two events and earned all 15 points from its five matches. The Wisconsin side picked up three shutouts and was a decisive winner in most of its victories, but it must wait until the Las Vegas weekend concludes to see if it has work left to do to secure the division title.
After picking up a pair of one-goal victories in North Carolina, Beadling 2004 South Red (PA-W) is the one remaining team in position to challenge Waukesha for first place. The PA West side heads to Las Vegas with six points in the standings, so it has some work to do to get in position to set up a deciding game with Waukesha. Beadling showed it can dig deep to earn victories — scoring twice in the final two minutes of regulation to secure its first win of the season — and that trait could prove valuable in its remaining matches.
For the other teams playing in Las Vegas, it is possible to surpass Beadling and secure a second-place finish, which would give that team a spot in the 2019-20 National League. Florida Rush 04 Rush 1 (FL) is just three points back of Beadling and one game away from pulling even in standings.
Game to Watch
March 16, Beadling 2004 South Red (PA-W) vs. D'Feeters 04 Voutier (TX-N)
Depending on the results of Beadling's game on Friday against Florida Rush, this matchup could have a couple of key implications. Should Beadling come into this match with nine points, it would be a win away from pulling within three points SC Waukesha at the top of the standings. However, should Beadling drop its opener in Las Vegas, this will turn into a must-win match in the PA West side's pursuit of the White Division title. This will be an important match either way, and time will tell what is at stake when Beadling and D'Feeters face off.