US Youth Soccer National League Las Vegas Preview: 14U Girls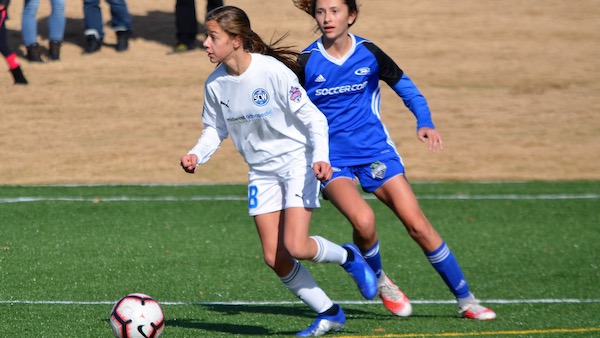 Follow the National League Season…
Twitter | Facebook | Instagram | #EarnYourPlace
Click for division previews, games to watch and player notes…
15U Girls | 16U Girls | 17U Girls | 18U Girls | 19U Girls
FRISCO, Texas (Via US Youth Soccer) — The US Youth Soccer National League Girls teams will compete in their second event of the 2018-19 season March 15-17 at Bettye Wilson Soccer Complex and Kellogg Zaher Soccer Complex in Las Vegas, Nev., as 100 teams — representing 26 state associations and 64 clubs — play their final games to solidify the division standings.
Continue reading for a full preview of the 14U Girls age group.
SCORES & STANDINGS | BLACK | BLUE | RED | WHITE
---
BLACK DIVISION
While all teams are still in the hunt for the 14U Girls Black Division title, a few sides are heading to Las Vegas with a leg up on the competition. Snohomish United 05 Black (WA) and Lou Fusz Geerling 05 (MO) are currently co-leaders, as they each picked up two wins during play in North Carolina. Through two games, Snohomish has produced the best goal differential of any team in the age group by netting five goals while allowing none. Lou Fusz nearly matched that mark, as it conceded just once while scoring five times.
Sitting just two points behind the leaders is Beadling 2005 South Red (PA-W), which earned a win and a draw in North Carolina. The PA West side will have the opportunity to make up ground on Snohomish and Lou Fusz during head-to-head matchups during the action in Las Vegas.
SJEB Rush 2005 Academy (NJ) is the one other team in the group that has a win under its belt heading into the final weekend of play. The New Jersey side dropped a 3-0 decision to Snohomish in its season opener before rebounding with a 1-0 victory in its second game. Like the teams behind it in the standings, SJEB will be aiming to string together some wins in Las Vegas in order to make up ground on the current Black Division leaders and contend for the title.
Game to Watch
March 16, Lou Fusz Geerling 05 (MO) vs. Snohomish United 05 Black (WA)
These teams begin their second day in Las Vegas with this important morning matchup. Should either side fall behind in the standings following the games on Friday, this match will present an opportunity to climb back toward the top with a victory. With Lou Fusz and Snohomish entering the weekend as co-leaders, a head-to-head win for either side could go a long way in helping the victor make a push for first place.
BLUE DIVISION
The top five teams in the 14U Girls Blue Division are within two points of each other, as there is little separation in the standings entering the final weekend of play. No team managed to come away from North Carolina with multiple wins, and just one team — current leader Rio Rapids 05 (NM) — has a positive goal differential. Early indications suggest this will be a close race for first place that may come down to the final day in Las Vegas.
Rio Rapids produced a win and a tie in North Carolina to give itself a slight advantage as the lone team with four points. The New Mexico side will have to continue to pick up results to hold off the division foes on its heels. CDA Premier 05 (OH-S) and FC Alliance 2005 (WV) are immediately behind Rio Rapids, as each side has three points entering the final weekend. CDA opened the season with a win over FC Alliance, and that result could prove important if tiebreakers come into play.
Meanwhile, two teams — NJ Stallions 05 Fire (NJ) and Nationals TriCounty 05 Black (MI) — picked up draws in their first two games and are currently just two points behind Rio Rapids. The two sides played each other to a scoreless draw on the first day of play, and Nationals repeated the score line with another 0-0 final in its second game.
Game to Watch
March 15, NJ Stallions 05 Fire (NJ) vs. CDA Premier 05 (OH-S)
With the standings so close, it's difficult to project which games later in the weekend will be the most impactful. However, when NJ Stallions and CDA meet on the first morning in Las Vegas, it will present each team with a chance to create some early separation from the bunch of teams in the top half of the group. CDA has a one-point edge over the Stallions, but a win for either team will be a good momentum boost to start the weekend. This is the first of several games that will influence the path to the Blue Division title.
RED DIVISION
All 14U teams are still in contention for division titles as they prepare for Las Vegas, and that is especially true in the 14U Girls Red Division. Every team in the group picked up at least one point during play in North Carolina, which sets up an exciting final weekend of action with each team believing it can finish in first place.
PDA Shore Flash (NJ) is currently on top of the standings after winning both of its games in North Carolina. The New Jersey side's defense has been strong, as it allowed no goals while finding just enough offense to earn 1-0 and 2-0 victories. Meanwhile, Greater Binghamton FC GPS 05 Select (NY-W) and CCV Stars 05 (AZ) featured in some more high-scoring matches to come away with four points apiece — putting them just two points behind PDA entering the Las Vegas weekend.
Two more teams, Liverpool 05 Elite (TX-N) and Nationals Union 05 Black (MI), are three points back and within one game of catching PDA in the standings. Any of the results can shift the outlook of the Red Division, so teams will need to be focused from the first whistle in Las Vegas.
Game to Watch
March 15, CCV Stars 05 (AZ) vs. PDA Shore Flash (NJ)
This is the first of two straight games PDA has against the current unbeaten teams to open its weekend. If the early results are any indication, this one may be a clash of strengths, as CCV rode its attack to four points in North Carolina, while PDA shut out both of its opponents. A PDA win in this match would allow it to remain the frontrunner for a little while longer, while a CCV win or tie would create a chance for the rest of the pack to pull closer to the New Jersey side. This one should be the first of several entertaining games in the division.
WHITE DIVISION
Entering the final weekend of play, the teams in the 14U Girls White Division are chasing two co-leaders who have six points in the standings. TFA Elite 05 (OH-S) and Century Gold (PA-W) each won their opening two games in North Carolina to put themselves in a leading position within the group. Both TFA and Century showed an ability to come away with three points in tight games, which will an important trait to have as the impact of each game on the title race grows more impactful in Las Vegas.
Leading the teams chasing TFA and Century is 05 Lady Lobos Rush Premier (TN), which is just two points back in the standings. The Tennessee side opened its season with a 1-0 win before netting a late tying goal in its second match to earn a 1-1 draw. Those score line are indicative of the strong defensive efforts in the White Division, as goals were hard to come by in the early matches.
The only team in the division that has scored more than two goals in a game is Pipeline Spirit Pre-Academy (MD), which opened its season with a 3-0 win. After dropping a 1-0 decision in its second match, the Maryland side is looking to make up some ground as it heads to Las Vegas three points behind the leaders.
Game to Watch
March 15, Pipeline Spirit Pre-Academy (MD) vs. 05 Lady Lobos Rush Premier (TN)
Both of these teams begin their weekend with a matchup against one of the co-leaders before they face each other. This game's impact will be influenced by those opening matches, but this one with undoubtedly affect the outlook of the division title race. Should either team win, it will be able to keep pressure on the leaders or potentially make a move to the top of the standings. A loss for either side will add much more difficulty to that team's path to the title, which makes the potential three points crucial in what should be an entertaining game.