US Youth Soccer National League Las Vegas Preview: 16U Girls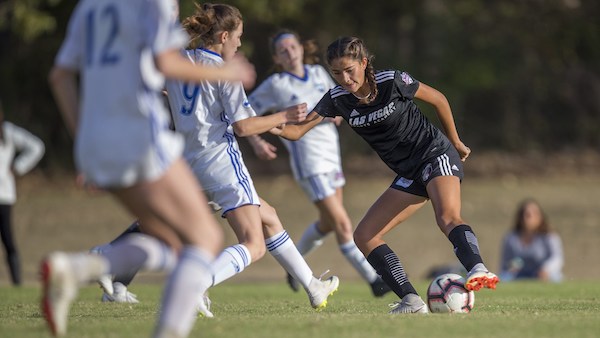 Follow the National League Season…
Twitter | Facebook | Instagram | #EarnYourPlace
Click for division previews, games to watch and player notes…
14U Girls | 15U Girls | 17U Girls | 18U Girls | 19U Girls
FRISCO, Texas (Via US Youth Soccer) — The US Youth Soccer National League Girls teams will compete in their second event of the 2018-19 season March 15-17 at Bettye Wilson Soccer Complex and Kellogg Zaher Soccer Complex in Las Vegas, Nev., as 100 teams — representing 26 state associations and 64 clubs — play their final games to solidify the division standings.
Continue reading for a full preview of the 16U Girls age group.
SCORES & STANDINGS | BLACK | BLUE | RED | WHITE
---
BLACK DIVISION
There should be plenty of excitement in the 16U Girls Black Division during the final weekend of play, as all four teams competing in Las Vegas are in still in contention for a first-place finish. Before they can begin envisioning a division title, those teams must first overtake current division leader SC Waukesha 03 Blue (WI). The Wisconsin side picked up two wins and a draw in Florida to finish its season with 14 points and a narrow lead at the top of the standings.
Beginning the Las Vegas weekend just two points behind SC Waukesha, Legends IE (CA-S) is poised to move past the Wisconsin side with a single win from its remaining games. Legends will need to do more than that to hold off its Vegas opponents, and four straight wins to start its season suggests the Cal South side has the ability to match up well with its remaining foes.
HSC 03 GPS (OR) also went undefeated in North Carolina while securing three wins and a draw. HSC showcased a high-scoring offense by netting 16 goals in its four games and will look to regain its dangerous attacking presence in Las Vegas. Cleveland FC 03 (OH-N) is right behind HSC and within striking distance of Legends —making the Ohio North side another key contender for the division title. Meanwhile, GPS NY Regional Team (NY-W) is still in the hunt but will need to win all three of its remaining games and have other results go its way to have a shot at first place.
Game to Watch
March 17, Legends IE (CA-S) vs. HSC 03 GPS (OR)
A lot can change between now and the final day of the season, but this games matches up two teams that are currently undefeated. The performances by Legends and HSC in North Carolina suggest they should be prime contenders for the Black Division title. If that plays out, this match on the final day of the season could be the one that decides who finishes in first and punches a ticket to the 2019 National Championships.
BLUE DIVISION
With all seven of its games in the books, PDA Shore Freedom (NJ) can now only sit and wait to see if it holds on to its current lead in the 16U Girls Blue Division. The New Jersey side picked up seven points from its four North Carolina matches before earning three straight 1-0 victories during play in Florida. Those three narrow victories brought PDA's point total to 16, which gives it a four-point cushion on San Diego Soccer Club Academy Navy (CA-S).
San Diego is the lone team competing in Las Vegas that has the ability to catch PDA in the standings. The Cal South side picked up a key 3-0 win over PDA when the two teams met on the fourth day of play in North Carolina. That head-to-head victory means San Diego needs just four points from its three games in Las Vegas to clinch the Blue Division title. After outscoring its opponents, 15-to-2, in North Carolina, San Diego will be in good shape if it can regain that form.
Impact MN (UT) and Lonestar FDL (TX-S) have six and five points, respectively, and each have a chance to finish in second place and requalify for next season's National League.
Game to Watch
March 16, PacNW 03 Maroon (WA) vs. San Diego Soccer Club Academy-Navy (CA-S)
If San Diego earns a result in its first game of the weekend, it will have a chance to secure the Blue Division title in this match with PacNW. Should San Diego come up short in either contest, it will have some added pressure in its final game of the season. Meanwhile, PacNW was involved in four close games to open its season, and the Washington side will be looking to finish its season strong.
RED DIVISION
Several teams are still in play to win the 16U Girls Red Division, including three sides who are preparing to finish their season in Las Vegas. The teams with games remaining will first be aiming to pass current leader Keystone FC Premier 03 (PA-E), which secured 11 points from its games in North Carolina and Florida.
Two teams, CDA Premier 03 (OH-S) and LVSA 03 Red (NV), are just one point behind Keystone with three games left to play. Both CDA and LVSA defeated Keystone in North Carolina, as the Ohio South and Nevada sides each secured three wins and a draw from their opening four games. Their early performances left CDA and LVSA deadlocked in every column of the standings, so the remaining games will tell the whole story in separating the two division title contenders.
Hawks 03 Academy (CA-S) is five points behind CDA and LVSA, and the Cal South side will likely need to win all three of its games in Las Vegas to have a chance at finishing on top of the Red Division standings.
Game to Watch
March 16, LVSA 03 Red (NV) vs. CDA Premier 03 (OH-S)
Three wins. One tie. Ten points. Ten goals scored. Two goals conceded. Those are the figures compiled by both LVSA and CDA through four games apiece. With literally no separation between the two entering the Las Vegas weekend, this match on the second day of the event will give each an opportunity to pick up a key head-to-head victory. If either side is able to come away with a win, the victor would see a big boost to its division title chances.
WHITE DIVISION
The top spot in the 16U Girls White Division was clinched in Florida, as Lou Fusz 03 Blue (MO) completed a rare 7-0-0 season. The Missouri side recorded four shutouts and didn't allow more than one goal in any of its seven wins. On the other end of the field, Lou Fusz netted 23 goals, including eight from Chloe Netzel and six from Madelyn Smith — making them the current top two individual scorers. The complete team effort helped Lou Fusz secure first place and lock up a spot in the 2019 National Championships.
PSA National 03 (NJ) did enough in Florida to clinch a second-place finish in the division, which allows the New Jersey side to requalify for the National League for the 2019-20 season.
Game to Watch
March 16, Indie Chicas 03 (ID) vs. Beadling 2003 South Red (PA-W)
Of the four teams competing in Las Vegas, the Indie Chicas and Beadling are the top two in the standings. Each has the chance to finish in third place with a solid final weekend of the season. While the division title is out of reach, the teams can pick up some momentum with some success against White Division foes before heading into the rest of the spring and summer competitions.