US Youth Soccer National League Girls Las Vegas Preview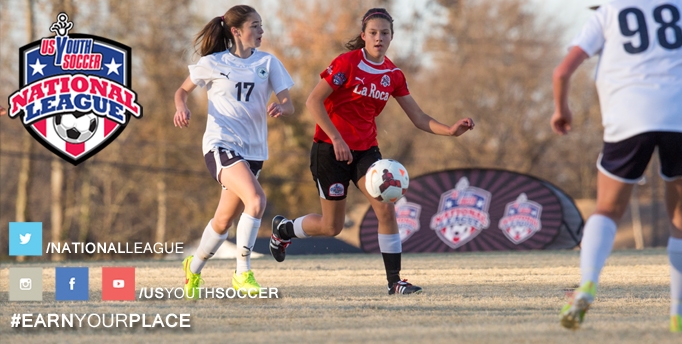 Click for age group previews, games to watch and player notes…
Under-14 | Under-15 | Under-16 | Under-17 | Under-18
FRISCO, Texas (Via US Youth Soccer) — The 2014-15 US Youth Soccer National League Girls season will wrap up play March 20-22 at Bettye Wilson Soccer Complex in Las Vegas, Nev., as 48 teams — representing 17 states and 36 clubs — will play their final three games and solidify the division standings. In the Under-15 through Under-18 age groups, each division will be represented by four of the eight teams, while the Under-14 divisions will each feature all eight teams.
Nine division championships are still to be decided during the final weekend of National League Girls play, and 16 total teams will punch tickets to the 2015 US Youth Soccer National Championships, held July 21-26 at the Mohawk Soccer Complex in Tulsa, Okla.
Under-14 South Shore Select Elite (MA) coach Liz Lima said her players have had an amazing experience so far in their first National League season and have played against a high of caliber opponents. Like many of the teams competing in Las Vegas, South Shore enters with a chance to finish in the top two of its division and earn a berth to the National Championships.
"We started off with a good weekend, going 2-1-1. All the games were competitive," Lima said. "We were lucky that we were on the winning side of it, but the whole point is to get quality games and quality competition for our players. We're definitely achieving that.
+Read: US Youth Soccer National League Boys wrap up exciting 2014-15 season
"Going to Vegas, we're playing the other top teams in the league. Vegas will definitely determine who falls in what place and all that, but at the end of the day it's about development and getting better. You get better by playing the best, and we're certainly playing the best."
Whether it's a new team, like South Shore and the rest of the Under-14 sides, or veteran squads, each National League team gets to measure itself against top competition in meaningful matches while playing in front of college coaches and U.S. National Team scouts. More than 1,100 college coaches have attended the first two National League Girls events, and many more — as well as U.S. Soccer coaches and scouts — will be on hand for the games in Las Vegas.
In addition to recruiting opportunities, the top two finishers from each division (Blue and Red) will earn a ticket to the 2015 US Youth Soccer National Championships, making each match valuable to the team's fate as it could make or break their chance at competing for the National Championship.  The top two finishers in the Under-14, 15, 16 and 17 age groups will also earn an automatic spot in the 2015-16 National League season.
A handful of teams have already secured top-two finishes, as 32 of the 80 girls sides finished their 2014-15 season in January at the Disney Soccer Showcase in Orlando, Fla., in front of 625 college coaches.
+Read: Nation's elite heading to Richmond, Va. for Jefferson Cup Girls Showcase Weekend
The lone girls team to claim a division title in Orlando was Tophat 18 Gold (GA), which became just the sixth girls side to finish a season 7-0-0. U.S. Under-17 Women's National Team forward Rachel Jones led Tophat with 12 goals — the second-most goals scored by a National League girls player in a single-season.
Under-17 Tampa Bay United 97 Premier (FL) conceded just one goal in its seven games, as it clinched at least a second-place finish its division. Meanwhile, Under-16 sides Tophat 17 Gold (GA) and defending National Champion JFC Storm 98/99 (FL) also secured top-two finishes and trips to the National Championships.
Many of the teams still to compete in Las Vegas have hopes of joining those four sides in Tulsa, Okla., this summer. Lima said the mental state of the players will be key in determining the outcomes, especially with several of the teams adjusting to playing outdoors after a harsh winter in the Northeast.
And despite dealing with more than 100 inches of snowfall this winter, South Shore isn't focusing on the past. Instead the Massachusetts side, like 47 other girls teams, is looking forward to the opportunity ahead.
"We couldn't be happier. We're looking forward to Vegas. We're playing some really good teams," Lima said. "We have no idea what the end result will be, but at the end of the day it's about our players getting to play against the best. Hopefully we'll come out with a successful weekend, but no matter what they're going to get better from the weekend."