US Youth Soccer National League Boys Florida Event: Sunday Recap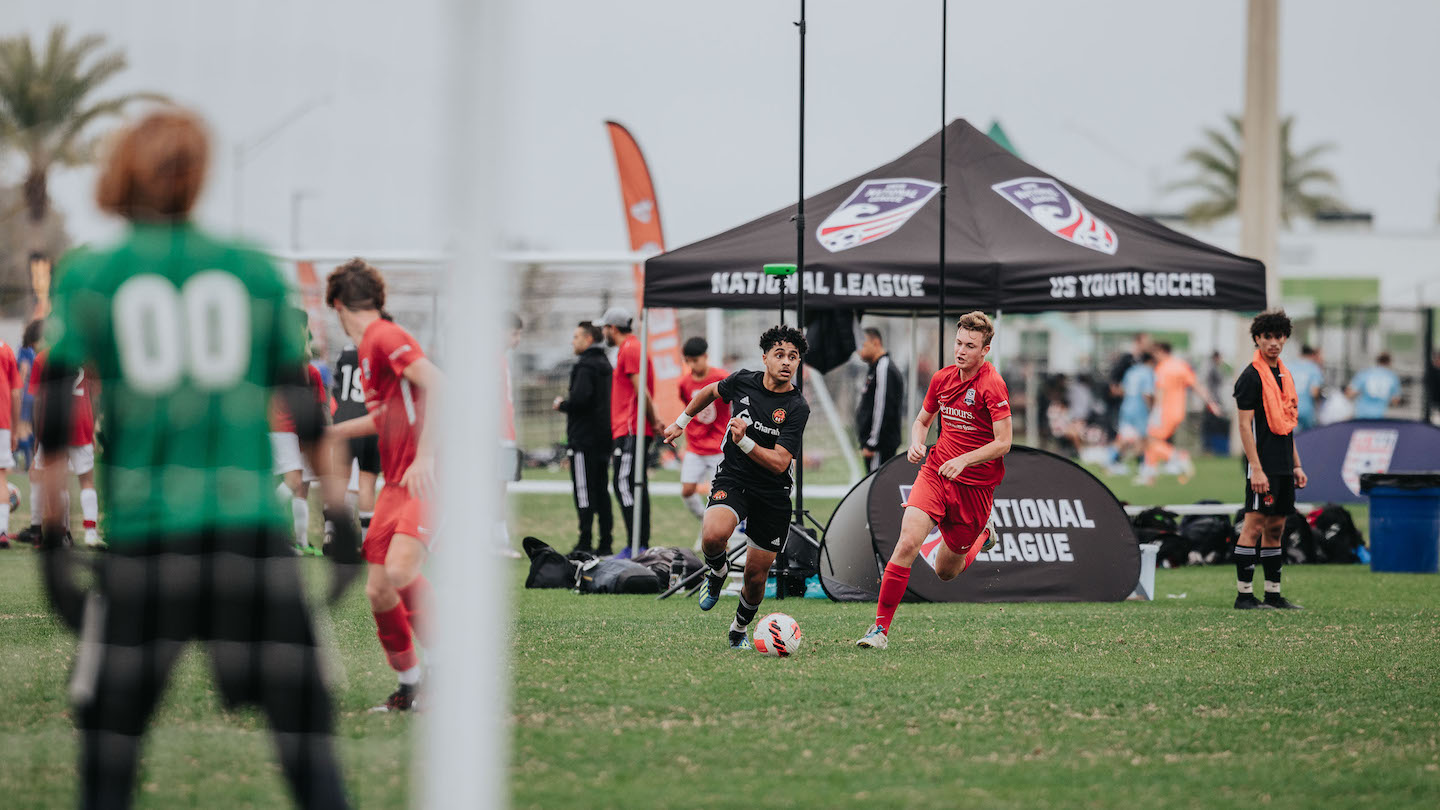 LAKEWOOD RANCH, Fla. — The US Youth Soccer National League Florida event continued on Sunday, as the showcase teams wrapped up their games, while many of the National League P.R.O. sides played their second games of the weekend.
All of the boys action took place at the Premier Sports Campus in Lakewood Ranch, Fla. To view a recap from the girls side, click here.
Top-finishing National League P.R.O. teams (12 per gender age group) earn direct advancement to the USYS National Championships, and many of the results in Florida will determine which teams punch their tickets.
Take a brief look at where the National League P.R.O. boys teams stand after Sunday's matches…
15U Group A – FC Bucks Dominion 07 Boys (PA-E) picked up a 1-0 win against SC Vistula Garfield 07 Lewandowski (NJ) to move into first place and inch closer to securing a spot at the National Championships.
15U Group B – Libertyville FC 1974 Elite 07B (IL) secured its second shutout of the weekend on Sunday to move to 6-0-0 and sit in firm control at the top of the group.
16U Group A – A close 2-1 win on Sunday allowed LFA Mueller 06 (MO) to remain the top side in the group, while four teams are currently within one point of second place and a berth to Nationals.
16U Group B – Shutout victories by KC Athletics Academy Elite 06B Galacticos (KS) and Dix Hills EST Ultimatum (NY-E) pushed each team to 13 points atop the standings. KC Athletics extended its goal differential advantage thanks to four goals in its Sunday win.
16U Group C – A 1-0 win helped FC Westlake 06B Elite (TX-S) move past Augusta Arsenal 06 Gold Boys (GA), as the South Texas side has 13 points at the top of the standings. Nationals Union 06 Boys Black (MI) is tied with Arsenal on 12 points, but Nationals has a game in hand.
17U Group A – A second 3-1 victory in Florida helped Phila Ukrainian Nationals 05B Black (PA-E) maintain a perfect record and a 3-point cushion at the top of the standings.
17U Group B – After a draw on Saturday, BVB International Academy Pittsburgh 05B Premier (PA-W) fought to earn a 1-0 win on Sunday to maintain keep its 1-point lead in a close race for the group title.
17U Group C – Libertyville FC 1974 Elite 05B (IL) kept a 2-point lead over Galaxy 2005 Boys Blue (IL) in the standings after both sides won their matches on Sunday. The seventh game between the two Illinois sides later this spring could be needed to determine the group winner.
18U Group A – Slammers 04B Maroon (NY-E) picked up a big 6-3 against previous group leader McLean 04 Boys (VA) to jump to the top of the standings. Group A is extremely tight, with the top six teams separated by just four points.
18U Group B – Ohio sides CUP 04 Gold (OH) and Team Challenger FC B04 Black (OH) are both 5-0-0 and will decide the first-place finisher when they meet in their seventh game.
18U Group C –  CSA Newark 2004 NL (NJ) and FC Bucks Dominion 04 Boys (PA-E) are tied atop the group with 13 points, but three other teams are within three points of them.
19U Group A – FC Dallas Premier 03B (TX-N) picked up a 1-0 win to remain in first place, just ahead of Ohio Galaxies FC 03 Elite (OH) — who also won by a one-goal margin. Ohio also has a game in hand on FC Dallas.
19U Group B – Century Boys 2003 Gold (PA-W) came back from a goal down to win, 4-3, against Phila Ukrainian Nationals 03B Black (PA-E). A 1-1 draw between LVU-FPA 03B Black Gorni (PA-E) and Nationals Union 03 Boys Black (MI) allowed Century to take sole possession of first place in a tight title race.
National League Florida will wrap up on Monday, as the National League P.R.O. teams compete in their final games of the event.