US Youth Soccer National League 2018-19 Season: 17U Boys Preview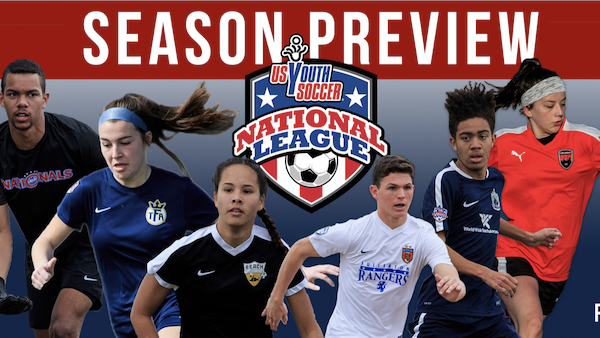 (Via US Youth Soccer) – With the 2018-2019 US Youth Soccer National League season upon us, take a look at the entire 17U Boys age group, which features four competitive divisions with some of the nation's top clubs represented.
Among the experienced teams in the 17U Boys Black Division is NCFC 02 Elite (NC), which came on strong at the end of last season to finish as the runner-up at the 2018 US Youth Soccer National Championships. North Carolina produced strong showings in the knockout rounds at the 2018 US Youth Soccer Southern Regional Championship to take the title and advance to Nationals, where nearly lifted the trophy — falling, 1-0, in overtime of the final.
FC Dallas 02 Premier (TX-N) is familiar with NCFC and will look to challenge for the Black Division title. FC Dallas won its Southern Regional Premier League division before earning three victories in all three group games at Regionals, including a victory against NCFC. However, NCFC came back and edged FC Dallas in the Regional final, leaving the North Texas side just short of advancing to Nationals. That could add an extra level of focus to FC Dallas, as it looks to secure that berth to Nationals by winning the Black Division.
+READ: US Youth Soccer National League 2018-19 Season | 16U Boys Preview
If either of those South Region teams are going to win the group, they'll need to get by Washington Premier 2002 Black (WA), which won the Black Division title a year ago. By finishing on top of a very tight division last season, Washington showed it knows what it takes to be successful in the National League.
J B Marine – Mann (MO) and SC Waukesha 02 Blue (WI) each enjoyed a mix of success in league and tournament play last season, and each could be near the top of the Black Division standings come March.
The 17U Boys Blue Division features SLSG 02 Elite (MO), which won the Blue Division title last season. At the National Championships, SLSG missed the semifinals by the slimmest of margins — finishing third in the group on a three-way tiebreaker decided by a single goal. The Missouri side should be motivated to return to Nationals, and a second straight Blue Division title would give it that chance.
SLSG won't be the only team looking to return to Nationals, as 2018 US Youth Soccer Midwest Regional Champion Club Ohio 2002 Green 1 (OH-S) will look to do the same. Club Ohio used a high-powered offense to win the regional title and could pressure the opposing back lines when National League play kicks off in North Carolina.
+READ: US Youth Soccer National League 2018-19 Season | 15U Boys Preview
Meanwhile, MOBA-02 Elite (GA) posted a 7-0-2 record to finish first in its Southern Regional Premier League division and will aim to replicate that success in a league format against Blue Division foes. OK Energy FC Central 02 (OK) beat MOBA in the Southern Regionals group stage before advancing to the semifinals, and the Oklahoma side will hope to add to its club recent National League success with a strong showing in the Blue Division.
Folsom Lake Earthquakes National Premier 02 (CA-N) won its Far West Regional League division and could make some noise in the division if it can recreate that type of performance in the National League.
Defending National Champion Arlington SA 2002 Red (VA) will look to continue its success from the summer when it begins 17U Boys Red Division play in December. After mid-table National League finish last season, Arlington went on a run in the summer to capture the 2018 US Youth Soccer Eastern Regional Championship and the National Championship. It will have to deal with several challengers in the Red Division who are looking to knock off the defending National Champs.
It wouldn't be a surprise to see Midwest United FC 02 Royal (MI) be one of the top challengers to win the group. Midwest captured the Red Division title last season but came up short at Nationals — where it dropped a group play game against Arlington. The Michigan side will look to get some payback while also trying to recapture the Red Division crown.
+READ: US Youth Soccer National League 2018-19 Season | 14U Boys Preview
Elsewhere, FC United 2002 Pre DA (IL) and 02 Lobos Rush Premier (TN) will each look to build off first-place finishes in their respective Regional League competitions as they compete in the Red Division. This season will also offer a chance for Boca OC 02 White (CA-S) to finish on top after it came up short of a National League division title following a remarkable effort on the final day of last season.
The teams in the 17U Boys White Division will be out to claim the title that Solar 02 Castro (TX-N) earned last season. The North Texas side went 5-1-1 while finishing first in the White Division last year, and its experience against the top teams in the country should once again make it a contender for the title in 2018-19.
If Tuzos Academy 02 (AZ) can continue its level of play from the summer, it could find itself at the top of the White Division standings when things are all said and done. After finishing first in its Far West Regional League division, the Arizona side won several close games to claim the 2018 US Youth Soccer Far West Regional Championship.
Brausa 02 Blue (MD) and Eastside FC 02 (WA) each won their respective Regional League competitions, as each team has proved it can provide the consistent play needed to compete for a league title. Meanwhile, YMS Premier United 02 (PA-E) advanced to the Eastern Regional Championship semifinals before falling to the eventual National Champion, so YMS could prove to be a contender for the White Division crown.
Charles Riddle (Club Ohio Green) – Golden Ball, Best XI at the National Championships
Braeden Pryor (Washington Premier 2002 Black) – Best XI at the National Championships
Logan Oyama (Washington Premier 2002 Black) – Best XI at the National Championships
Gabriel Gonzalez (Tuzos Academy 02) – Best XI at the National Championships
Donald Ross (SLSG Elite) – Best XI at the National Championships
Garrett Ross (Arlington SA 2002 Red) – Best XI at the National Championships
Noah Brumels (Midwest United FC 02 Royal) – Best XI at the National Championships
Cole Hutson (SLSG Elite) – Best XI at the National Championships
Kyle Folds (Club Ohio Green) – Leading scorer at the Midwest Regional Championships with seven goals
Jason Villalba (Tuzos Academy 02) – Leading scorer at the Far West Regional Championships with five goals
2018 US Youth Soccer ODP Boys Interregional – 2002 Roster
Midwest Region – Maxwell Reis (Michigan Jaguars)
South Region – Johnny Sauceda (Solar Castro), Roman Torres (FC Dallas 02)
West Region – Sebastian Romero, Saul Serpas (Boca OC)