US Youth Soccer National League 2018-19 Season: 16U Boys Preview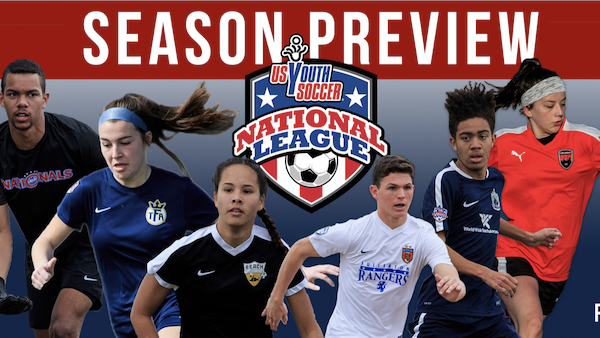 (Via US Youth Soccer) – With the 2018-2019 US Youth Soccer National League season upon us, take a look at the entire 16U Boys age group, which features four competitive divisions with some of the nation's top clubs represented.
The 16U Boys Black Division features one team that competed at the 2018 US Youth Soccer National Championships in FC United 2003 Pre Academy (IL). The Illinois side won several close games to take the Midwest Regional title, including a final match that needed penalties to decide the winner. FC United finished third in its group at Nationals, but the experience gained should help it when Black Division play begins in North Carolina.
If HMMS Eagle FC (PA-E) can recreate its Regional League success from 2017-18, it could make a run this National League season. HMMS won its division of the Eastern Regional League with a 6-1-0 record, so it has a successful league play performance to draw from as it takes on Black Division foes.
+READ: US Youth Soccer National League 2018-19 Season | 15U Boys Preview
One of the other experienced teams in the Black Division is Nationals Union 03 Black (MI). The Michigan side played in the National League last season and showed off improved play at the 2018 US Youth Soccer Midwest Regional Championships. At that event, Nationals Union won each of its group games before dropping a close semifinal match to the eventual champion. If the Michigan side can continue that trend of improved results, it can make a run at the Black Division title.
When the 16U Boys Blue Division kicks off play in December, LVSA 03 Silver (NV) will begin its defense of a pair of titles it earned a season ago. The Nevada side won last year's Blue Division before claiming the National Championship in Frisco, Texas, over the summer. After posting an historical scoring pace last year, LVSA poses a difficult matchup for any opponent and should contend for another Blue Division title.
+READ: US Youth Soccer National League 2018-19 Season | 14U Boys Preview
Kalamazoo Kingdom SC 03 Red (MI) is looking to enjoy some of the same success as LVSA, as it challenges for the division crown. The Michigan side won its Midwest Regional League division last season, and it came up just short of capturing the Midwest Regional Championship — falling in penalties in the final. GPS NY Regional Team (NY-W) met a similar fate at the Eastern Regional Championships but gained some experience as the regional representative at Nationals. Both Kalamazoo and GPS can use those experiences when facing the National League competition.
Meanwhile, Baton Rouge SC Black (LA) and Seattle United 03 Copa (WA) each won their respective Regional League divisions and will hope to transfer that success to the Blue Division action when play kicks off in North Carolina.
With the stingiest defense of all National League teams in this age group a year ago, OK Energy FC Central 03 (OK) won its division title. Oklahoma is out to do the same, as it prepares to pursue the 16U Red Division crown. The Energy won all six of its National League games last season, and it performed well at Nationals before bowing out in the semifinals. Oklahoma has shown it can compete at the level necessary to win a division title, but it will have plenty of challengers.
Syracuse Developmental Academy (NY-W) and Baltimore Celtic Premier (MD) each produced some positive results in the Eastern Regional League and will look to transfer that success in league formats to this season's Red Division campaign.
La Roca S CS (UT) came up just a couple points short of earning a berth to Nationals in last year's National League, and it will look to improve on that finish this season. The Utah side also enjoyed success at the 2018 US Youth Soccer Far West Regional Championships, where it advanced to the semifinals.
After two straight runner-up finishes at National Championships, Beadling 2003 Boys – South Red (PA-W) is likely anxious to try to get back to that stage. It will look to do that by winning the 16U Boys White Division. The PA West side has competed with many of the top teams in the nation over the last two seasons and has shown it can compete with anyone. After finishing second in the Red Division last season, Beadling has a good chance at competing for the White Division title this year.
A team that will be looking to challenge Beadling is 03 PTFC Black (NC), which defeated the PA West side, 4-3, in group play at Nationals in July. PTFC earned its way to the National Championships by winning the Southern Regional Championship, where it won all six of its games en route to the title. It will aim to produce a similar string of results when White Division play kicks off in December.
CFJ City 2003 Premier (IL) brings a variety of experience from regional and national competitions, and it wouldn't be a surprise to see the Illinois side near the top of the White Division standings when the dust settles on the season. CFJ finished third in its National League division last year, first in its Regional League division and advanced to the Midwest Regional Championships semifinals. If it can build off of those results, it can make some noise this season.
Konner Robbins (PTFC Black) – Golden Ball, Best XI at the National Championships
Fernando Saldana (OK Energy FC) – Best XI at the National Championships; Leading scorer at the Southern Regional Championships with seven goals
Jeremiah Anandarajah (GPS NY Regional Team) – Best XI at the National Championships
Ari Sirvent (LVSA 03 Silver) – Best XI at the National Championships
Alexis Bravo (LVSA 03 Silver) – Best XI at the National Championships
Aidan Yamachika (LVSA 03 Silver) – Best XI at the National Championships
Mason Fabean (Beadling 2003 South) – Best XI at the National Championships
Jason Sotelo (LVSA 03 Silver) – Golden Glove, Best XI at the National Championships
Abigay Gomez (LVSA 03 Silver) – Leading scorer at the National Championships with four goals
Joseph Fonagy (Beadling 2003 South) – Leading scorer at the Eastern Regional Championships with four goals
Joshua Torres (CFJ City) – Leading scorer at the Midwest Regional Championships with six goals
2018 US Youth Soccer ODP Boys Interregional – 2003 Roster
East Region – Richard Ruapp (Lake Grove Newfield), Dale Lepper (Syracuse Development Academy)
Midwest Region – Samuel Walton (Milwaukee Bavarians); Nick Flegler, Drew Lietz (Midwest United); Justin Harris, Joshua Adam, Alexandru Diac (Michigan Jaguars); Grant Nagle (CFJ City)
South Region – Caden Ball, Luis Lopez, David Meacham, Marco Romero (OK Energy FC); Alexei Royar (Tennessee SC)
West Region – Charlie Gaffney, Guyan Rauch (Seattle United); Noah Robinson, Dante Silvestri (La Roca); Anthony Suazo (Eastside)
2018 US Youth Soccer ODP Boys Interregional – 2004 Roster
Jonah Fogel (GPS NY)