US Youth Soccer National League 2018-19 Season: 14U Girls Preview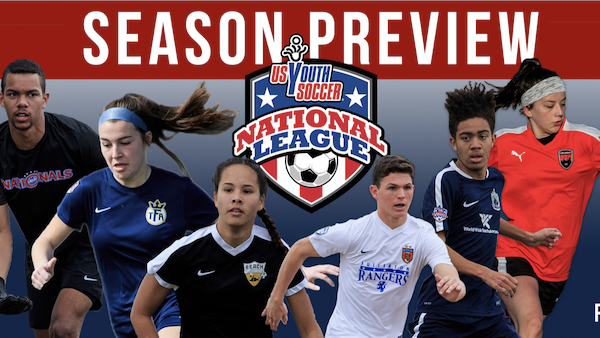 (Via US Youth Soccer) – With the 2018-2019 US Youth Soccer National League season quickly approaching, take a look at the entire 14U Girls age group, which features four competitive divisions with some of the nation's top clubs represented.
With a first chance to make a statement on the national stage, the teams in the 14U Girls Black Division are not just playing for the division title and berth to the 2019 US Youth Soccer National Championships. Each side has a chance to build confidence and momentum that can carry through for years to come.
Lou Fusz Geerling 05 (MO) is one side that is looking to take the next step after a strong showing last season. The Missouri State Cup champion showcased stout defense to win its group at the US Youth Soccer Midwest Regional Championships before dropping a close semifinal match. After proving it is among the top teams in its region, Lou Fusz will now aim to be among the best in the Black Division.
+READ: US Youth Soccer ODP 2018 Girls Thanksgiving Interregional Recap
After winning the New Jersey State Cup, SJEB Rush 2005 Academy (NJ) enjoyed some success at the US Youth Soccer Eastern Regional Championships. SJEB finished second in its group and played a tight game in a close loss to the eventual regional champion.
Barca Academy CLB Martens 05 (OH-S) is another team to watch after it won its Regional League division with unbeaten record of four wins and three draws. Beadling 2005 South Red (PA-W) also has some momentum after finishing first in the Great Lakes Conference earlier this fall. That consistency in a league format should prove to be valuable experience as the teams take on Black Division opponents.
After advancing all the way to the title game at the 2018 National Championships, CDA Premier 05 (OH-S) will look to regain that hot streak when it kicks off 14U Girls Blue Division action in North Carolina. CDA won the Midwest Regional Championship before making noise at Nationals, where it came up one goal short in the final. The Ohio South side will now look to return to that stage by winning the Blue Division title.
As one of two teams representing West Virginia in the National League for the first time, FC Alliance 2005 (WV) could be a team to watch in the Blue Division. Alliance made some noise at the Eastern Regional Championships when it advanced to the final match after securing results in several close games.
Meanwhile, 05 NCFC Elite (NC) won its Southern Regional Premier League division and made a semifinal run at the US Youth Soccer Southern Regional Championships. Like NCFC, NJ Stallions 05 Fire (NJ) also won its Regional League division, and that type experience should help both sides in their first National League campaigns.
The 14U Girls Red Division features one team in Liverpool 05 Elite (TX-N) that already got a taste of the national stage. The North Texas side outscored opponents, 20-1, at the Southern Regional Championships en route to claiming the title. Liverpool earned two ties in group play at Nationals but came up a couple points short of earning a spot in the title game. That gave it a taste of how close games can be at the national level, which should help Liverpool as it takes on the Red Division.
CUP 05 Gold (OH-S) narrowly missed out on earning a trip to Nationals, as it finished second at the Midwest Regional Championships. The Ohio South side won all of its group games but fell in penalties in the championship match — leaving it anxious for another shot at earning a berth to the National Championships.
While looking to continue its clubs recent success in the National League, Nationals Union 05 Black (MI) will aim to capture the Red Division crown. Nationals Union has experience in a league format, as it compiled a perfect 7-0-0 record while winning its Midwest Regional League division. A repeat of that consistency will put the Michigan side in the mix in the race for the Red Division title.
With all teams in the group new to the National League, Pipeline Spirit Pre-Academy (MD) will look to draw from valuable experience gained last season as it contends for the 14U Girls White Division title. The Maryland side won its Regional League division and outscored opponents, 16-0, to win the Eastern Regional Championship. If not for a couple late goals conceded in its last group game at Nationals, Pipeline may have advanced to the final. After coming so close, the Maryland side should be focused when National League play kicks off in North Carolina.
TFA Elite 05 (OH-S) could also find itself near the top of the White Division standings if it can replicate its performance from last season's Midwest Regional League. The Ohio South side won its MRL division by compiling six wins and a draw.
Another side that has displayed success in a league format is 05 Lady Lobos Rush Premier (TN), as the Tennessee side won each of its Southern Regional Premier League games to capture a division title. Knowing the sustained level of play that is needed to finish atop league standings will help the teams with that experience when they challenge for the White Division title.
Finley Lavin (Pipeline SC Pre-Academy) – Golden Ball, Best XI at the National Championships
Theresa McCullough (Liverpool 05 Elite)     – Best XI at the National Championships
Lauren Kraft (Pipeline SC Pre-Academy) – Best XI at the National Championships
Cecilia Cerone (Liverpool 05 Elite) – Best XI at the National Championships
Samantha Lumpkin (Liverpool 05 Elite) – Best XI at the National Championships
Hannah Jibril (Pipeline SC Pre-Academy) – Leading scorer at the Eastern Regional Championships with six goals
2018 US Youth Soccer ODP Girls Thanksgiving Interregional – 2005 Roster
East Region – Emerson Grafton (FC Alliance)
West Region – Jordan Candelaria (Rio Rapids), Leslie Duarte (CCV Stars)