US Youth Soccer National Championships 2021 Live Stream Schedule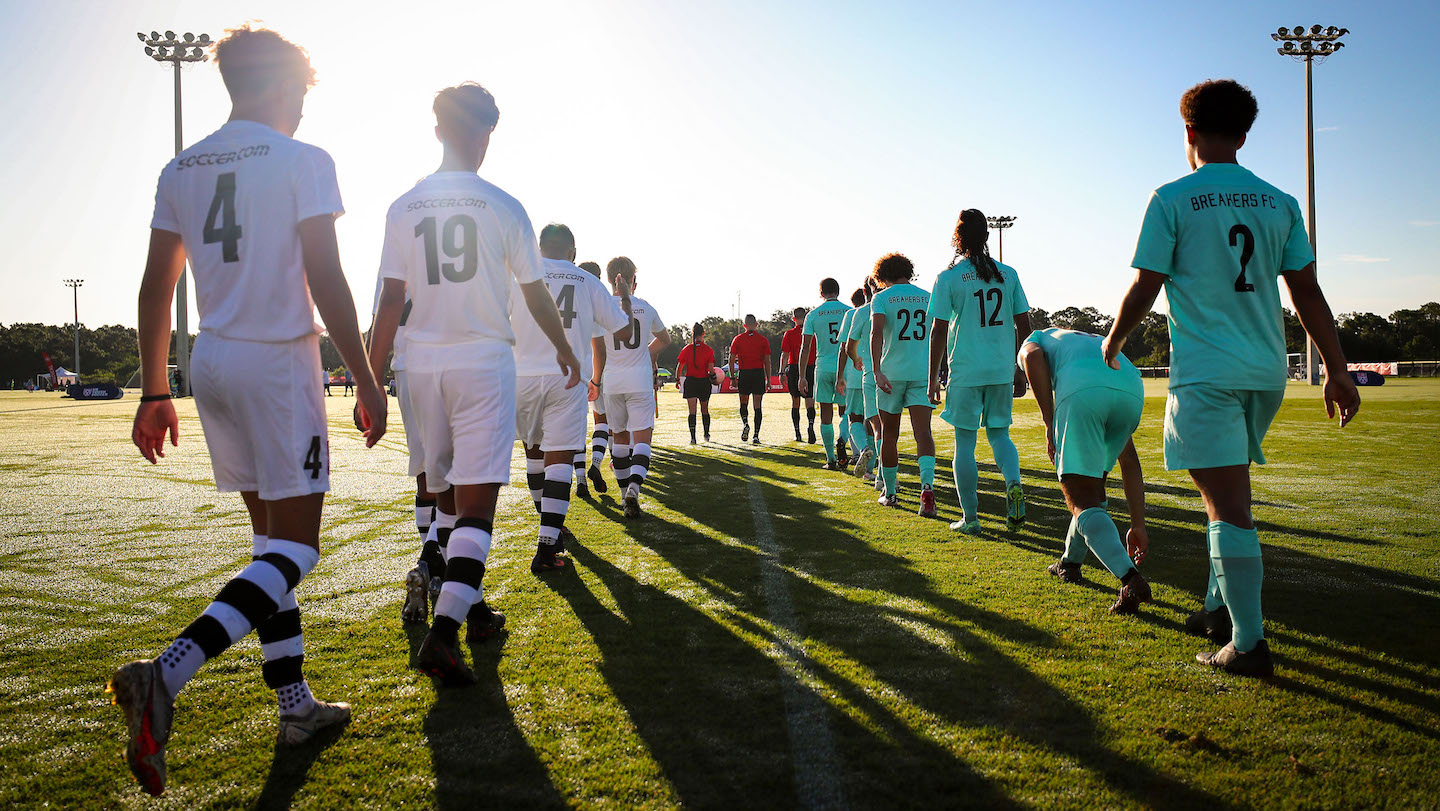 FRISCO, Texas — US Youth Soccer has kicked off its 2021 USYS National Championships at the Premier Sports Complex at Lakewood Ranch in the Bradenton-Sarasota area, on Florida's West Coast.
The USYS National Championships feature the 104 boys and girls (13U – 19/20U) teams, all vying for a national title in their age group. With 32 State Associations represented, the event features teams from all over the country who have produced numerous on-field accomplishments to qualify for the competition.
The National Championships begin with group play July 20-22 for all age groups. On July 23, the 13U age group will crown its champions following the final matches for both boys and girls. July 24 will feature semifinal matches for boys and girls teams in the 14U-19/20U age groups, and the 14U-19/20U age groups will hold their championship finals on July 25.
See below for the live stream schedule, with games available to view on US Youth Soccer's YouTube channel.
Please note: Streaming schedule is subject to change.
Please check this page for regular updates or go to the US Youth Soccer YouTube page. All streams are free and do not require personal information to be supplied by the viewer. Please do not click links that do not come from official US Youth Soccer sources as they may be fraudulent.
WEDNESDAY, JULY 21
Time
Field
Age
Gender
Team
Team
8 AM
Field 3
U16
Girls
La Roca FC La Roca 05G PO (UT)
Louisiana Fire SC Louisiana 05G RED (LA)
8 AM
Field 4
U16
Girls
Cincinnati United CUP 05 Gold (OH-S)
Philadelphia SC Coppa 05 Rage (PA-E)
8 AM
Field 5
U15
Girls
Solar SC South 06G Adames (TX-N)
Broomfield Blast SC 2006 Girls Prestige (CO)
8 AM
Field 6
U15
Girls
Real Jersey FC Real Jersey FC 2006 (NJ)
Cincinnati United CUP 06 Gold (OH-S)
8 AM
Field 7
U16
Girls
Collierville SA 05 Lady Lobos Rush Premier (TN)
Total Futbol Academy TFA G05 Elite (OH-S)
8 AM
Field 8
U16
Girls
Pittsburgh Hotspurs SC 2005G Blue (PA-W)
Broomfield SC Blast 05 Girls Prestige (CO)
8 AM
Field 12
U14
Girls
Legends FC Legends FC SCV G07 FC (CA-S)
Collierville SA 07 Lady Lobos Rush Premier (TN)
8 AM
Field 13
U14
Girls
Dynamite Academy WSC 2007G (NJ)
Wake FC 07 WFC Blue GA G (NC)
8 AM
Field 17
U17
Girls
Los Angeles Soccer Club LASC G04 Bradbury (CA-S)
Galaxy SC Galaxy SC 2004 Blue (IL)
10 AM
Field 3
U18
Girls
Braden River SC 03 Girls Premier (FL)
Nationals Nationals Union 03 Girls Black (MI)
10 AM
Field 4
U18
Girls
Keystone FC Keystone FC Premier 03G (PA-E)
FC Evolution Cleveland FC 03 Royal (OH-N)
10 AM
Field 5
U19
Boys
Tuzos Academy 02 (AZ)
St. Louis Scott Gallagher  SLSG 2002 Elite (MO)
10 AM
Field 6
U19
Boys
Arlington Soccer Association Academy 02B (VA)
Solar Soccer Club Solar 02B Sawyer (TX-N)
10 AM
Field 7
U18
Girls
Total Futbol Academy TFA G03 Elite (OH-S)
Impact United SC Impact MN (UT)
10 AM
Field 8
U18
Girls
NCFC Youth 03 NCFC Elite G (NC)
Indy Premier SC Indy Premier SC 03G Elite I (IN)
10 AM
Field 12
U18
Boys
West Florida Flames U18B Elite Brandon (FL)
Baltimore Celtic 2003 Premier (MD)
10 AM
Field 13
U18
Boys
Indiana Fire Juniors Indiana Fire Juniors 03B Red (IN)
Bethesda Blue 03 (MD)
10 AM
Field 17
U19
Girls
1776 United FC Xtreme 01 Girls (PA-E)
Utah Soccer Alliance USA Premier 02 PR (UT)
12 PM
Field 3
U16
Boys
LVSA 05 Boys Red (NV)
FC Evolution Pennine Utd B05 White (OH-N)
12 PM
Field 4
U16
Boys
All Nations Sports Academy ANSA SC 05B (TX-S)
Libertyville FC 1974 Elite-05 Boys (IL)
12 PM
Field 5
U15
Boys
Nationals Nationals Union 06 Boys Black (MI)
Real Jersey FC Real Jersey FC 2006B (NJ)
12 PM
Field 6
U15
Boys
Arlington Soccer Association Academy 06B (VA)
La Roca FC La Roca S A Bravo (UT)
12 PM
Field 7
U16
Boys
Kings Hammer Academy KHA B05 Red  (KY)
D'Feeters Kicks SC DKSC 05 CARRILLO (TX-N)
12 PM
Field 8
U16
Boys
PA Dominion FC 2005 Boys (PA-E)
Santa Clara Sporting Sporting 05B Green (CA-N)
12 PM
Field 12
U14
Boys
Total Futbol Academy EA – OC B07 (CA-S)
Allegiance FC 07B Black – Pedro (TX-N)
12 PM
Field 13
U14
Boys
VSA/1776 Centurion (PA-E)
ASDSC Doral SC DSC Elite Boys 2007 (FL)
12 PM
Field 17
U14
Boys
Toca FC Toca FC 2007 MLS (KS)
OC Surf North OC Surf North B07 Ruiz (CA-S)
THURSDAY, JULY 22
Time
Field
Age
Gender
Team
Team
8 AM
Field 3
U13
Girls
New England Surf State Navy (MA)
Nationals Nationals Union 08 Girls Black (MI)
8 AM
Field 4
U17
Girls
Team Boca-SABR 2004 Girls White (FL)
LASC G04 Bradbury (CA-S)
8 AM
Field 5
U17
Girls
Sparta FC Sparta FC 04G (TX-N)
Galaxy SC Galaxy SC 2004 Blue (IL)
8 AM
Field 6
U17
Girls
Penn FC Youth 2004 F Lightning (PA-E)
Sporting Saint Louis Rangers 04 (MO)
8 AM
Field 7
U17
Girls
CFC Red Star CFC Red Star 04G Elite (GA)
Utah Celtic Utah Celtic FC 04 (UT)
8 AM
Field 8
U13
Girls
Team Boca-SABR 2008 Girls White (FL)
League 30 L30 FC Shock – G08 JM (UT)
8 AM
Field 12
U14
Girls
Legends FC Legends FC SCV G07 FC (CA-S)
Cleveland Force SC CFSC 07G (OH-N)
8 AM
Field 13
U14
Girls
Collierville SA 07 Lady Lobos Rush Premier (TN)
ALBION SC San Diego Albion SC GA 07 (CA-S)
8 AM
Field 17
U14
Girls
South Carolina Surf SC SC Surf 07 (SC)
Dynamite Academy WSC 2007G (NJ)
10 AM
Field 3
U19
Boys
Chicago FC United Boys 2002 Pre-Academy (IL)
Team Boca 2002 Boys White (FL)
10 AM
Field 4
U19
Girls
Sporting Nebraska FC Premier 02/03 (NE)
Beach FC Schmid/Chirgwin (CA-S)
10 AM
Field 5
U19
Girls
Team Boca-SABR 2002 Girls White (FL)
Sparta FC Sparta FC 02 Elite (TX-N)
10 AM
Field 6
U19
Girls
Collierville SA 02/03 Lady Lobos Rush Premier (TN)
1776 United FC Xtreme 01 Girls (PA-E)
10 AM
Field 7
U19
Girls
FC Dallas Youth FC Dallas Youth 02G Red (TX-N)
Utah Soccer Alliance USA Premier 02 PR (UT)
10 AM
Field 8
U19
Boys
Strikers Miami FC Elite (FL)(SC)
Lehigh Valley United LVU-FPA 2002 Boys (PA-E)
10 AM
Field 12
U18
Boys
West Florida Flames U18B Elite Brandon (FL)
Santa Barbara SC SBSC B03 Elite Team (CA-S)
10 AM
Field 13
U18
Boys
Baltimore Celtic 2003 Premier (MD)
Kingdom Soccer Club Kingdom SC 03 Red (MI)
10 AM
Field 17
U18
Boys
SYC Lions Blue 03B (VA)
Indiana Fire Juniors 03B Red (IN)
12 PM
Field 3
U13
Boys
Nona Soccer 2008 Black (FL)
Utah Avalanche 08 Black SL (UT)
12 PM
Field 4
U17
Boys
KCSG Academy 04 Wolf (MO)
United PDX 04B Premier Black (OR)
12 PM
Field 5
U17
Boys
Sparta United Sparta 04 JK (UT)
Real Jersey FC Real Jersey FC 2004 (NJ)
12 PM
Field 6
U17
Boys
New England Surf 2004 State Grey (MA)
Germantown Legends 04 Black NL (TN)
12 PM
Field 7
U17
Boys
St. Louis Scott Gallagher  SLSG Elite 04 (MO)
PA Dominion FC 2004 Boys (PA-E)
12 PM
Field 8
U13
Boys
Brentwood SC 2008 Premier Man City (NY-E)
Mundelein SC MSC Academy Tigres (IL)
12 PM
Field 12
U14
Boys
Juventus – Dybala (FL)
Toca FC Toca FC 2007 MLS (KS)
12 PM
Field 13
U14
Boys
La Roca FC La Roca-J Milla (UT)
OC Surf North OC Surf North B07 Ruiz (CA-S)
12 PM
Field 17
U15
Boys
MIAMI BREAKERS FC 2006 BLACK (FL)
Total Futbol Academy SELA 15B (CA-S)