US Youth Soccer MRL Girls Fall Showcase Day 2 Recap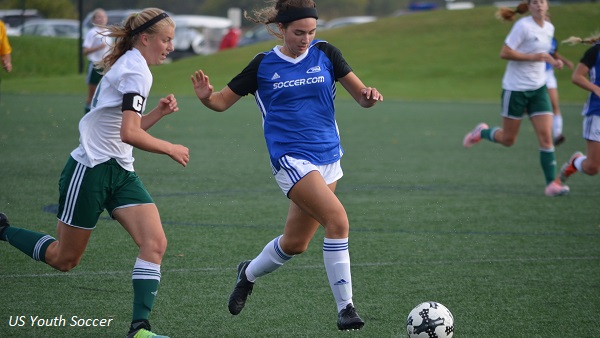 MRL Scores and Standings | Photo Album
WESTFIELD, Ind. (Via US Youth Soccer) – The 2017 US Youth Soccer Midwest Regional League Girls Fall Showcase weekend came to a close on Sunday at the Grand Park Sports Complex in Westfield, Indiana.
A total of 80 Premier I and II girls teams in the 15U through 18U age groups, who are competing in the MRL's fall season, took the fields for competition.
+READ: US Youth Soccer MRL Girls Fall Showcase Day 1 Recap
Among the teams is 18U Campton United 1 (IL), who is familiar with US Youth Soccer competitions such as the Midwest Regional Championships and the National League. The Illinois side currently leads the 18U Premier I Division after a 2-1 win over second place team, Sporting Omaha FC Elite 2000 (NE) on Sunday. Campton United head coach Scott Keena described what it means to compete in the MRL.
"To be part of [the MRL] is special," Keena said. "It's always good for the kids to be in a high-level competition platform, and this offers everything we need for player development at the elite level. This is about preparing kids for the next level: college. The travel, the competition is important because it's helping them prepare for the next chapter. We try to replicate that environment, so when they go to college, they'll be successful."
As the MRL serves as an avenue to the US Youth Soccer Regional Championships and the National League, Keena states that there are team goals to achieve along the way.
"The goal is obviously to win the league, and we're in a good position to do that," Keena said. "Then the goal is to win National League and win Nationals in the summer. Our goal is simple—prepare for the next level—but in doing so, can we be elite, can we be winners?"
Notes from Sunday's Matches:
In a battle between the previous two top teams in the 15U Premier I Division, SC Waukesha 03 Blue (WI) and SLSG 03 Premier (MO) fought to a scoreless draw. Meanwhile, Missouri Rush 2003 United (MO) moved into second place in the division with a 2-1 victory over Midwest United FC 03 Royal (MI).
In the 15U Premier II Division, Chicago Soccer Academy 03 Chelsea (IL) tallied two wins during the weekend and is now tied with Michigan Alliance 2003 (MI) for second place.
Midwest United FC 02 Royal (MI) pulled a close 1-0 victory over previous 16U Premier I Division leader, Sporting OFC 2002 Elite (NE).
North Shore United 2002 Blue (WI) continues to lead the 16U Premier II Division after claiming two victories in Westfield.
While FCKC Academy Blues Elite (MO) still leads the 17U Premier I Division, Galaxy SC 01/02 Blue (IL) put a dent into FCKC's undefeated record by playing to a draw on Sunday.
As FCX Black (IL) and United FC 01 – GR (MI) played to a scoreless draw, and Lou Fusz Becher (MO) took one point for the day with a draw, the second and third place spots of the 17U Premier II Division is a tight race between the three teams.
The two leaders in the 18U Premier I Division, Campton United 1 (IL) and Sporting Omaha FC Elite 2000 (NE), battled each other Sunday, resulting in a 2-1 win for Campton United. The Illinois side gave Sporting Omaha its first loss of the season.
The top three teams in the 18U Premier II Division each picked up wins on Sunday. Michigan Alliance 00 (MI) leads the group with 21 points, while Iowa Rush 2000 (IA) is close behind with 19 points and Canton Celtic 00 Black (MI) has 14.