US Youth Soccer MRL Girls Fall Showcase Day 1 Recap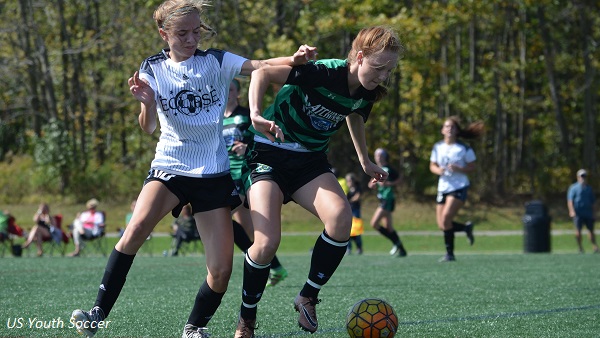 MRL Website |  MRL Scores and Standings | Photo Album
WESTFIELD, Ind. (Via US Youth Soccer) – The second annual US Youth Soccer Midwest Regional League Girls Fall Showcase kicked off Saturday at the Grand Park Sports Complex in Westfield, Indiana.
A total of 80 Premier I and II girls teams in the 15U through 18U age groups, who are competing in the MRL's fall season, took the fields for competition. The showcase weekend will conclude Sunday.
Grand Park has been a familiar host location for US Youth Soccer events, including the 2016 US Youth Soccer Region II Championships. Don Rawson, CEO/President of Indiana Sports Properties (subsidiary of Indiana Soccer), discussed the process and significance of hosting several events.
+READ: US Youth Soccer MRL Girls Fall Showcase Day 1 Recap
"At a Strategic Planning meeting of the Indiana Soccer leadership and membership in 2005, it became a core purpose and goal for Indiana Soccer to have a direct relationship with a first class sports facility that could host all state association sponsored events as well as all regional and national US Youth Soccer events," Rawson said. "That goal became a reality in 2014 with the opening of Grand Park. Since that time it has been an honor and tremendous privilege for Indiana Soccer and Grand Park to host almost every State Association event – as well as hosting several Region II and national US Youth Soccer events. Hosting so many events at Grand Park provides a better environment for the sport of soccer- and therefore Indiana Soccer is helping create and then maintain an outstanding image for the sport of soccer."
Notes from Saturday's Matches:
SLSG 03 Premier (MO) inches closer to the first place position in the 15U Premier I Division standings after claiming a close 1-0 win over Nationals Union 03 Black (MI).
Libertyville FC 1974 (IL) stays atop the 15U Premier II Division standings with a 1-0 win over third place team, Gretna Prima Green 03 (NE), as Libertyville improves to a 4-0-1 record.
FCKC Academy Blues Elite 02 (MO) remains close behind first place team, Sporting OFC 2002 Elite (NE) in the 16U Premier I Division after defeating Nationals Union 02 Red (MI), 4-0.
With a 3-2 victory over Team Chicago Academy – 2002 Elite (IL), Michigan Jaguars Green (MI) is the only undefeated team in the 16U Premier II Division, but the Michigan side remains in second due to having a less amount of games played.
FCKC Academy Blues Elite (MO) holds a 7-0-0 record and the first place spot in the 17U Premier I Division thanks to a 3-1 win over three-time US Youth Soccer National Champions, Nationals Union 01 Black (MI).
Sporting Omaha FC Elite 2001 (NE) and Lou Fusz Becher (MO) both sit in the first place spot of the 17U Premier II Division with 15 points apiece after each team tallied a win for Saturday.
Campton United 1 (IL) and Sporting Omaha FC Elite 2000 (NE) remain as the frontrunners of the 18U Premier I Division as each claimed a victory on Saturday. Campton United holds the first place spot with just two points more than Sporting Omaha, and both teams have yet to allow a loss.
In a tight race for the top spot of the 18U Premier II Division, Michigan Alliance 00 (MI) holds the first place spot with 18 points after taking a 2-0 win over Madison 56ers 00 (WI). Despite enduring a 2-1 loss to OBSC Magic Elite 2000 (IL), Iowa Rush 2000 (IA) stands two points behind Michigan Alliance.