US Youth Soccer Midwest Conference announces girls club membership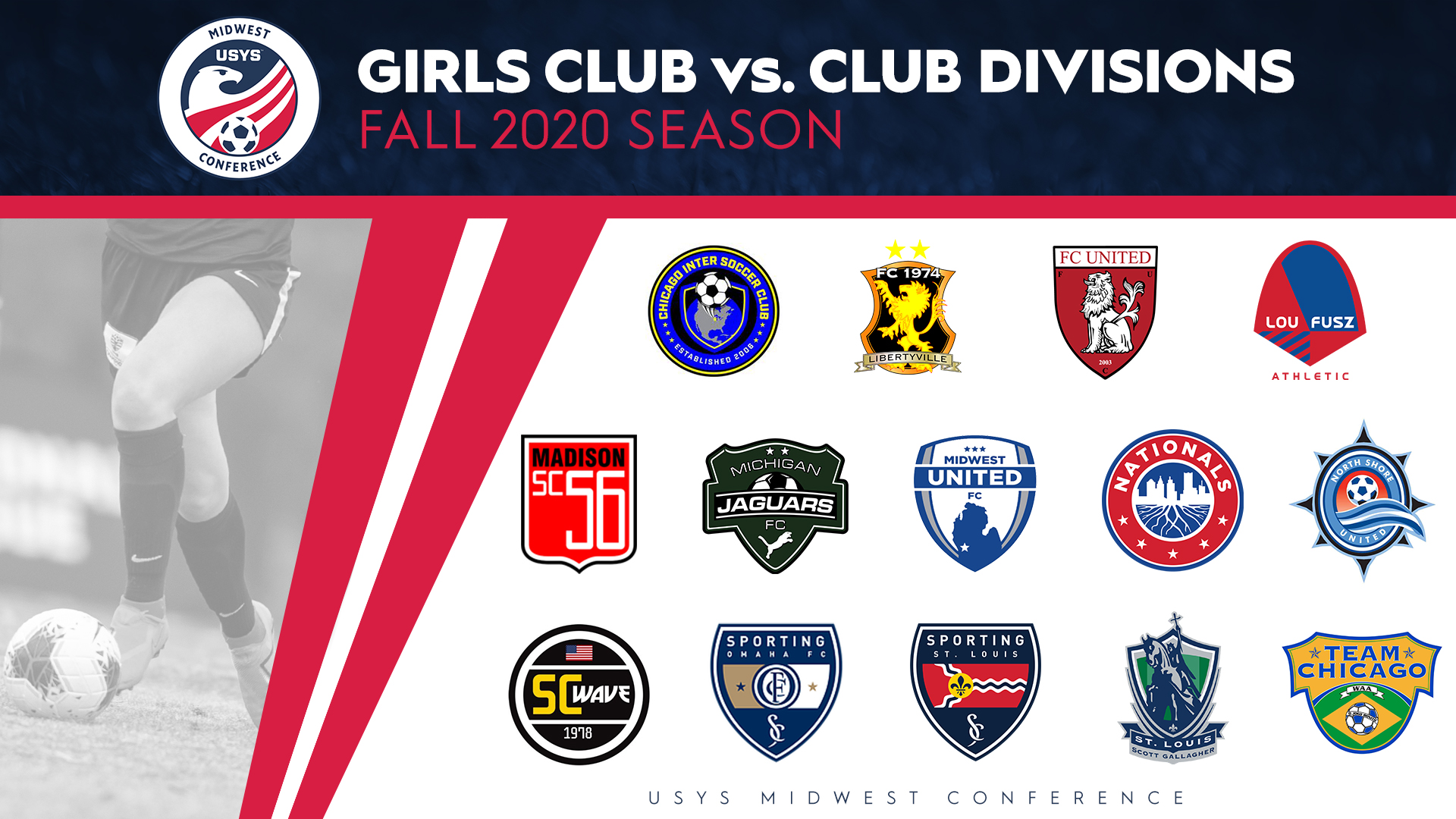 FRISCO, Texas — The US Youth Soccer Midwest Conference, one of the 13 Conferences within the USYS National League, has announced the girls clubs that will compete in the Fall 2020 Club vs. Club Divisions.
The standards-based Midwest Conference Club vs. Club Divisions will include 14 girls clubs for the Fall 2020 season, with the clubs split into two brackets within each age group. The Midwest Conference will hold Club vs. Club competition in the 15U through 19U Girls age groups, and the corresponding boys competition will take place in the Spring 2021 season.
Midwest Conference Girls Club vs. Club Division | Fall 2020 Brackets
| | |
| --- | --- |
| Bracket A | Bracket B |
| Chicago Inter Soccer (IL) | Nationals (MI) |
| Team Chicago (IL) | Michigan Jaguars (MI) |
| Lou Fusz Athletic (MO) | FC United (IL) |
| Sporting STL (MO) | Libertyville FC 1974 Elite (IL) |
| St. Louis Scott Gallagher (MO) | SC Wave (WI) |
| Midwest United FC (MI) | Madison 56ers (WI) |
| Sporting Omaha (NE) | North Shore United (WI) |
"The conference's selection committee believes the quality is high enough to expand this program from the initial intent of eight clubs to 14 well-qualified clubs," said Marc Frankland, League Manager for the Midwest Conference. "The added clubs will increase playing opportunities while helping to reduce travel, which is important in the current climate. We received very positive initial feedback during our shortened inaugural Club vs. Club Division competition earlier this spring, and we're looking forward to providing a great playing format for more clubs this fall."
Teams in each bracket of the Club vs. Club Divisions will play within their own groups (no crossover matches) to determine the final standings. To determine who advances to the annual USYS Midwest Regional Championships, a playoff will take place at the end of the season. The highest placed teams from each bracket — that have not already qualified for Regionals by winning their State Cup — will meet to determine the age group's Club vs. Club Division representative at Regionals.
The Midwest Regional Championship qualifier from the Club vs. Club Divisions will join the conference's team-based Premier I Division qualifiers at Regionals. Each of the National League's 13 Conferences, including the Midwest Conference, provide a pathway for their top teams to advance to their respective Regional Championships. Conference teams also have access to the new National League Showcase Series, which provides teams with a chance to play cross-conference matches in a national setting with increased exposure to college, professional and national team scouts.
Click here for more information on the Midwest Conference or visit the National League homepage for access to all conferences and information on the National League Showcase Series.
Hear from some of the clubs that are set to compete in the Midwest Conference Club vs. Club Division:
"Sporting Omaha FC is excited to announce our girls program has been accepted into the Midwest Conference Club vs. Club Division. This platform will allow us to continue in the development of our players and club. With the termination of the USSF Development Academy, joining the Midwest Conference Club vs. Club Divisions is our best pathway for the future." – Alex Mason – Director of Coaching, Sporting Omaha FC
"This is very exciting news for our players and families. It provides a platform for the clubs that have worked hard to provide quality environments and well-rounded soccer players over several age groups, and we're happy to be one of those clubs rewarded with the chance to play in the Club vs. Club Division. Nationals is looking forward to this opportunity to compete at the highest level in the Midwest Conference. This is a great step forward for youth soccer in the Midwest." – Henry Steinwasher – Director of Coaching, Nationals
"We are extremely grateful for the USYS Midwest Conference giving us this opportunity to compete with some of the best clubs in the region. The club believes that this is a step in the right direction and could provide even more college exposure for our athletes. All of our members are looking forward to the start of this new project." – Sena Halilovic – Club Director, Chicago Inter Soccer