US Youth Soccer ODP Girls Thanksgiving Interregional All-Star Teams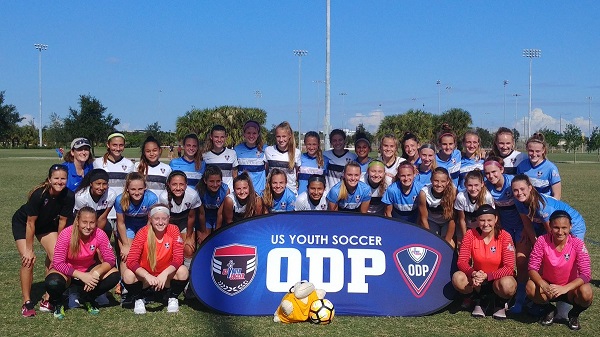 Daily Recaps: Day 1 | Day 2 | Day 3 | Day 4 | Day 5 | Day 6
Scores, Schedule and Standings
FRISCO, Texas (Via US Youth Soccer) – US Youth Soccer has announced the US Youth Soccer ODP All-Star teams for the 2017 US Youth Soccer ODP Girls Thanksgiving Interregional, which recently took place Nov. 19-24 at Spanish River Athletic Park in Boca Raton, Florida.
Of the nearly 300 players that participated in the event, five rosters were constituted based on outstanding performance – one for each of the 2000/2001 through 2004 age groups.
The top goal scorer of the week was West Region's Olivia Garcia from the 2003 age group with five goals. Kristin Boos (Midwest) and Hailey Whitaker (South) topped the 2000/2001 age group with three goals each. Also with three goals, East Region's Chloe DeLyser topped the 2002 age group. The 2004 age group was topped by Jordynn Dudley (South), Kennedy Josephs (Midwest) and Dolve Villafor (West) – each scoring two goals. The East Region won the most games of any region, with five wins across all age groups while the West Region's 2003 team was the only team to finish a perfect 3-0.
+READ: Girls wrap up US Youth Soccer National League opening weekend
The US Youth Soccer ODP Girls Thanksgiving Interregional featured players that were selected from US Youth Soccer State Association and Regional level evaluations. Throughout the event players attended training sessions and competed in matches in front of U.S. Soccer national staff and collegiate coaches for the opportunity to be selected to a higher level of play.
2017 US Youth Soccer ODP Girls Thanksgiving Interregional All-Star Teams
2000/2001 All-Star Team
| | | | |
| --- | --- | --- | --- |
| Player | Region | Position | Hometown |
| Waniya Hudson | East | Defender | Rochester, N.Y. |
| Michelle Money | East | Midfielder | Gamballs, Md. |
| Kristin Boos | Midwest | Forward | Sterling Heights, Mich. |
| Megan Crevoiserat | Midwest | Midfielder | Mequon, Wisc. |
| Bonnie Lacey | Midwest | Midfielder | Sheboygan Falls, Wisc. |
| Delaney Tauzel | South | Midfielder | Saint Johns, Fla. |
| Hailey Whitaker | South | Forward | Brimingham, Ala. |
| Harper White | South | Defender | Franklin, Tenn. |
| Emily Chiao | West | Midfielder | Phoenix, Ariz. |
| Katie Haskins | West | Defender | Provo, Utah |
| Haven Empey | West | Goalkeeper | Lehi, Utah |
2002 All-Star Team
| | | | |
| --- | --- | --- | --- |
| Player | Region | Position | Hometown |
| Hannah Antonick | East | Midfielder | Virginia Beac, Va. |
| Chloe DeLyser | East | Forward | Marion, N.Y. |
| Alexandra Taylor | East | Defender | Vienna, Va. |
| Dara Andringa | Midwest | Midfielder | Stillwater, Minn. |
| Porter List | Midwest | Forward | Excelsior, Minn. |
| Katelyn Nardulli | Midwest | Defender | Naperville, Ill. |
| Abigail Brighton | South | Midfielder | Hilton Head, S.C. |
| Avery Patterson | South | Midfielder | Jacksonville, Fla. |
| Lauren Swoopes | South | Goalkeeper | Snellville, Ga. |
| Parker Sikora | West | Defender | Elk Grove, Calif. |
| Acacia Vanlandingham | West | Midfielder | Santa Barbara, Calif. |
2003 All-Star Team
| | | | |
| --- | --- | --- | --- |
| Player | Region | Position | Hometown |
| Avani Brandt | East | Defender | Syosset, N.Y. |
| Ashley Lamond | East | Midfielder | Tappan, N.Y. |
| Helene Tyburczy | East | Defender | Ramsey, N.J. |
| Sarah Weber | Midwest | | Rosemount, Minn. |
| Elizabeth Overberg | Midwest | | Ankeny, Iowa |
| Isabel Kimberly | South | Forward | Jacksonville, Fla. |
| Emily Schleifer | South | Midfielder | Lake Worth, Fla. |
| Talia Nowlan | South | Goalkeeper | Spring Hill, Fla. |
| Olivia Garcia | West | Forward | Las Vegas, Nev. |
| Jourdyn Curran | West | Midfielder | Ewa Beach, Hawaii |
| Rozlyn Slichko | West | Midfielder | Puyallup, Wash. |
2004 All-Star Team
| | | | |
| --- | --- | --- | --- |
| Player | Region | Position | Hometown |
| Hailey Longwell | East | Defender | Coraopolis, Pa. |
| Ava Morales | East | Midfield | Clarksville, Md. |
| Talia Sommer | East | Midfield | New York, N.Y. |
| Riley Kerber | Midwest | | Medina, Ohio |
| Delaney Matriano | Midwest | | Willoughby Hills, Ohio |
| Jordynn Dudley | South | | Alpharetta, Ga. |
| Isabella Pecunes | South | | Pawleys Island, S.C. |
| Kathleen Zailski | South | Forward | Summerville, S.C. |
| Caiya Hanks | West | Defender | Kailua Kona, Hawaii |
| Sierra Pennock | West | | Lindon, Utah |
| Taygin Sill | West | Goalkeeper | Kaysville, Utah |
Tournament Results
| | |
| --- | --- |
| 2000/2001 Girls | |
| Best Region | Midwest (2-0-1; 7 points) |
| Best Scorers | Midwest – Kirstin Boos, South – Hailey Whitaker (3 Goals) |
| Best Goalkeeper | West – Haven Empey |
| | |
| 2002 Girls | |
| Best Region | East (2-0-1; 7 points) |
| Best Scorer | East – Chloe DeLyser (3 Goals) |
| Best Goalkeeper | South – Lauren Swoopes |
| | |
| 2003 Girls | |
| Best Region | West (3-0-0; 9 points) |
| Best Scorers | West – Olivia Garcia (5 Goals) |
| Best Goalkeeper | South – Talia Nowlan |
| | |
| 2004 Girls | |
| Best Region | South (2-0-1; 7 points) |
| Best Scorers | South – Jordynn Dudley, Midwest – Kennedy Josephs, West – Dolce Villaflor (2 Goals) |
| Best Goalkeeper | West – Taygin Sill |