US Club Soccer NPL 2017-2018 Season Preview: Northeast Region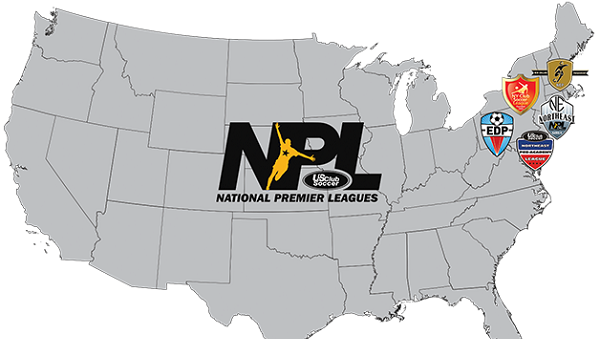 CHARLESTON, S.C. (Via US Club Soccer) – The National Premier Leagues (NPL) enters its sixth season with 21 leagues, about 300 clubs and nearly 2,000 teams. And while the expansive platform has settled into a niche of quality, consistent programming, the NPL also welcomes change that is facilitating new growth.
Member leagues continue to be led by club-driven models, with US Club Soccer initiatives like Players First, id² and PDP providing necessary support. The newest addition to the landscape is the Elite National Premier League (ENPL), which serves as the top spot for boys competition. The ENPL is a collaboration between US Club Soccer and the ECNL to create a competitive platform for 14-U through 18/19-U boys age groups.
Sixteen qualifying competitions – consisting of NPLs and Boys ECNL Conferences – are now working towards ENPL qualification on the boys side of the brackets. For NPL teams, that results in a modified NPL Finals structure in 2018. While the girls are still positioning towards an NPL Finals run, boys teams are divided among multiple events.
+READ: ECNL, United Soccer Coaches launch education and awards partnership
ENPL-qualifying NPL teams have three playoff opportunities depending on age group:
14-U teams advance to the National Cup XVII Finals
15-U, 16-U and 17-U teams advance to either the ENPL Eastern Playoffs or the ENPL Western Playoffs
19-U teams advance to the ENPL 19-U National Championship
Six NPLs do not have ENPL qualifying status, though, so their postseason opportunities are different. Those leagues are Central States NPL, Great Lakes Alliance, Gulf States Premier League, Red River NPL, Southern California NPL and Washington NPL.
Here are the five NPLs in the Northeast:
Elite Development Program-NPL Division:
As one of the founding member leagues of the NPL, the Elite Development Program (EDP) continues to put forth a strong NPL product. The EDP-NPL Division showcased three teams playing in national title games during the 2017 NPL Finals.
New this year, the EDP-NPL Division boys teams will give the ENPL postseason opportunities their best shot. EDP-NPL Division regular season schedules begin in early December, while girls teams begin in the April. The girls will continue to compete towards the Girls NPL Finals.
Cedar Stars Academy, Delaware FC, PDA Hibernia and Ukrainian Nationals all joined the league for the 2017-18 season.
+READ: Thirty-six players called to U.S. U-16 Girls National Team training camp
New England Premiership-NPL Division:
The New England Premiership (NEP) consistently delivers top competition to US Club Soccer programming. The organization is annually responsible for not only cup-based national champions through NEP State Cups and the National Cup Finals, but it's an annual league-based programming contender in the NPL and now the ENPL.
Last year, the NEP-NPL Division featured the most teams of any other NPL member league playing on the final day of the 2017 NPL Finals with six. Two of those teams – NEFC Breakers '04 girls and South Shore Select '03 girls – won titles.
So far, in 2017-18, the youngest NPL age groups have kicked off: '04 and '05 boys and girls. On the boys side, Valeo FC has angled itself to the upper echelon of the standings, as its '04 boys team is 5-0-1 and its '05 boys team is 5-0-0. GPS MA Elite is 6-0-0 and 4-0-1 in those respective brackets.
On the girls side, South Shore Select is 6-0-0 in the '04 age group and its '05 team is currently in the lead at 5-2-0. FC Stars is 6-0-0 in the '05 age group.
As an ENPL qualifier, the NEP-NPL Division will send its top boys teams to the ENPL playoff routes, while the girls will continue their aspirations of the Girls NPL Finals in 2018. Also new this year, the NEP has created a structure to allow its member clubs to participate in NPL competitions.
The NEP hosted a PDP this past weekend in Marlborough, Mass., for 2004-05 boys and 2003-04 girls.
+NCAA Women's Soccer Commitment Announcements: October 2017
New York Club Soccer League-NPL Division:
The New York Club Soccer League (NYCSL) – NPL Division is another NPL member granted ENPL qualifying status, which changes the postseason aspirations for boys clubs.
During the 2017 NPL Finals, one NYCSL member claimed an NPL Finals championship: SUSA '01. While the older age groups – 2003, 2002, 2001, 1999/00 – have not started their 2017-18 seasons yet, the younger divisions – 2006, 2005 and 2004 – are underway.
STA is on top of the of the 2004 and 2005 girls NPL brackets, and is tied for the overall 2006 division lead, which is broken up into Blue and White flights. On the boys side, STA is also off to good starts, as it leads the 2004 age group and is tied for the lead in the 2005 and 2006 brackets.
Four clubs are new this season: Atletico FC, FC Barcelona Academy, Quickstrike FC and White Plains.
The NYCSL hosted a PDP in Danbury, Conn., this past weekend for 2004-07 boys and girls. It will host another PDP for the same age groups, Nov. 12 at Pace University in Pleasantville, N.Y.
Northeast Girls NPL:
The Northeast Girls NPL kicked off its fall season in early September, and competition has stiffened in October. More than half of the total games so far this month have resulted in a tie or 1-goal differential.
FC Stars '00 barely missed out on a 2017 NPL Finals championship, as the squad finished runner-up in the 17-U division. This year, the league's best regular season performers will again move on to the Northeast Girls NPL playoffs, where the field is narrowed further before representatives qualify to the 2018 Girls NPL Finals.
Northeast Pre-Academy League:
The Northeast Pre-Academy League – a true veteran to not only the NPL but also to US Club Soccer – enters its ninth season this year. Met Oval's '00 boys team was a national finalist last year during the 2017 NPL Finals.
Comprised of most of the U.S. Soccer Development Academy in the Northeast region, the Northeast Pre-Academy League will operate a 16-U division (2002s) beginning this season.
The league has served in many age groups over the years as a way to help the Development Academy clubs assist with player development and provide teams with top-level, competitive matches in a season that closely follows the Development Academy schedule. Additionally, the league's rules and policies mirror that of the D.A.
Member clubs are: Baltimore Armour, Beachside SC, Bethesda SC, BW Gottschee, Everton FC Westchester, Met Oval, New York Cosmos, Oakwood Soccer Club, PA Classics, PDA, Richmond United, Seacoast United and Virginia Development Academy.
Through this past weekend's games, Bethesda SC leads the standings with seven wins and one loss. BW Gottschee trails by just two points with a 6-1-1 record. FC Westchester, Beachside SC and Richmond United are tied for third.