Thirty-six players called to U.S. U-16 Girls National Team camp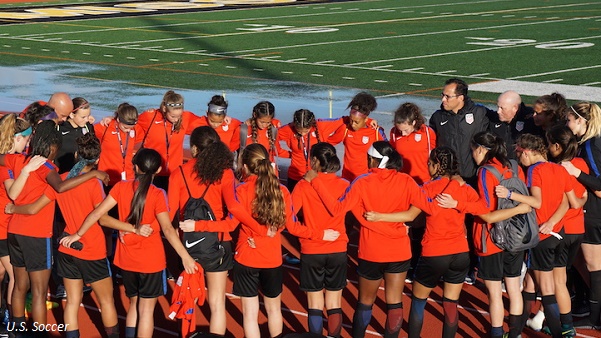 CHICAGO (Via U.S. Soccer) – The U.S. Under-16 Girls' National Team will come together from Nov. 4 to 11 for a training camp at the U.S. Soccer National Training Center in Carson, California.
U.S. U-16 GNT head coach Kacey White has called up 36 players – all born in 2002 – for this age group's final training camp of 2017. This year will have seen the U-16s complete four domestic training camps along with two international trips, to Belgium and Germany.
+READ: U.S. U-15 Girls National Team heads to Germany for training camp
This group of players moved up from the U-14 level for 2017 and will spend two years as the U-16 GNT before moving on to the U-18 level. These players are all age-eligible for the 2018 U-17 Women's World Cup, which has an age cut-off of players born on or after January 1, 2001, but will eventually be the core age group for the team that will attempt to qualify for the 2022 FIFA U-20 Women's World Cup.
U.S. U-16 GNT Roster by Position

GOALKEEPERS (4): Leah Freeman (Mustang Soccer; Berkeley, Calif.), Mia Justus (PDA; North Brunswick, N.J.), Alia Skinner (United Soccer Alliance; Fleming Island, Fla.), Stephanie Sparkowski (East Meadow SC; East Meadow, N.Y.)
DEFENDERS (11): Abby Allen (Lonestar SC; Austin, Texas), Maya Evans (San Jose Earthquakes; Millbrae, Calif.), Caroline Gray (Concorde Fire; Johns Creek, Ga.), Katherine Groff (CASL, Raleigh, N.C.), Samar Guidry (FC Dallas; McKinney, Texas), Nya Harrison (San Diego Surf, San Diego, Calif.), Sydney Jones (Cincinnati Development Academy; Hamilton, Ohio), Tabitha LaParl (So Cal Blues; Lakewood, Calif.), Olivia Migli (FC Virginia, Haymarket, Va.), Lucy Mitchell (Concorde Fire; Alpharetta, Ga.), Elaine Rouse (NC Courage, Cary, N.C.)
MIDFIELDERS (10): Josie Aulicino (Michigan Hawks; Northville, Mich.), Zoe Burns (Crossfire Premier SC; Issaquah, Wash.), Aislynn Crowder (Hawaii Rush; Mililani, Hawaii), Devi Dudley (La Roca FC; American Fork, Utah), Margaret Graham (Tophat SC; Atlanta, Ga.), Mollie Griswold (Arizona Arsenal; Gilbert, Ariz.), Samantha Kroeger (World Class FC; West Milford, N.J.), Jillian Martinez (Lonestar SC; San Antonio, Texas), Barbara Olivieri (Albion Hurricanes SC, Katy, Texas), Michaela Rosenbaum (Santa Rosa United; Santa Rosa, Calif.)
FORWARDS (11): Michelle Cooper (Michigan Hawks; Clarkston, Mich.), Kailyn Dudukovich (Cincinnati Development Academy; West Chester, Ohio), Peyton Goldthwaite (NC Courage; Durham, N.C.), Dilary Heredia-Beltran (Sporting Blue Valley; Overland Park, Kan.), Meike Ingles (Nationals; Shelby Township, Mich.), Shyra James (San Diego Surf; La Mesa, Calif.), Renee Lyles (Concorde Fire; Atlanta, Ga.), Amber Nguyen (Concorde Fire; Snellville, Ga.), Raigen Powell (Solar SC; Rowlett, Texas), Reilyn Turner (So Cal Blues; Aliso Viejo, Calif.), Joyelle Washington (Michigan Hawks; Canton, Mich.)