US Club Soccer names 2017 id² National Selection international roster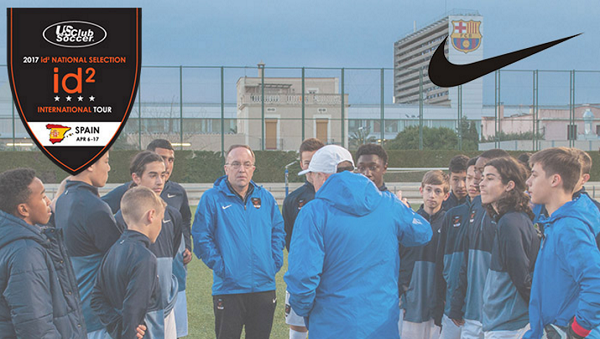 CHARLESTON, S.C. (Via US Club Soccer) – US Club Soccer has announced the members of the 2017 id² National Selection International Tour that will travel to Spain, April 6-17, for a multi-faceted experience highlighted by participation in the 17th annual Mediterranean International Cup.
The MIC takes place on the northeast coast of Spain at the Costa Brava, featuring the best clubs and national academy teams in the world. In its 16-year history, top teams like Brazil National Selection, FC Barcelona, FC Inter Milan, Liverpool FC, Manchester United, Mexico National Selection and Real Madrid CF have all competed. Lionel Messi, Neymar Jr., Gerard Piqué and other world renowned stars have taken the MIC pitch.
2017 id² National Selection Roster
| | | | |
| --- | --- | --- | --- |
| Name | Position | Hometown | Club |
| Jacob Bergin | M | Rocky River, Ohio | Cleveland United SC |
| Logan Calpito | F | Ewa Beach, Hawaii | Rush Hawaii |
| Matteo Carbone | M | Scotts Valley, Calif. | Santa Cruz Breakers Academy |
| Caden Clark | M | Medina, Minn. | Minnesota Thunder Academy |
| Santiago Davila | GK | Wauwatosa, Wis. | FC Wisconsin Nationals |
| Mwinso Denkabe | F | Los Altos, Calif. | Juventus SC |
| Cameron Dunbar | F / M | Chula Vista, Calif. | Albion SC |
| Daniel Edelman | M | Warren, N.J. | PDA |
| Gavin Krenecki | GK | Fair Oaks, Calif. | Sacramento Republic FC |
| Diego Luna | F | Sunnyvale, Calif. | San Jose Earthquakes |
| Riley Lynch | M | Chandler, Ariz. | SC del Sol |
| David Mejia | M | Lima, Peru | Univ. San Martin de Porres |
| Joshua Negrete | D | Clifton, N.J. | Cedar Stars Academy – Bergen |
| Kevin Sliva | D | Beaverton, Ore. | FC Portland |
| Joel Sobalbarro | D / M | Trenton, N.J. | Match Fit Academy |
| Kobey Stoup | M | Montgomery, Ala. | Capital City Streaks |
| Dominic Vegaalban | F | Rocklin, Calif. | Sacramento Republic FC |
| Patrick Weah | F | Maple Grove, Minn. | Twin Stars Academy |
The tournament officially begins
April 12
and concludes with the championship round on
April 16
. Prior to this, the id² National Selection team will begin its journey in New Jersey with a domestic camp,
April 6-8
. After an expected arrival in Barcelona on
April 9
, the team will transfer to the city of Girona for training sessions over the following two days. Finally, on
April 11
, the group moves on to Playa D'Aro for the MIC competition.Consistent with US Club Soccer's philosophy that identification and development should be free to players, the organization is fully funding the trip in conjunction with strong support from Nike. The id² Program is an Olympic Development Program approved by the United States Olympic Committee and U.S. Soccer Federation. id² Boys Program director Gerry McKeown will lead the team in the id² Program's eighth trip abroad.
"We are excited to participate in a competitive tournament for the first time with our international tour," said McKeown. "While it will not change our approach to the games and committing to excellence over results, it will guarantee challenging matches against players from our own age group. In the past, we have been disappointed when our opponents would use players from older age groups to influence the outcome of the matches. It should be a great opportunity for young players to compete against some of the world's elite in a tournament that has such a storied history of talented participants."
In addition to Nike, LaLiga is offering its resources to enhance the 2017 id² National Selection International Tour. Premier International Tours is also assisting with travel logistics, and, like previous years, is serving as on-site liaison for the duration of the trip.