Champions decided at Jefferson Cup U10-U15 Boys Weekend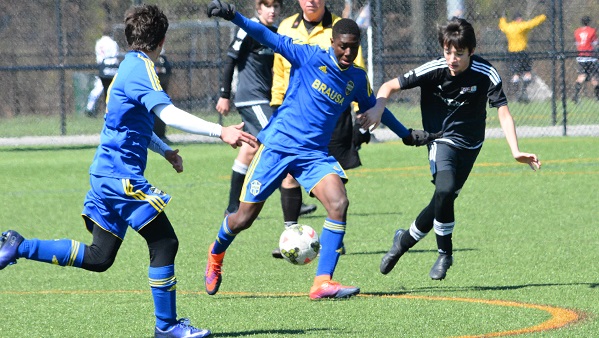 Follow the Jefferson Cup
Twitter | Instagram | Facebook
Division championships were decided on Sunday at the Jefferson Cup U10-U15 Boys Weekend, bringing to a close the first of four weekends for the 2017 event.
More than 330 teams competed across the 42 total divisions, and over 30 clubs had at least one squad take home a championship trophy. A total of five teams representing Triangle United SA (three of which also represent TUSA partner club Wake FC), won division titles, which was the most of any club at the U10-U15 Boys Weekend.
Three other North Carolina clubs – CASL, Greensboro United and Triangle FC Alliance – had two teams each win their respective divisions. New Jersey club STA-Morris United SC and Global Premier Soccer's Massachusetts branch also had two division champion squads each.
The 2017 Jefferson Cup will continue March 18-19 with the U10-U14 Girls Weekend.
+Jefferson Cup U10-U15 Boys Weekend Photos
Champions and Finalists
U-10
Championship 8v8 Division
Champions: Calverton Cerritos (MD)
Finalists: Loudoun Soccer 07 Red (VA)
Championship 7v7 Division
Champions: Triangle FC Alliance 07 CAM Navy (NC)
Finalists: Potomac SA Clube 07 (MD)
Elite 7v7 Division
Champions: STA-Morris United SC 07 NPL (NJ)
Finalists: VSA 07 Messi (VA)
U-11
Championship 8v8 Division
Champions: Super Nova FC 06 Black (PA)
Finalists: Arlington SA 06 Red (VA)
Elite 8v8 Division
Champions: STA-Morris United SC 06 NPL (NJ)
Finalists: CASL 06 Academy Jrs Black South (NC)
Superior 8v8 Division
Champions: JIGS Soccer School Academy 06 (NY)
Finalists: CASL 06 Academy Jrs Red North (NC)
Platinum 8v8 Division
Champions: Triangle United SA 06 Barcelona (NC)
Finalists: CASL 06 Del Sol (NC)
Classic 8v8 Division
Champions: Greensboro United 06 Dynamo (NC)
Finalists: Charlotte SA 06 H'Ville Elite (NC)
Premier 8v8 Division
Champions: Triangle FC Alliance 06 DCH Navy (NC)
Finalists: Triangle United Wake FC 06 Blue (NC)
U-12
Championship 11v11 Division
Champions: CASL 05 Academy Jrs North (NC)
Finalists: Wilmington Hammerheads 05 White (NC)
Elite 11v11 Division
Champions: Triangle United Wake FC 05 Blue Juniors (NC)
Finalists: Pittsburgh Riverhounds 05 (PA)
Championship 9v9 Division
Champions: Tampa Bay United Premier 05 (FL)
Finalists: Penn Fusion SA Elite 05 (PA)
Elite 9v9 Division
Champions: Beach FC 05 Red (VA)
Finalists: Tampa Bay United Elite 05 (FL)
Superior 9v9 Division
Champions: GPS MA State Elite 05 White (MA)
Finalists: Continental FC Juventus 05 (PA)
Platinum 9v9 Division
Champions: Inter Development Futbol (NC)
Finalists: LMVSC Patriots 05 (VA)
Championship 8v8 Division
Champions: Greensboro United 05 Dynamo (NC)
Runner-up: Herndon Youth Soccer Ciclones Black (VA)
Elite 8v8 Division
Champions: Charlotte SA 05 Matthews Predator (NC)
Finalists: Stafford Revolution 05 Blue (VA)
U-13
Championship Division
Champions: Western United Pioneers FC 04 NPL (MA)
Finalists: Arlington SA 04 Red (VA)
Elite Division
Champions: NY Stars Premier Galaxy (NY)
Finalists: Liverpool IA-SC 04 (SC)
Superior Division
Champions: Manhattan SC Thunder (NY)
Finalists: Brausa United FC 04 Blue (FL)
Platinum Orange Division
Champions: Virginia Legacy SC CCL Elite (VA)
Finalists: Richmond Kickers Elite 04 (VA)
Platinum Black Division
Champions: Reston 04 Blue (VA)
Finalists: Triangle United Wake FC 04 Blue (NC)
Classic Division
Champions: Pittsburgh Riverhounds 04 (PA)
Finalists: Ellicott City 04 Black (MD)
Premier Division
Champions: Tidewater Sharks 04 United (NC)
Finalists: FC Richmond Magic 04 (VA)
U-14
Championship Division
Champions: Philadelphia Ukrainian Nationals 03 Black Elite (PA)
Finalists: Manhattan SC Fury (NY)
Elite Division
Champions: Triangle United SA 03 Gold (NC)
Finalists: CASL 03 Red North (NC)
Superior Orange Division
Champions: Mercer FC Celtic 03 (NJ)
Finalists: Wilmington Hammerheads 03 White (NC)
Superior Black Division
Champions: Salisbury United SC 03 Gold (MD)
Finalists: NJ Stallions Academy Inter 03 (NJ)
Platinum Division
Champions: Future Monarchs (MD)
Finalists: Rochester Futbol 03 (NY)
Classic Orange Division
Champions: Liverpool IA-SC 03 (SC)
Finalists: West-Mont United Alliance Premier 03 (PA)
Classic Black Division
Champions: Triangle United Wake FC 03 Blue (NC)
Finalists: FC Copa Academy 03 Black South (NJ)
Classic White Division
Champions: Soccer Vision Academy 24 (OH)
Finalists: Pittsburgh Riverhounds 03 (PA)
Premier Division
Champions: VB City FC 03 Academy (VA)
Finalists: Mt. Olive SC Premier Liverpool (NJ)
U-15
Championship Division
Champions: Brausa United FC 02 Blue (FL)
Finalists: CASL 02 Red North (NC)
Elite Division
Champions: FSA FC Elite 02 (CT)
Finalists: Calverton Cerritos Soccer (MD)
Superior Orange Division
Champions: GPS MA NPL 02 (MA)
Finalists: West-Mont United Alliance Premier 02 (PA)
Superior Black Division
Champions: SUSA ISA NPL 02 (NY)
Finalists: Beach FC 02 Red (VA)
Platinum Division
Champions: Eastern FC Gladiators 02 NPL (NY)
Finalists: LMVSC Patriorts 02 Red (VA)
Classic Orange Division
Champions: CASL 02 Red South (NC)
Finalists: Storm SA / Tormenta FC 02 Black (SC)
Classic Black Division
Champions: Charlotte United 02 Gold (NC)
Finalists: Inter Development Futbol (NC)
Classic White Division
Champions: Stafford Revolution 02 Blue (VA)
Finalists: Virginia Legacy SC Wizards (VA)
Premier Division
Champions: Triangle United Wake FC 02 Blue (NC)
Finalists: VSA 02 NPL Academy (VA)