US Youth Soccer National League Las Vegas Preview: 16U Girls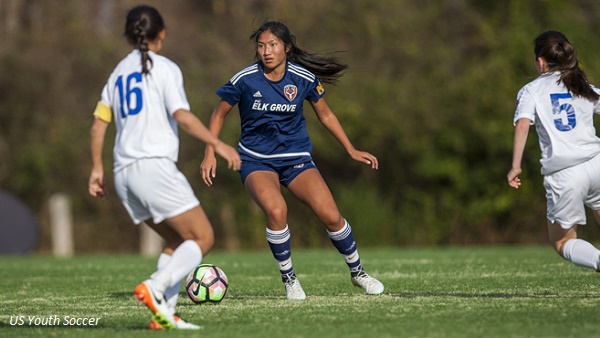 Black Division
(Via US Youth Soccer) – The 16U Black Division could be an interesting finish, as there is still the possibility of a two-way, three-way or four-way tie atop the standings when all is said and done. With just one berth to the US Youth Soccer National Championships available in the group, it's possible that a tiebreaker may be needed to decide which team takes the division title and the ticket to Frisco, Texas, that comes with it.
Two-time defending National Champion Nationals Union 01 Black (MI) is currently tied on top of the group with FCKC Academy Blues Elite (MO) at 14 points. Nationals Union holds the head-to-head tiebreaker over FCKC, but it could be in trouble should a three-way tiebreaker come into play. Meanwhile, the best possible finish for FCKC is second place, as no tiebreaker scenario could bump it into first place.
The two teams competing in Las Vegas with a chance to move into first are Florida Elite 2001 (FL) and Fullerton Rangers 01 White (CA-S), who each have eight points and 2-0-2 records. It's possible for one or both of the sides to catch the group leaders, as their results in Las Vegas will decide who takes the division crown.
Game to Watch
March 18, Fullerton Rangers 01 White (CA-S) vs. Florida Elite 2001 (FL)
There is a chance this could be a winner-take-all matchup for the Black Division title. The resumes for Fullerton and Florida are very similar at this point in the season. Each have 2-0-2 records and a plus-three goal differential, with the key difference being that Florida's games have been slightly higher-scoring than Fullerton's. This contest should be a close one, and the added impact on the top of the division standings will add even more excitement to it. A win would be huge for the victor, while a draw would leave the door open for a potential tie atop the standings between the two sides.
---
Blue Division
An undefeated season helped Michigan Jaguars 01 Green (MI) wrap up the 16U Blue Division title in Orlando. The Jaguars went 5-0-2 while conceding less than a goal per game to secure the group's berth to the National Championships.
While the division title is decided, the teams competing in Las Vegas still have return berths to the National League on the line. With the top three teams earning an automatic return to the league, all four sides with games remaining have a shot to play their way back into the league for the 2017-18 season.
Idle Greater Binghamton FC (NY-W) has a solid hold on second place with 14 points, but 2001 Tennessee SC Showcase (TN) and La Roca Premier FD (UT) are in striking distance with seven and five points, respectively. Legends FC 01 (CA-S) is just behind them and FC Frederick 01 (MD) has two points, so third place is in the cards for any of the four teams playing in Vegas.
Game to Watch
March 17, 01 Tennessee SC Showcase (TN) vs. La Roca Premier FD (UT)
There is one spot in the top three that the four teams are playing for, and one of these two sides is the most likely to take it. Tennessee enters with a two-point advantage over La Roca in the standings, but the Utah side could make up that difference with a win in this Friday matchup. This game will be a momentum builder going forward for the winner. Tennessee is looking to get back on the winning track after dropping its final game in North Carolina, while La Roca is trying to get back in the win column for the first time since a dominant win in its season opener.
---
Red Division
For second year in a row, CUP Gold 01 (OH-S) has wrapped up the Red Division title — this time in the 16U age group. The Ohio South side allowed less than a .5 goals per game en route to a 5-1-1 record in league play.
Meanwhile, BRYC Elite Academy 01/02 (VA) and United FA 01 Premier (GA) each compiled undefeated seasons with three wins and four ties apiece. Despite settling for those draws, both sides did enough over their seven games to secure top-three finishes — giving them an automatic qualifying spot back into the National League for the 2017-18 season. BRYC earned a second-place finish thanks to a slight advantage in goal differential.
With the top of the standings set, the matchups in Las Vegas will give the teams a shot to build some momentum heading into the rest of the spring and US Youth Soccer National Championship Series play.
Game to Watch
March 18, Celtic FC Premier SA (UT) vs. 1776 United FC 01 Xtreme (PA-E)
Had a goal or two gone the other way in North Carolina, each of these teams could be looking at a chance to finish in the top three. Each one of Celtic and 1776 United's games in North Carolina were close, as neither had a match decided by more than two goals — nor did any team score more than two goals in a single game. Both sides have proven they can be competitive with any team in the group, and this matchup should be no different when they meet in Las Vegas.
---
 White Division 
All eyes will be on Legends FC 01 Academy (CA-S) in the 16U White Division, as the Cal South side attempts to climb the standing and secure first place. Legends must catch current group leader EGA 01 Maroon Omaha (NE), which sits at 15 points — five in front of Legends. EGA picked up seven points during its week in Orlando to help extend its lead at the top of the table.
Coming from a club that has loads of past experience and success in the National League, Legends should have a good idea of what has to be done in order to close out the season strong. The Cal South side allowed just two goals through four games, and it will likely have a ticket to Nationals in hand if it can finish its season with a similar defensive performance.
Among Legends' competition is defending Region IV Champion USA Stars 01 (CA-N) and FC Alliance 01 (TN). Both USA and FC Alliance have four points, which keeps them alive for a top-three finish and a chance to earn a spot back in the National League for next season.
Game to Watch
March 19, Legends FC 01 Academy (CA-S) vs. USA Stars 01 (CA-N)
It's possible Legends can wrap up the White Division crown on the second day of play, but anything short of two wins to open the weekend will leave the Cal South side needing a result in this matchup to win the division. The Stars are not short on experience, as the team advanced to the semifinals of the 2016 National Championships, so this game could certainly go either way. If the division title is on the line, it will only add to the intrigue.
---
Player Notes
Lauren Ashman, Lexi Bartlow, Olivia McKnight and Victoria McKnight (Greater Binghamton FC) were on the New York West 2001 roster for the 2017 US Youth Soccer ODP Championships.
Tori Grambo, Delaney Tauzel, Taylor Radecki and Maryssa Kosman (Florida Elite 01) were on the Florida 2001 roster for the 2017 US Youth Soccer ODP Championships.
Sage Robledo, Maddy Perez and Laney Carroll (Legends 01 Academy) were on the Cal South 2001 roster for the 2017 US Youth Soccer ODP Championships.