ECNL announces initial 2017-2018 girls membership, including 79 clubs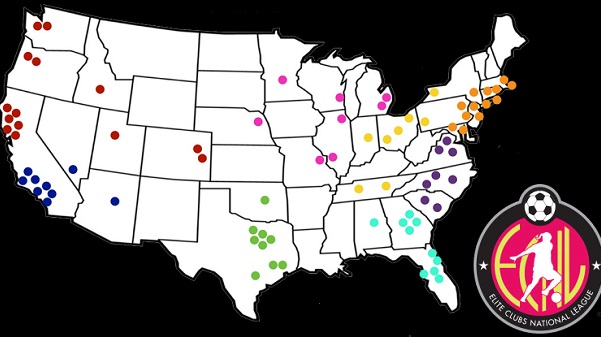 RICHMOND, VA (Via ECNL) – The Elite Clubs National League has announced the initial girls member clubs for the 2017-2018 season, constituting 79 clubs across the United States.
ECNL conferences will be slightly realigned next season with the creation of the new Ohio Valley Conference bringing the total number of conferences to eight. The conference realignment creating the Ohio Valley further reduces travel costs for conference games for many clubs, and maximizes geographic rivalries in competition.
While returning 66 clubs in 2017-2018, the league will be welcoming 13 new clubs that will play their first ECNL games in 2017, many in new markets that will further extend the reach of the ECNL platform.
(Click here, or on the map below to view a full-size image)
"We are very excited to release our 2017-2018 membership," said ECNL Commissioner Jen Winnagle. "With so many new and returning clubs 'all-in' the ECNL, the league will be stronger than ever before in many ways. Our mission to raise the game will continue to pave the path forward for players to collegiate and international success on the field, and our holistic development philosophy will insure that our alumni are equally prepared as leaders, members of their community, and student-athletes."
+READ: Roster announced for U.S. U-16 Girls National Team camp in San Diego
ECNL National Events will continue unchanged in 2017 as the top collegiate recruiting platforms in the country, setting the national standard for exposure, quality and atmosphere for youth soccer players across the country.
The ECNL's Class of 2017 features more than 1,300 graduating seniors moving on to college soccer next season, with more than 1,000 going to Division I soccer programs. Since 2015, more than 3,900 ECNL alums have played college soccer, and in 2016 ECNL alums accounted for 147 All-Conference honorees and 15 Player of the Year awards in the Power 5 alone, making the league the undisputed and unmatched pathway to college. Beyond college, ECNL alums made up 75% of the entire 2017 NWSL draft, marking the league's incredible impact on professional women's soccer as well.