University of Pennsylvania men's soccer signs 8 recruits for class of 2020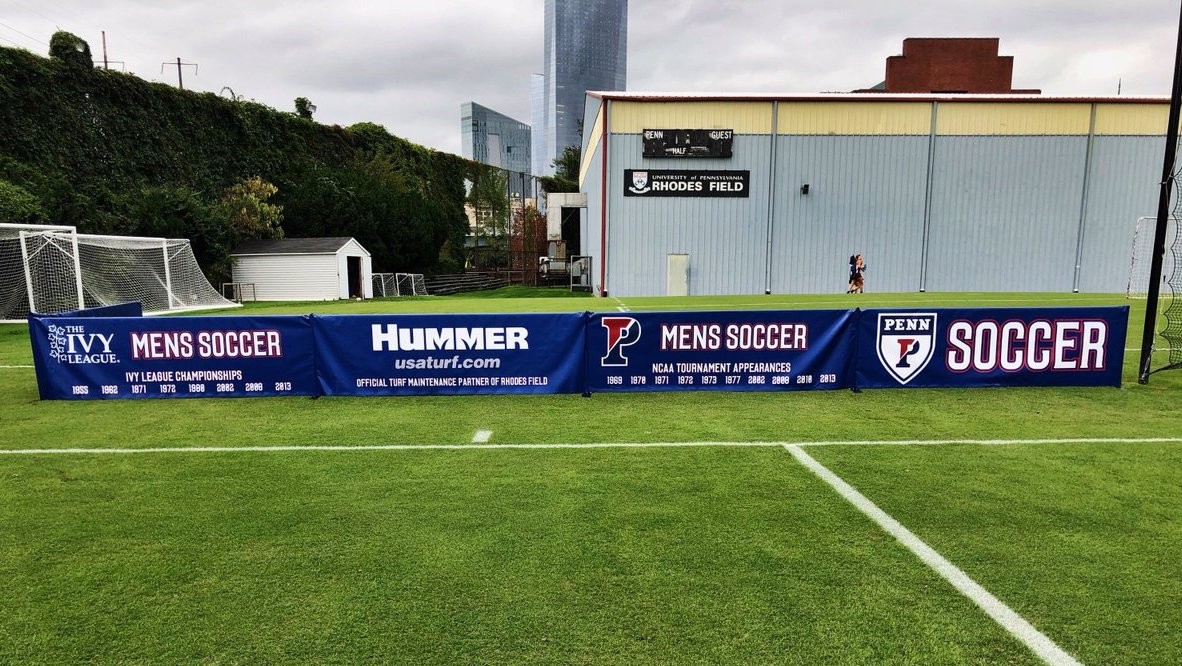 PHILADELPHIA – The University of Pennsylvania's head men's soccer coach, Brian Gill, has announced the Quakers' recruiting class for the upcoming 2020 season.
Eight young men — Leo Burney, Mattias Hanchard, Michael Hewes, Krystian Kresso, Josh Negrete, Michael teDuits, Mathis Varin and Mateo Zazueta — will join the Penn men's soccer roster next fall as freshmen.
"It's an exciting time for Penn Soccer as we welcome these eight student-athletes to campus and our program," said Gill, who will be in his third season as the Quakers' head coach in 2020. "The coaching staff did a terrific job over the last year identifying these talented players and getting them excited about the University of Pennsylvania. We think this group has the ability to contribute immediately on the field, and they will add to the positive culture our returning players have built for the program."
Penn finished the 2019 season with a 7-5-4 record overall, and the Quakers finished second in the Ivy League with a 3-1-3 mark, their best in conference play since 2013. Following the campaign, Penn had five players named All-Ivy including two players who were first-team selections, a first for the program since 2016. Four of those players return in 2020, led by junior defender Alex Touche who was the Ivy League Defensive Player of the Year as well as Philadelphia Soccer Six Player of the Year and Kai Lammers who was Soccer Six Rookie of the Year and an All-Ivy selection as a freshman.
LEO BURNEY
Defender
Seattle, Wash. / Garfield
Seattle Sounders Academy
High School: Sounders Academy captain since 2017 … 2019 Blue Stars FIFA Youth Cup participant … In 2018, won the U.S. Soccer Development Academy (USSDA) Playoffs national title and the MLS Generation Adidas Cup Premier Division, and took third at the Toyama World International Challenge Youth Tournament … Won 2016 Youdan Trophy with Sounders U15s … Named USL Soccer's Man of the Match in his first USL appearance … Received honorable mention for the Young Playwrights Program (YPP) in 2019 … Honor Roll student at O'Dea High School in 2018-19.
Personal: Son of Shannon Phillips and Tarik Burney … Mother was a rower and cyclist at Stanford University … Older brother, Oscar, played tennis at Amherst College and Claremont McKenna College … Will enroll in the College of Arts and Sciences.
Coach Gill: "Leo has a lot of the characteristics that we value in a center back. We are especially impressed by his maturity, competitiveness, and intelligence in the position. Leo has been a steady presence and a proven winner over the years with his Seattle Sounders Academy teams, and we hope those experiences will serve him well here at Penn."
MATTIAS HANCHARD
Defender
Baltimore, Md. / Gilman School
Baltimore Armour Academy
High School: Lettered two times in soccer at the Gilman School before moving to club team Baltimore Armour Academy (BAA) … BAA under-19 captain … Helped BAA win 2020 Montverde Academy Soccer Tournament … BAA made the U.S. Soccer Development Academy (USSDA) playoffs in 2018-19 … His Baltimore Celtic club team was Maryland State Cup finalist in 2018 … At Gilman, Silver Pin recipient as a sophomore … Olympic Development Program (ODP) Region 1 Pool call-up … Honor Roll student every year at Gilman … Black Student Union member … Mentoring Program member.
Personal: Son of Emma Cervone and Michael Hanchard … Will enroll in the College of Arts and Sciences.
Coach Gill: "Mattias impressed us at our camp this past summer. He has the physical tools and technical ability to become a strong defender and complement our backline. He is confident and determined and has continued to mature as a player these last couple of years with his move to the Baltimore Armour Academy."
MICHAEL HEWES
Midfielder
West Chester, Pa. / Unionville
Penn Fusion Soccer Academy
High School: Earned four letters with UHS while also playing with Penn Fusion … Captain of both teams … Earned United Soccer Coaches (USC) All-America honors after helping Unionville win 2019 League championship (17-4-1 record) and three other divisional titles (2016-18) … Penn Fusion side won Elite Clubs National League (ECNL) Northeast Conference title … ECNL All-American and ECNL/id2 National Training Camp … Led Penn Fusion in goals and assists from 2015-19 … Two-time all-state, all-region and all-area at Unionville High School … Daily Local News Player of the Year as a senior … Holds UHS records for goals and points in a season and career … National Honor Society member … UHS Student-Athlete Advisory Council.
Personal: Son of Mary and Bryan Hewes … Older sister, Carly, plays field hockey at Quinnipiac … Will enroll in the College of Arts and Sciences.
Coach Gill: "Michael is a local product who has had a decorated youth career with both his Unionville High School and Penn Fusion Academy teams. His ability to make sense of the game in the attack is something that drew us to him in the recruiting process. We think that he is someone who has good attacking instincts and the ability to create chances for himself as well as for others."
KRYSTIAN KRESSO
Defender
Bartlett, Ill. / Bartlett
FC United Academy
High School: Played with Chicago Fire Academy before moving to FC United Academy … Played in United Soccer League (USL) League 2 with Invited to trial with Belenenses Residential Academy U-19s in Portugal as a senior … Club team played in the U.S. Soccer Development Academy (USSDA) playoffs in 2017 … Participated in the MLS Generation Adidas Cup in 2016 and 2017 … Team captain when club team won 2015 Costa Rica International Cup … Graduated from Bartlett's Academy of Engineering, Science and High Technology … Illinois State Scholar Award … Seal of Bi-literacy (Spanish, Polish) … High Honor Roll student throughout high school … Soccer For Autism volunteer.
Personal: Son of Emilia and Wojciech Kresso … Father played soccer at a professional academy, Jagiellonia Bialystok in Poland, as well as the reserve team … Will enroll in the School of Engineering and Applied Science.
Coach Gill: "Krystian comes to us from Chicago where he played with the Chicago Fire and most recently the FC United Academy. His maturity, combined with his steadiness and reliability on the defensive side of the ball, are very important aspects of his game."
JOSH NEGRETE
Defender
Clifton, N.J. / St. Joseph Regional
New York City FC Academy
High School: Helped his NYC FC squad reach the U.S. Soccer Development Academy (USSDA) Playoffs in 2018-19 … Also a selection for U.S. Club Soccer Id2 tour of Spain in 2017 and captained that squad … Invited to three U.S. National Team training camps at the U-15 level in 2016-17 … Honor Roll student all four years… National Honor Society and Spanish Honor Society member … SJR Knight Ambassador … Represented St. Joseph at the 2019 National Student Leadership Conference … St. Michael's College Book Award recipient (academic achievement and social conscience) … Tutors at local library … Active volunteer in NYC FC's "Saturday Night Lights" program for violence prevention and youth development.
Personal: Son of Lilia and Guillermo Negrete … Will enroll in the College of Arts and Sciences.
Coach Gill: "Joshua will be joining us after a successful stint with the NYCFC Academy. He is a left-side defender who has a willingness to get into the attack and confidence in his ability on the ball, but has also demonstrated the responsibility we appreciate in our fullbacks."
MICHAEL teDUITS
Midfielder
Westwood, Mass. / Westwood
Global Premier Soccer (GPS) Massachusetts
High School: Lettered three times at Westwood, four-year member of GPS Massachusetts … Played for the GPS Premier Team at the prestigious 2019 SuperCupNI, formerly the Milk Cup, in Northern Ireland … With GPS Massachusetts, won 2019 Disney Showcase champion and two Potomac Memorial Day Tournaments (2018, 2019) … In 2018, GPS won Elite National Premier League (ENPL) national championship … In 2017, GPS team won U.S. Club Soccer Mid-Atlantic and National championships … At Westwood, two-time Tri-Valley League All-Star and Eastern Massachusetts All-Star … Led Westwood in scoring as a senior … Honor Roll all four years … National Honor Society member … Westwood Recreation Summer Camp volunteer.
Personal: Son of Amy Paul and Craig teDuits … Cousin, Truman, is signed to swim at the University of Wisconsin … Will enroll in the College of Arts and Sciences.
Coach Gill: "Michael is another young man that we've had the chance to get to know through our camp. His quickness and speed, combined with his individual technical ability, stood out to us. Michael is comfortable playing on either flank and has proven to be an exciting attacking player in his time with GPS Massachusetts."
MATHIS VARIN
Midfielder
New York, N.Y. / Collegiate School
Met Oval Academy
High School: Played three years for Collegiate, four for Met Oval … Captain of Met Oval's U-19 team, which qualified for DA Cup playoffs … In 2017-18 and 2018-19, his Met Oval side won New York State Cup and advanced to national semifinals … In 2016-17, his Met Oval team was the National Premier League (NPL) regional champion and advanced to the national final … At Collegiate, first-team all-league as a junior and all-league honorable mention as a sophomore … As a freshman, only member of his class to start for Collegiate team that advanced to the state semifinal round … Serves as a photographer for his school newspaper.
Personal: Son of Michelle Mackay and Yann Varin … Will enroll in College of Arts and Sciences.
Coach Gill: "Mathis' technical ability and playing IQ fit well with what we are looking for in our midfielders. He has proven to be an important piece for his Met Oval team over the years, and we look forward to seeing him develop his physical and technical attributes during his time at Penn."
MATEO ZAZUETA
Midfielder
San Diego, Calif. / Otay Ranch
San Diego Surf Academy
High School: Captain of his Surf team … Helped the Surf to U.S. Soccer Development Academy (USSDA) Playoffs in 2017-18 and 2018-19 … His Surf team won the Dr. Pepper Dallas Cup title in 2015 … Principal's Honor Roll all four years, ranked in top 10 percent of his class … California Scholarship Federation (CSF) member and officer, Otay Ranch's grade checker and program manager.
Personal: Son of Griselda Zuniga and Jaime Zazueta … Two uncles played college soccer, Ezequiel Zuniga at Cal State San Bernardino and Ismael Zuniga at Cal State Northridge … Will enroll in the College of Arts and Sciences.
Coach Gill: "Mateo is a technically gifted player, who we feel could feature in a couple of different spots in the midfield. He has a sense of calm to his play, and we feel his passing ability can positively impact the game. Mateo is a competitor, and we enjoyed watching him play an integral part with his San Diego Surf teams qualifying for the Development Academy Playoffs over these last two seasons."